Guide To The Best Bass Fishing Lakes In New York
Fish for smallmouth and largemouth in NY.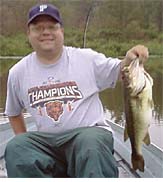 Bass are one of the most sought after of all the game fish. Its appeal spans cultures, age groups and genders to tap on the heart strings of anglers everywhere. Visit the Bass Knowledge Center for valuable information about bass and bass fishing. It's hard to find fishing water in New York without bass. Private ponds, small lakes, rivers and parks are potential bass homes.
New York State is a paradise for bass fishing enthusiasts, offering incredible opportunities to catch both largemouth and smallmouth bass. The state is home to numerous lakes, rivers, and reservoirs that are teeming with these prized game fish. One of the most renowned destinations for bass fishing in New York is the Thousand Islands region, where anglers can explore the St. Lawrence River's vast waters. The river's clear and fertile waters provide an ideal habitat for both largemouth and smallmouth bass. Anglers often find success targeting largemouth bass near weed beds, submerged vegetation, and around structures such as fallen trees and docks. Smallmouth bass, on the other hand, are commonly found near rocky shorelines, drop-offs, and in deeper pools. Popular techniques for catching bass in New York include using plastic worms, crankbaits, jigs, and topwater lures. With its picturesque landscapes and bountiful bass population, New York offers a haven for bass anglers seeking thrilling fishing adventures.
Largemouth bass, known for their aggressive strikes and impressive size, are a prized catch for many anglers in New York. While they can be found in various water bodies across the state, some notable hotspots include Lake Champlain, Oneida Lake, and the Finger Lakes. These fisheries offer excellent largemouth bass fishing opportunities throughout the year. Largemouth bass prefer areas with abundant vegetation, such as lily pads, submerged grass, and weed beds. Anglers often rely on techniques like flipping and pitching, using soft plastic baits, spinnerbaits, and jigs to entice these powerful fish. The thrill of battling a trophy-sized largemouth bass in the scenic waters of New York is an experience that any angler would cherish.
New York is also famous for its thriving smallmouth bass fishery, attracting anglers from near and far. The state's lakes, rivers, and streams are home to robust populations of smallmouth bass, providing ample opportunities for both recreational and competitive fishing. The Great Lakes, including Lake Erie and Lake Ontario, are particularly renowned for their smallmouth bass fishing. These hard-fighting fish are known for their acrobatic jumps and strong runs, making them a favorite target for anglers seeking a thrilling angling experience. Smallmouth bass are often found near rocky structures, points, and drop-offs, where they ambush their prey. Anglers commonly employ techniques such as jerkbaits, crankbaits, soft plastic baits, and tube jigs to entice these aggressive predators. With their bronze coloration and feisty nature, smallmouth bass offer anglers in New York an exciting challenge and the opportunity to reel in impressive catches.
Lakes In NY With Bass
The major lakes in NY with healthy populations of bass include Allegheny Reservoir, Ashokan Reservoir, Black Lake, Canandaigua Lake, Cannonsville Reservoir, Carry Falls Reservoir, Cayuga Lake, Chautauqua Lake, Conesus Lake, Cranberry Lake, Great Sacandaga Lake, Indian Lake, Keuka Lake, Lake Champlain, Lake George, Long Lake, Lows Lake, Oneida Lake, Onondaga Lake, Otsego Lake, Owasco Lake, Pepacton Reservoir, Piseco Lake, Raquette Lake, Saratoga Lake, Seneca Lake, Schroon Lake, Skaneateles Lake, Tupper Lake, Union Falls Pond and Upper Saranac Lake.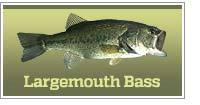 World record: 22 lbs 4 oz
State Record: 11 lbs 4 oz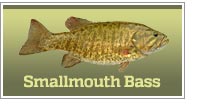 World record: 11 lbs 15 oz
State Record: 8 lbs 4 oz
Click the images and links above for species details.
Top 5 Bass Fishing Lures For New York
When bass are shallow, spinnerbaits, crankbaits and stickbaits are the most productive. As they move deeper, worms and jigs are among the top producers.
New York State Record Bass
The state record largemouth bass was caught from Buckhorn Lake.
The state record smallmouth bass came from Lake Erie.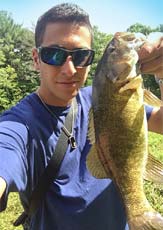 Jake Turner, age 20, from Long Island, NY is a college student at SUNY Oneonta. This is his biggest smallmouth bass to date, at 20 inches long. He was using a Heddon Super Spook Jr, at Oneota Reservoir.
Understanding the primary seasonal movements of smallmouth bass and largemouth bass is key to locating them on local lakes in the Empire State.
Bass fishing basics video.

Catch big bass!
Bass fishing information by state.
The lifecycle of bass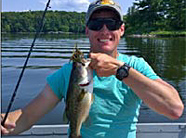 The more you know about the seasonal migration of bass, the more likely you are to be looking in the right area next time you visit New York bass fishing lakes. Visit the bass fishing page for more in-depth information about bass activities.
NEW YORK