Best Bass Fishing In Arizona
Guide to fishing for smallmouth and largemouth bass at top bass lakes in the Grand Canyon State.
By Rick Seaman
Bass are one of the most sought after of all the game fish. Its appeal spans cultures, age groups and genders to tap on the heart strings of anglers everywhere. The purpose of this page is to share basic information about bass fishing and bass lakes in the state. Visit the Bass Knowledge Center for more detailed information about bass and bass fishing. The Arizona Game & Fish Department manages bass and other species in lakes across the state. We endeavor to offer valuable information here about bass fishing on your favorite lake in Arizona.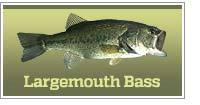 World record: 22 lbs 4 oz
State Record: 16 lbs 7.68 oz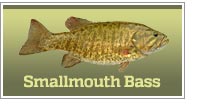 World record: 11 lbs 15 oz
State Record: 7 lbs 0.96 oz
Click the images and links above for species details.

The state record largemouth was taken out of Canyon Lake.
Roosevelt Lake produced the state record smallmouth.
Top Bass Fishing Lakes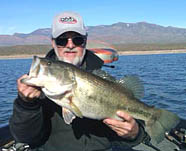 The state offers excellent bass fishing waters, each with their own special appeal. Roosevelt Lake is the largest. It is the head lake in a chain of 4 lakes and collects fresh water from the Salt River and Tonto Creek. This influx of fresh water promotes high spawn rates and provides nutrients for a healthy food chain. The lake sports both largemouth and smallmouth bass. Depending on the season, and time of day, one can catch largemouth's from the surface down to 40 or 50 feet deep. The Roosevelt Lake Marina offers fishing boat rentals and fishing supplies.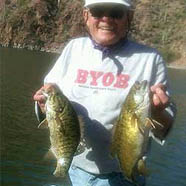 Apache Lake, the second lake in the chain, offers some very fine smallmouth bass fishing as well as pretty decent largemouth fishing. It is a flooded river channel with awe-inspiring surroundings which include wildlife refuges. You can catch smallmouth and largemouth on back-to-back casts, and the lake is known for top water action during the warm months. Apache lake offers some of the best smallmouth bass fishing in the state. At the Apache Lake Marina there are convenient lodging and camping options, a restaurant, bar and store.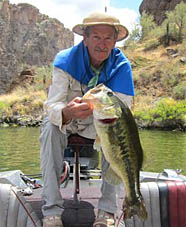 Canyon Lake, third in the chain, is another flooded river channel and offers primarily largemouth fishing. This lake is known for smaller quantities of bass yet typically higher quality. Many large bass are caught from Canyon Lake each year. Canyon Lake Marina serves the fishing and boating population with a variety of supplies and services.
The fourth lake in the chain is Saguaro Lake. It again offers primarily largemouth bass fishing. As the last lake in the chain it supports a much smaller population of bass. Visit Saguaro Lake Marina for boat rentals, fuel and fishing supplies.
Bartlett Lake is on the Verde River northeast of Phoenix. It offers largemouth bass fishing which may vary from year to year depending on dramatic water level fluctuations.
Lake Pleasant northwest of Phoenix is a quick drive from town and offers excellent largemouth fishing. It supports a good population of bass as well as offers some lunker fishing at times.
San Carlos Lake in eastern Arizona is a haven for big bass when the water level remains beneficial for several years in a row. At times this lake can deliver a limit of bass in the six to seven pound range.
Alamo Lake on the Bill Williams River in western Arizona is another lake which offers stringers of big bass when the water levels cooperate for a few years in a row.
Along the Colorado River Lake Powell, Lake Mead, Lake Mohave, Lake Havasu and Martinez Lake all offer fine largemouth bass fishing. These are big waters which support both quantity and quality of bass. These typically clear water reservoirs test the anglers skills and offer many ways to catch bass.
Bass lakes in the cooler parts of the state include Black Canyon Lake, Goldwater Lake, Lynx Lake, Rainbow Lake, Show Low Lake and Watson Lake.
Top 5 Bass Fishing Lures For Arizona
When bass are shallow, spinnerbaits, crankbaits and top water lures are the most productive. As they move deeper, worms and jigs are among the top producers.
If you like to bass fish south of the border, click here for information on some of the most popular bass fishing lakes in Mexico as well as maps and travel details.
Bass fishing basics video.
Bass Fishing In Arizona
Arizona is a haven for bass fishing enthusiasts, offering abundant opportunities to target both largemouth and smallmouth bass. Largemouth bass, known for their size and strength, are a popular game fish in the state. Anglers can find largemouth bass in various lakes and reservoirs, including Roosevelt Lake, Apache Lake, and Lake Pleasant. These fish are often found near submerged structures such as rocky shorelines, submerged vegetation, and fallen trees. Techniques such as flipping and pitching soft plastics, using topwater lures, or working crankbaits along the bottom can entice strikes from these powerful bass.
On the other hand, smallmouth bass provide a thrilling challenge for anglers seeking a more aggressive and hard-fighting fish. Arizona's rivers, such as the Colorado River and the Salt River, are known for their healthy populations of smallmouth bass. Anglers can target smallmouth bass by casting with jigs, spinnerbaits, or crankbaits near rocky areas, submerged ledges, or current breaks. These agile fish are known for their acrobatic leaps and tenacious fights, making smallmouth bass fishing a thrilling pursuit in Arizona.
Understanding the primary seasonal movements of smallmouth bass and largemouth bass is key to locating them on local lakes in the Grand Canyon State.
Bass fishing information by state.
The lifecycle of bass
The more you know about the seasonal migration of bass, the more likely you are to be looking in the right area next time you visit Arizona bass fishing lakes. Visit the bass fishing page for more in-depth information about bass activities.
ARIZONA