Guide To Fishing At Roosevelt Lake
AKA: Lake Roosevelt
What to fish for...
Fishing for largemouth bass, smallmouth bass, channel catfish, flathead catfish, black crappie, bluegill and yellow bass at Roosevelt Lake in Arizona.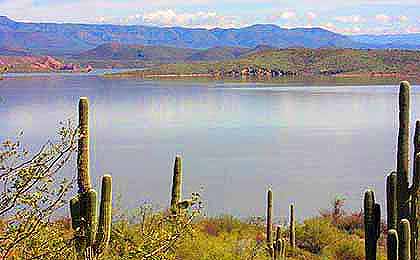 Located in Central Arizona at the convergence of the Salt River and Tonto Creek, Roosevelt Lake is the head lake in a chain of 4 lakes. These lakes provide water to the Phoenix metropolitan area. It is accessed via State Highway 188 northeast from Globe and Miami AZ. Lake Roosevelt is over 22,000 surface acres when full and is 23 miles long. Numerous campgrounds with boat launch facilities are located along the southwestern shore of the lake. Windy Hill, Schoolhouse Point, Grapevine, Cholla, Porter Springs and Horse Pasture are the primary areas with facilities.
Roosevelt Lake, located in Arizona, is a popular destination for fishing enthusiasts and outdoor enthusiasts alike. Spanning over 21,000 acres, it is the largest lake in central Arizona and offers a wide range of activities for visitors to enjoy. Fishing is one of the main attractions at Roosevelt Lake, as it is home to numerous species of fish, making it a paradise for anglers.
The lake is known for its diverse fish population, which includes species such as largemouth bass, smallmouth bass, crappie, catfish, and sunfish. Anglers can try their luck at catching these prized fish using various techniques, such as casting, trolling, or bait fishing. The lake's vast size provides ample opportunities to explore different fishing spots and increase the chances of a successful catch.
Bass fishing at Roosevelt Lake in Arizona is a thrilling and rewarding experience for anglers of all skill levels. Known for its excellent bass population, the lake provides ample opportunities to reel in trophy-sized largemouth and smallmouth bass. With its diverse underwater structure, including rocky points, submerged trees, and weed beds, Roosevelt Lake offers the perfect habitat for bass to thrive. Anglers can employ a variety of techniques, such as casting topwater lures in the early morning or using soft plastics to mimic baitfish. The challenge of outsmarting these powerful and elusive bass, combined with the breathtaking scenery of the lake and surrounding landscape, makes bass fishing at Roosevelt Lake an unforgettable adventure.
Aside from fishing, Roosevelt Lake also offers opportunities for boating enthusiasts. The lake is perfect for boating, with its calm waters and ample space to navigate. Whether you prefer sailing, powerboating, or kayaking, the lake provides a fantastic setting for a day out on the water. Boaters can enjoy the scenic beauty of the surrounding Tonto National Forest while indulging in their favorite water-based activities.
For those who prefer to spend a night or two immersed in nature, Roosevelt Lake offers excellent camping facilities. There are several campgrounds located around the lake, providing both tent and RV camping options. With picturesque views and convenient amenities, camping at Roosevelt Lake allows visitors to experience the serenity of the outdoors while being close to the water. Campers can enjoy activities like hiking, birdwatching, or simply relaxing by the campfire, creating unforgettable memories in the heart of nature.
Roosevelt Lake in Arizona is a haven for fishing enthusiasts, offering a diverse range of fish species to catch. Boaters can also take advantage of the lake's calm waters and beautiful surroundings, while campers can enjoy the tranquility of nature with convenient camping facilities. Whether you're seeking a thrilling fishing adventure, a day of boating fun, or a peaceful camping trip, Roosevelt Lake has something to offer for everyone who loves the outdoors.
Primary fish species residing in Roosevelt Lake
Click images for fishing tips and details about each species.

Bass Fishing
Historically, Roosevelt Lake has been known as a bass factory. An excellent population of largemouth bass has filled many a stringer for decades. The lake has ideal cover and forage to grow and maintain this bass haven. Lake levels fluctuate based on rainfall and snow melt. When the lake level stays high for long periods of time, the bass population thrives. At times, bass over 7 pounds are not uncommon, but the real attraction is the large quantities of bass available to anglers of all skill levels. The lake also sports a population of smallmouth bass which can add extra rewards to a day of bass fishing at Roosevelt Lake.
Crappie Fishing
Long known as a crappie factory, Roosevelt produces crappie over three pounds quite consistently. Crappie in the 1 pound to 2 1/2 pound range are the norm. Small crappie jigs, minnows spinners all take crappie at a variety of depths - depending on the season. During spring and fall crappie tend to favor seven to ten foot depths. In summer and winter they move deeper (often 45 feet and deeper).
Roosevelt Lake Amenities
Marina: YES
Boat Rental: YES
Boat Launch Ramp: YES
Campgrounds: YES
RV Hookups: YES
Lodging: NEARBY
Convenience Store: YES
Bait & Tackle: YES
Restaurant: YES
Today's Weather & Forecast
Fishing Boat Rentals
Roosevelt Lake Marina
Rentals: power boats and pontoons.
602 977-7170
Marinas
Roosevelt Lake Marina
28085 AZ-188
Roosevelt, AZ 85545
602 977-7170
Boat Launch Ramps & Landings
Cholla Boat Ramp
Tonto National Forest
Located along the northwest shoreline, this launch area includes a multi-lane concrete boat ramp, a dock and both paved and unpaved parking.
928 467-3200
Grapevine Boat Launch Ramp
Located on the south side of the lake, half way between Windy Hill and School House Point, this is a concrete, four-lane ramp with a dock and paved parking.
602 225-8395
Indian Point Campground Boat Launch
This is a nice two-lane launch ramp, with a dock and primitive parking.
928 467-3200
Porter Spring Recreation Site
Located just west of Windy Hill, this launch area serves the campground by providing a two-lane concrete boat launch ramp with limited parking.
Roosevelt Lake Marina
28085 AZ-188
Roosevelt, AZ 85545
Offers a two-lane, concrete launch ramp, with a dock. Parking area is unpaved.
602 977-7170
Schoolhouse Point Launch Ramp
This is a nice four-lane, concrete boat launch ramp, with a dock and plenty of paved parking.
602 225-5395
Windy Hill Recreation Site (East)
Located in the bay on the south side of windy hill, there are two boat ramps. One is four lane with docks and primitive parking (used primarily when lake levels are low. The other is an eight-lane ramp with paved parking (used when lake levels are high).
Windy Hill Recreation Site (West)
Located on the west side of windy hill, this boat ramp is six lane with a dock and primitive parking.
Click here for a Arizona Fishing License.
Campgrounds & RV Parks Nearby
Cholla Campground - 928 467-3200
Spring Creek Inn & RV Resort - 928 467-2888
Roosevelt Lakeview RV Park - 928 961-6822
Roosevelt Lake AZ Map - Fishing & Camping Areas
Lake Video
Contact Information
Roosevelt Lake
Roosevelt Lake Marina
28085 AZ-188
Roosevelt, AZ 85545
602 977-7170
Fishing lakes in each state.
Roosevelt Lake in Arizona.
ARIZONA



Information about camping and fishing lakes in AZ.
Roosevelt is centrally located and a great lake to catch bass and crappie.
Fishing at Roosevelt Lake, in Arizona.