Guide To Fishing At Big Lake
What to fish for...
Fishing for rainbow trout, cutthroat trout, brook trout and brown trout at Big Lake in Arizona.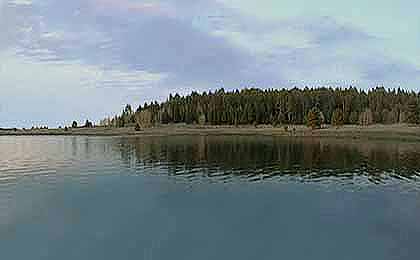 Located in the beautiful White Mountains, Big Lake is a 450-acre lake, 10 miles south of Greer, AZ. This is the largest, and most productive, fishing lake in the area. It is also a popular camping area with varied amenities and activities. Lots of shoreline is accessible for fishing from the bank. Fishing boats, kayaks and canoes are all good options for fishing here. A boat ramp is available for public use. There is a bait, tackle and convenience store at the lake which also offers boat rentals.
Big Lake, located in Arizona, is a premier destination for fishing enthusiasts and outdoor lovers alike. The lake spans over 450 acres and sits at an elevation of 9,000 feet, making it a picturesque and serene location. Fishing is the main attraction at Big Lake, as it offers a diverse range of fish species. Anglers can try their luck at catching rainbow trout, brown trout, brook trout, and cutthroat trout, among others. The abundance of fish and the pristine waters make Big Lake a haven for anglers of all levels of experience.
Trout fishing at Big Lake in Arizona is a dream come true for avid anglers. The lake's cool, clear waters and abundant fish population make it a haven for trout fishing enthusiasts. Big Lake is known for its diverse trout species, including rainbow trout, brown trout, brook trout, and cutthroat trout. Anglers can try various techniques, such as fly fishing with nymphs or dry flies, using spinners or spoons, or even bait fishing with worms or PowerBait. Whether casting from the shoreline or trolling in a boat, the opportunities for landing a trophy-sized trout are plentiful. The serenity of the lake, coupled with the majestic mountain backdrop, creates a truly remarkable experience for trout fishing enthusiasts at Big Lake.
Aside from fishing, Big Lake also offers opportunities for boating enthusiasts. The lake allows motorized boating, and visitors can explore its calm waters while taking in the breathtaking mountain scenery. Whether you enjoy leisurely cruising or engaging in water sports such as water skiing or tubing, Big Lake provides ample space and tranquility for boating activities.
For those seeking to extend their stay and immerse themselves in the beauty of the area, Big Lake offers camping facilities. Numerous campgrounds are scattered around the lake, providing both tent and RV camping options. Surrounded by tall pines and mountain vistas, camping at Big Lake is a great way to reconnect with nature. Campers can enjoy activities such as hiking, wildlife spotting, or simply relaxing by the campfire under the starry night sky.
Big Lake in Arizona is a paradise for fishing enthusiasts, with its diverse fish species and pristine waters. Boaters can take advantage of the lake's calm waters and stunning surroundings, while campers can enjoy a tranquil experience in the heart of nature. Whether you're seeking a thrilling fishing adventure, a day of boating fun, or a peaceful camping trip, Big Lake provides a memorable outdoor experience for all who visit.
Primary fish species residing in Big Lake
Click images for fishing tips and details about each species.

Big Lake Amenities
Marina: NO
Boat Rental: YES
Boat Launch Ramp: YES
Campgrounds: YES
RV Hookups: YES
Lodging: NO
Convenience Store: YES
Bait & Tackle: YES
Restaurant: NEARBY
Today's Weather & Forecast
Fishing Boat Rentals
Big Lake Tackle & Supply
Rentals: 5-man, 4-man fishing boats, row boats and kayaks
928 521-1387
Marinas
Big Lake Tackle and Supply
FS road 8115 store front
Greer, AZ 85927
928 521-1387
Boat Launch Ramps & Landings
Apache Railroad Multi-Use Trail
Concrete ramp, with dock, on the northwest corner of the lake
Big Lake Tackle & Supply
FS road 8115 store front
Greer, AZ 85927
Paved boat launch ramp and parking on the southeast corner of the lake.
928 521-1387
South Cove Boating Site
Paved boat ramp and parking, located on the southwest corner of the lake
Click here for a Arizona Fishing License.
Campgrounds & RV Parks Nearby
Grayling Campground - 928 333-4301
Cutthroat Campground - 928 735-7313
Apache Trout Campground - 928 537-8888
Brookchar Campground - 928 735-7313
Rainbow Campground - 928 537-8888
Big Lake AZ Map - Fishing & Camping Areas
Lake Video
Contact Information
Big Lake
Big Lake Arizona
Apache Trout Campground
Apache Sitgreaves National Forest
Springerville AZ 85938
928 537-8888
Fishing lakes in each state.
Big Lake in Arizona.
ARIZONA



Information about camping and fishing lakes in AZ.
If you enjoy camping and trout fishing, Big Lake is a great choice.
Fishing at Big Lake, in Arizona.