Guide To Fishing At Apache Lake
AKA: Lake Apache
What to fish for...
Fishing for largemouth bass, smallmouth bass, channel catfish, flathead catfish, black crappie, walleye, rainbow trout, bluegill and yellow bass at Apache Lake in Arizona.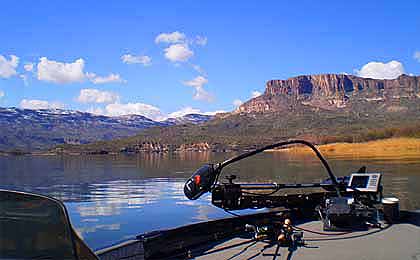 Situated below Roosevelt Lake, on the Salt River in central Arizona, Apache Lake is about an hours drive northwest from Apache Junction on State Highway 88. It can also be accessed going south on State Highway 88 from Roosevelt Dam off State Highway 188. Both directions require travel on winding, reasonably-well maintained dirt roads.
Apache Lake, located in Arizona, is a hidden gem for fishing enthusiasts and outdoor lovers. Situated in the heart of the Tonto National Forest, Apache Lake offers a serene and picturesque setting for various recreational activities. Fishing is a major draw at Apache Lake, as it is home to a diverse range of fish species, making it a prime destination for anglers.
The lake is renowned for its abundant population of largemouth bass, smallmouth bass, walleye, crappie, catfish, and sunfish. Anglers can test their skills and try various fishing techniques, whether it's casting from the shore, trolling along the lake's expansive waters, or finding the perfect spot to drop a line. The diverse species present in Apache Lake provide anglers with a great opportunity to catch a variety of fish and have an exciting day on the water.
Bass fishing at Apache Lake in Arizona is a true delight for avid anglers. Known for its excellent bass population, the lake offers a haven for those seeking to catch largemouth and smallmouth bass. With its rocky structures, submerged vegetation, and abundant prey, Apache Lake provides the ideal habitat for bass to thrive. Anglers can employ a variety of techniques, such as using topwater lures during the early morning or working jigs and soft plastics near underwater structures. The challenge of outsmarting these cunning bass, combined with the scenic beauty of the lake and the surrounding Sonoran Desert landscape, makes bass fishing at Apache Lake an exhilarating and memorable experience.
Boating enthusiasts will also find Apache Lake to be a haven for their favorite water activities. With its crystal-clear waters and over 17 miles of shoreline, the lake is ideal for boating adventures. Whether you prefer powerboating, sailing, or kayaking, Apache Lake offers ample space to explore and enjoy the surrounding natural beauty. From cruising along the calm waters to water skiing or wakeboarding, boaters will find plenty of opportunities for fun and excitement.
For those who wish to immerse themselves in nature and extend their stay, camping is a popular option at Apache Lake. The lake features several campgrounds with various amenities, including both tent and RV camping options. With stunning views of the water and the surrounding desert landscape, camping at Apache Lake provides a unique opportunity to disconnect from the bustle of everyday life and reconnect with nature. Campers can enjoy activities such as hiking nearby trails, birdwatching, or simply relaxing by the campfire under a star-filled sky.
Apache Lake in Arizona offers a haven for fishing enthusiasts, with a diverse range of fish species to target. Boating enthusiasts can explore the lake's tranquil waters, while campers can enjoy the beauty of the surroundings and the peacefulness of the wilderness. Whether you're seeking the thrill of fishing, the excitement of boating, or the tranquility of camping, Apache Lake provides an unforgettable experience in the heart of nature.
Take your time, drive slow and enjoy the scenery. This 2,600-acre lake is one of the most scenic lakes in central Arizona, with some of the most spectacular sunrises and sunsets seen in the southwest deserts.
Primary fish species residing in Apache Lake
Click images for fishing tips and details about each species.

Bass Fishing At Apache Lake
This deep-canyon lake is a flooded section of the Salt River. In the upper six or eight miles it looks and feels much more like a river than a lake. There is very little brush or vegetation in the lake, so rock and contours become the structure of choice for bass. There is a healthy population of largemouth bass, but the real attraction are the smallmouth. This lake produces quality smallmouth with 3 and 4-pounders common - and larger smallies not uncommon.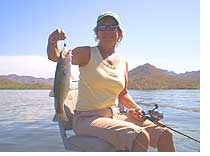 These bass can be caught on shallow points and reefs when the bass are shallow. When they move deeper they can be caught from 10 to 50 foot deep, or deeper. The water is generally clear, so light line is a good choice. Small worms, crankbaits, spinnerbaits, jerkbaits and topwater all work when the bass are shallow. Jigs, spoons and a drop shot work well when the bass move deeper.
Read an article about fishing at Apache Lake.
Other species in Apache Lake
Catfish, crappie, trout, sunfish and walleye also reside in Apache lake. Any of which occasionally attack bass lures, but the main attraction are the largemouth and smallmouth bass.
Apache Lake Amenities
Marina: YES
Boat Rental: YES
Boat Launch Ramp: YES
Campgrounds: YES
RV Hookups: YES
Lodging: YES
Convenience Store: YES
Bait & Tackle: YES
Restaurant: YES
Today's Weather & Forecast
Fishing Boat Rentals
Apache Lake Marina & Boat Rental
Rentals: Pontoon boats and kayaks for rent
928 923-6690
Marinas
Apache Lake Marina & Resort
229.5 Mile Marker
Roosevelt, AZ 85545
928 923-6690
Boat Launch Ramps & Landings
Apache Lake Marina
229.5 Mile Marker
Roosevelt, AZ 85545
Paved ramp, mid-lake on the on the east side of the lake.
928 923-6690
Burnt Coral Boat Launch
Paved ramp, six miles from the Roosevelt Lake dam, on the east side of the lake.
Three-Mile Boat Launch
Dirt ramp, 3 miles from the Roosevelt Lake dam, on the east side of the lake.
Click here for a Arizona Fishing License.
Campgrounds & RV Parks Nearby
Apache Lake Campground - 928 467-2511
Burnt Corral Campground - 602 225-5200
Apache Lake AZ Map - Fishing & Camping Areas
Lake Video
Contact Information
Apache Lake
Apache Lake Marina & Campground
229.5 Mile Marker
Roosevelt, AZ 85545
928 467-2511
Fishing lakes in each state.
Apache Lake in Arizona.
ARIZONA



Information about camping and fishing lakes in AZ.
Apache offers a mixed bag of quality fish species in a spectacular setting.
Fishing at Apache Lake, in Arizona.