Guide To Taking Kids Fishing In Arizona
Ideas and locations to take kids fishingin AZ.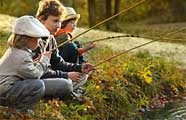 Fishing and the great outdoors offers kids an alternative to many influences they encounter in their busy lives today. A single fishing trip could be the turning point in a young life, and we encourage you to invest the time in Arizona kids. The rewards are endless and it takes so little effort.
Places in Arizona to take kids fishing
Consider these small lakes, ponds, creeks and urban fishing locations as places to take a kid fishing in the Grand Canyon State.
Flagstaff
- Goldwater Lake
- Heritage Park
- Watson Lake Park
- Willow Lake Park
Phoenix
- Alvord Lake
- Chaparral Lake
- Cortez Lake
- Desert Breeze Lake
- Encanto Park
- Kiwanis Park
- Papago Ponds
- Red Mountain Lake
- Rio Vista Pond
- Surprise Lake
- Tempe Town Lake
Tucson
- Kennedy Lake
- Lakeside Lake
- Patagonia Lake
- Sahuarita Lake
- Silverbell Lake

Top 3 tips for taking kids fishing in AZ
1. Make sure that the goal is to have fun. Catching fish is a bonus.
2. Keep it simple. Simple tackle, techniques and locations.
3. Keep the focus on the kids. Be a hero by helping them enjoy the day.
Click here for additional tips to create a successful day of fishing for kids.
Youngsters with their prized catch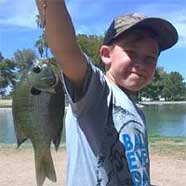 Chance Crowley, age 7, of Phoenix Arizona caught bluegill and catfish at Roadrunner Pond in Phoenix AZ. He used homemade stinkbait doughballs for the cats and hotdogs for the sunfish.
---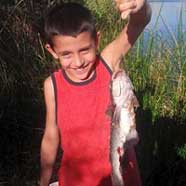 Noah Lent with a nice catfish caught on worms.
---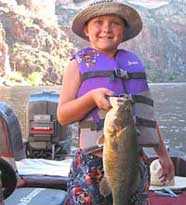 Morgan Hardt with his nice Canyon Lake Smallmouth.
---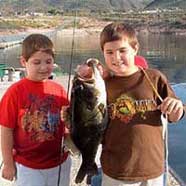 Brandon Correale (brown shirt), age 9, from Gilbert, AZ, a student at Power Ranch Elementary, caught this Largemouth Bass at the Roosevelt Lake Marina April 2, 2006. It weighed in at just over 13 pounds. He was assisted by his brother Dylan, 7 yrs old, in the red shirt. He caught the bass with night crawlers on his little Spiderman fishing pole.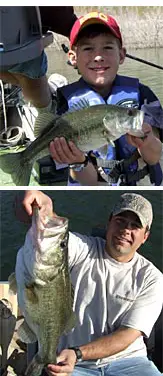 Blake Penrod (top) shows dad how it's done so dad catches a nice one too. This is what fishin is all about!
---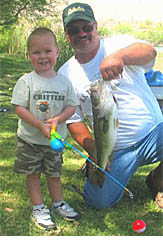 Tyler Cain with a real nice bass from Lower Lake Pleasant.
---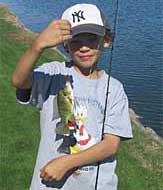 ---
Kids, fishing and smiles naturally go together. Take a kid fishing and you just might change the course of their life. Then take pictures and send us one of them holding their prized catch. We will happily post it here.
Kids fishing locations and information, by state.