Kids Fishing In Ohio
Ideas and locations to take kids fishing in OH.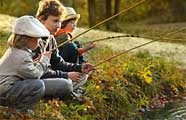 Fishing and the great outdoors offers kids an alternative to many influences they encounter in their busy lives today. A single fishing trip could be the turning point in a young life, and we encourage you to invest the time in Ohio kids. The rewards are endless and it takes so little effort.

Ohio offers wonderful opportunities for kids to experience the joy of fishing. Many urban areas in the state provide accessible fishing locations specifically designed for children, offering a chance to catch a variety of fish species while enjoying the outdoors.
Common fish species targeted in Ohio's urban fishing locations for kids include bluegill, crappie, catfish, and bass. These species are often plentiful and provide young anglers with a good chance of success. Bluegill, in particular, is a popular choice due to its abundance and willingness to bite, making it an ideal fish for kids to catch and learn about.
Urban fishing locations in Ohio are often stocked with fish, ensuring a consistent supply of catchable species for children to enjoy. Parks, ponds, and lakes within city limits or near residential areas are frequently designated as urban fishing spots. These areas are typically well-maintained, easily accessible, and equipped with amenities such as fishing piers, docks, and picnic areas to enhance the overall experience for families.
Some of the popular urban fishing locations for kids in Ohio include the ponds at Fred Beekman Park in Columbus, Griggs Reservoir Park in Upper Arlington, and Veterans Park Pond in Blanchester. These locations offer a safe and family-friendly environment where kids can learn fishing techniques, practice casting, and experience the thrill of reeling in their first catch.
Ohio's urban fishing programs often include special events and activities tailored for kids, such as fishing derbies and educational workshops. These initiatives aim to introduce children to the joys of fishing while fostering an appreciation for nature and conservation.
Overall, Ohio's urban fishing locations provide a fantastic opportunity for kids to engage in the timeless tradition of fishing. With easily accessible venues, stocked fish species, and family-oriented amenities, young anglers can create lasting memories while developing a lifelong love for fishing and the outdoors.
Places in Ohio to take kids fishing
Consider these small lakes, ponds, creeks and urban fishing locations as places to take a kid fishing in the Buckeye State.
Cleveland
- Bunns Lake
- Oxbow Lagoon
- Ranger Lake
- Shadow Lake
- Wallace Lake
Delaware
- Griggs Reservoir Park
- O'Shaughnessy Reservoir
Dellroy
- Atwood Lake
Columbus
- Antrim Park
- Griggs Reservoir Park
- Schiller Park
- Three Creeks Metro Park
Cincinnati
- River Hill Pond, Miami Whitewater Forest
- Sharon Woods Lake
- Triple Creek Park
- Winton Woods Park
Mifflin
- Charles Mill Lake
Top 3 tips for taking kids fishing in OH
1. Make sure that the goal is to have fun. Catching fish is a bonus.
2. Keep it simple. Simple tackle, techniques and locations.
3. Keep the focus on the kids. Be a hero by helping them enjoy the day.
Click here for additional tips to create a successful day of fishing for kids.
Kids Fishing Video
Youngsters with their prized catch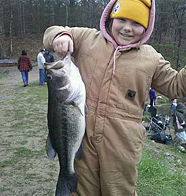 9 years old Brylee Haupt shows off a nice, 25" long bass caught at Rose Lake in Hocking Hills State Park.
Kids, fishing and smiles naturally go together. Take a kid fishing and you just might change the course of their life. Then take pictures and send us one of them holding their prized catch. We will happily post it here.
Kids fishing locations and information, by state.
Help us identify other youth fishing spots in OH.
If you are aware of a great place to take kids fishing in your area, please let us know. We can add it to our list. Every kid that catches a fish will appreciate the fact that you made the effort.
OHIO