Guide To Taking Kids Fishing In Oregon
Ideas and locations to take kids fishing in OR.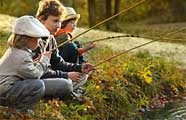 Fishing and the great outdoors offers kids an alternative to many influences they encounter in their busy lives today.Take a kid ice fishing in winter. A single fishing trip could be the turning point in a young life. We encourage you to invest the time in Oregon kids. The rewards are endless and it takes so little effort.

Places in Oregon to take kids fishing
Consider these small lakes, ponds, creeks and urban fishing locations as places to take a kid fishing in the Beaver State.
Eugene
- Alton Baker Park
- Armitage Park
- Blue River Lake
- Delta Ponds Park
- Fern Ridge Lake
- Hills Creek Reservoir
- Mercer Lake
- Siltcoos Lake
Gardiner
- Tahkenitch Lake
Juntura
- Beulah Reservoir
Lincoln City
- Regatta Park
- Taft Waterfront Park
Portland
- Rooster Rock State Park
- Eastbank Esplanade Park
- Milo McIver State Park
- Sellwood Riverfront Park
- Willamette Park
Salem
- Cascade Gateway Park
- Mary S. Young State Park
- Minto Brown Park
Oregon offers many opportunities for kids to fish and experience the thrill of the "tap-tap-tap". Watch the eyes of a youth light up no matter how big or small their catch may be. You have the opportunity to experience it with them and share their joy.
Top 3 tips for taking kids fishing in OR
1. Make sure that the goal is to have fun. Catching fish is a bonus.
2. Keep it simple. Simple tackle, techniques and locations.
3. Keep the focus on the kids. Be a hero by helping them enjoy the day.
Click here for additional tips to create a successful day of fishing for kids.
Kids Fishing Video
Youngsters with their prized catch
---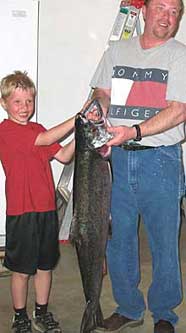 My son Dawson Howard and myself, Todd Howard, were fishing on the Oregon side of the Columbia River Saturday, June 17,2006 when I heard the bell ring on Dawson's pole. I ran over & set the hook, handed the pole to Dawson who is 7 hears old. Dawson started reeling & the fight was on. The Chinook salmon headed down river stripping line. I asked another fisherman to free spool my pole as the salmon was heading right toward my line. The other fisherman confirmed the two lines were tangled. Dawson reeled for about 10 minutes with my hand supporting his pole, when he said, "Daddy my arms hurt." I took over & told my son when he was ready to reel again to let me know. Two minutes later he was ready to go. Dawson fought it for about another 10 minutes then said, "Daddy, I'm done". Dawson almost had it all the way in. Within a few minutes we had it netted & on the beach. This Chinook salmon weighed in at 35 pounds, which is about 20 pounds less than my son weighs. Dawson showed his daddy how it's done and I am extremely proud of my son.
---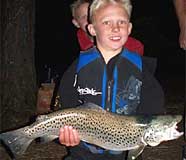 Eli Rome, age 7 of Mulino, Or with his awesome brown trout. He caught the trout while fishing with his dad, grandfather and best buddy Hayden at Suttle Lake near Sisters, Oregon August 9th, 2008. They were using Rapala's!
---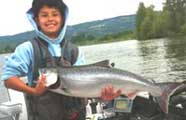 Brendan Foster with his 18-pound Salmon. Caught on Fathers day, 2012, using a quick fish bait at St. Helens, Columbia River.
---
Take a kid fishing and bring your camera! These are a few of the places to take them fishing and get some great pictures.
Kids, fishing and smiles naturally go together. Take a kid fishing and you just might change the course of their life. Then take pictures and send us one of them holding their prized catch. We will happily post it here.
Kids fishing locations and information, by state.
Help us identify other youth fishing spots in OR.
If you are aware of a great place to take kids fishing in your area, please let us know. We can add it to our list. Every kid that catches a fish will appreciate the fact that you made the effort.
OREGON