Guide To Fishing At Siltcoos Lake
AKA: Siltcoos Reservoir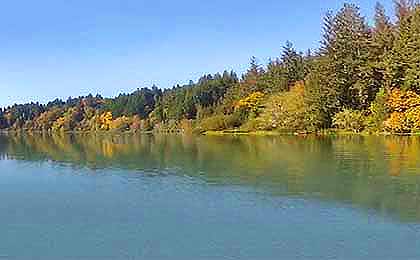 A nice variety of both warm-water and cold-water fish species populate the waters of Siltcoos Lake, a 3,200-acre lake in the west-central part of the state, at Dunes City by the coast. Dense forest, dotted with homes and boat docks, line the 28 miles of shoreline which includes several islands.
Siltcoos Lake, located on the central coast of Oregon, is a scenic and popular fishing destination known for its abundant fish populations and tranquil surroundings. The lake offers anglers a diverse range of fishing opportunities and a chance to reel in some impressive catches.
One of the main attractions of Siltcoos Lake is its excellent fishing for warmwater species, particularly largemouth bass. The lake is home to a healthy population of largemouth bass, providing anglers with exciting angling opportunities. Anglers can target these bass using various techniques, such as casting with plastic worms, crankbaits, or topwater lures. The lake's submerged vegetation, fallen trees, and lily pads serve as ideal habitats for bass, creating exciting fishing scenarios.
In addition to largemouth bass, Siltcoos Lake also offers opportunities to catch other popular fish species such as yellow perch, crappie, and bluegill. Yellow perch are known for their tasty fillets and can be found in the lake's shallower areas. Crappie and bluegill, both panfish species, provide enjoyable angling experiences, especially during the spring and summer months when they move into shallower waters to spawn. Anglers can target these species using small jigs, live bait, or even fly fishing techniques.
Boating is a popular activity on Siltcoos Lake, as it allows anglers to explore the expansive waters and access different fishing locations. Motorboats, kayaks, and canoes are all permitted on the lake, providing anglers with various options to navigate the water. It is important to follow boating regulations, such as speed limits and safety requirements, to ensure a safe and enjoyable experience on the lake.
Camping facilities can be found near Siltcoos Lake, allowing anglers to extend their fishing trips and fully immerse themselves in the natural beauty of the area. Campgrounds provide convenient access to the lake, allowing anglers to make the most of their time on the water and enjoy peaceful evenings surrounded by nature.
Before embarking on a fishing trip to Siltcoos Lake, it's important to check the local fishing regulations, including any size and bag limits, as well as any specific rules for the area. Respecting these regulations helps maintain the health and sustainability of the fish populations and ensures a positive fishing experience for all.
Siltcoos Lake in Oregon offers anglers a picturesque setting and a variety of fish species to pursue. Whether you're targeting largemouth bass, yellow perch, crappie, or bluegill, Siltcoos Lake provides a memorable fishing adventure along the scenic central coast of Oregon.
Many fish species thrive here and attract anglers of all ages and skill levels. The Siltcoos River Canoe Trail landing and Darlings Marina & RV Resort boat launch ramp are the primary boating access areas for the lake. Everything from canoes and kayaks to pontoons and fishing boats are popular here. Marinas, rental boats, lodging and campgrounds can enhance your stay for a weekend fishing trip or an extended vacation.

What to fish for...
Fishing for largemouth bass, black crappie, rainbow trout, cutthroat trout, steelhead, bluegill, yellow perch, chinook salmon, coho salmon and kokanee salmon at Siltcoos Lake in Oregon.
Primary fish species residing in Siltcoos Lake
Click images for fishing tips and details about each species.
Siltcoos Lake Amenities
Marina: YES
Boat Rental: YES
Boat Launch Ramp: YES
Campgrounds: YES
RV Hookups: YES
Lodging: YES
Convenience Store: YES
Bait & Tackle: YES
Restaurant: YES
Today's Weather & Forecast
Fishing Boat Rentals
Darlings Marina & RV Resort
Rentals: Fishing boats, kayaks and pontoon boats
541 997-2841
Siltcoos River Kayak Rentals
Rentals: Kayaks
541 999-6941
Westlake Resort
Rentals: Fishing boats and kayaks
541 997-3722
Public Boat Launch Ramps & Landings
Siltcoos River Canoe Trail Boat Launch Ramp
Located mid lake, west side, off Lake Blvd, this is a one-lane, concrete ramp with a dock and paved parking.
Marinas
Jackson's Mini Marina
82803 Ocean Blvd
Westlake, Oregon 97493
541 991-8575
Lake's Edge RV Park and Marina
4776 Laurel Avenue
Westlake, OR 97493
541 997-6056
Click here for a Oregon Fishing License.
Campgrounds & RV Parks Nearby
Darlings Marina & RV Resort - 541 997-2841
Lake's Edge RV Park & Marina - 541 997-6056
Nightingale's Fishing Camp Campground - 541 997-2892
Tyee Campground - 541 902-1369
Siltcoos Lake OR Map - Fishing & Camping Areas
Lake Video
Contact Information
Siltcoos Lake
Darlings Marina & RV Resort
4879 Darlings Loop
Florence, OR 97439
541 997-2841
Fishing lakes in each state.
Siltcoos Lake in OR
OREGON


Fishing for salmon, trout and bass in west-central OR.
Siltcoos Lake, in Oregon.