Bass Fishing & Bass Lakes In Oregon
Guide to fishing for spotted, redeye, shoal, smallmouth and largemouth bass in OR.
By Rick Seaman
Visit the Bass Knowledge Center for valuable information about bass and bass fishing.
Oregon offers nice opportunities for bass fishing, with both largemouth and smallmouth bass being popular species among anglers. Largemouth bass are particularly abundant in the state's lakes, ponds, and reservoirs, providing anglers with exciting angling experiences. These powerful fish are known for their aggressive strikes and strong fights, making them a favorite among bass enthusiasts. Anglers often target largemouth bass by casting with a variety of lures such as plastic worms, jigs, crankbaits, and topwater baits. Some popular bass fishing destinations in Oregon include the Columbia River, Willamette River, and numerous lakes and reservoirs throughout the state.
Oregon is also home to thriving populations of smallmouth bass, which are highly sought-after for their feisty nature and acrobatic fights. Smallmouth bass can be found in rivers and streams, as well as in some of the state's larger lakes and reservoirs. Anglers often target smallmouth bass using similar techniques as largemouth bass, including casting with various lures and baits. The Umpqua River, John Day River, and some of the state's smaller streams are renowned for their excellent smallmouth bass fishing opportunities.
Both largemouth and smallmouth bass can be caught throughout the year in Oregon, but the best times to target them vary depending on the season. During the warmer months, such as spring and summer, bass become more active and tend to move into shallower areas to feed, making it an ideal time for anglers to pursue them. However, bass can still be caught in the cooler months, albeit with slightly different fishing techniques and strategies. Anglers should consider factors such as water temperature, weather conditions, and the bass's preferred habitat when planning their fishing trips.
When bass fishing in Oregon, it is important to familiarize yourself with the specific regulations and guidelines set by the Oregon Department of Fish and Wildlife. This includes size and bag limits, fishing methods, and any special regulations for certain water bodies. By adhering to these rules and practicing responsible fishing practices, anglers can contribute to the conservation and sustainability of bass populations in Oregon's waters while enjoying a thrilling bass fishing experience.
Bass Lakes In Oregon
The major lakes with a healthy population of bass include Brownlee Reservoir, Crane Prairie Reservoir, Crump Lake, Davis Lake, Fern Ridge Reservoir, Green Peter Lake, Lake Billy Chinook, Lake Owyhee, Phillips Lake, Prineville Reservoir, Siltcoos Lake, Tahkenitch Lake, Tenmile Lakes, Warm Springs Reservoir and Wickiup Reservoir. Other ponds and small lakes also contain bass. The Columbia River, Coos River and others also offer bass fishing opportunities.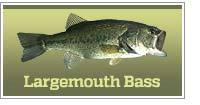 World record: 22 lbs 4 oz
State Record: 12 lbs 1.6 oz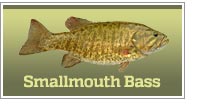 World record: 11 lbs 15 oz
State Record: 8 lbs 1.76 oz
Click the images and links above for species details.
Top 5 Bass Fishing Lures For Oregon
When bass are shallow, spinnerbaits, crankbaits and stickbaits are the most productive. As they move deeper, worms and jigs are among the top producers.
Oregon State Record Bass
The state record largemouth bass was caught from Ballenger Pond.
The state record smallmouth bass came from Henry Hagg Lake.
Local Bass Tournaments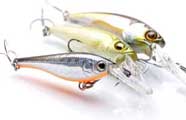 Some of the Oregon waters preferred by tournament fisherman include the Columbia River, Willamette River, and Umpqua River for some of the best smallmouth bass fishing in the world. Hagg Lake has the state record smallmouth but can be a very tough lake. It does have half of the lake reserved as a no wake zone and the other half for water sports so it is popular. Tenmile lake and all the coastal lakes, Crane Prairie, Dorena Reservoir, Green Peter Reservoir, Cottage Grove Reservoir, all of these locations are also excellent largemouth bass fisheries.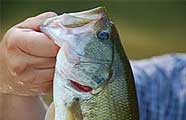 Bass are one of the most sought after of all the game fish. Its appeal spans cultures, age groups and genders to tap on the heart strings of anglers everywhere. Join us in our endeavor to offer information about bass fishing on your favorite bass lake in Oregon.
Bass fishing basics video.
Understanding the primary seasonal movements of smallmouth bass and largemouth bass is key to locating them on local lakes in the Beaver State.

Catch big bass!
Bass fishing information by state.
The lifecycle of bass
The more you know about the seasonal migration of bass, the more likely you are to be looking in the right area next time you visit Oregon bass fishing lakes. Visit the bass fishing page for more in-depth information about bass activities.
OREGON