Bass Fishing & Bass Lakes In Minnesota
Guide to fishing for smallmouth and largemouth bass in MN.
By Rick Seaman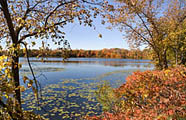 Bass are one of the most sought after of all the game fish. Its appeal spans cultures, age groups and genders to tap on the heart strings of anglers everywhere. Visit the Bass Knowledge Center for valuable information about bass and bass fishing. Join us in our endeavor to offer information about bass fishing on your favorite bass lake.
Minnesota is a fantastic destination for bass fishing, with ample opportunities to target both largemouth and smallmouth bass. Largemouth bass can be found in various lakes throughout the state, offering anglers exciting angling experiences. The sprawling Lake Minnetonka is renowned for its largemouth bass population, with its submerged vegetation, docks, and rocky structures providing ideal habitat for these fish. Anglers can target largemouth bass using a variety of techniques such as flipping jigs, soft plastics, or topwater lures.
Smallmouth bass, known for their aggressive nature and strong fighting ability, are another popular species among anglers in Minnesota. The state boasts numerous lakes and rivers that provide excellent smallmouth bass fishing opportunities. The St. Croix River, with its rocky shorelines and clear waters, is a favorite smallmouth bass destination. Anglers can target smallmouth bass by casting with crankbaits, jigs, or soft plastics along rocky points, drop-offs, or submerged structures.
The best time to fish for bass in Minnesota varies depending on the species and location. Largemouth bass are typically more active during the warmer months, particularly late spring and early summer when they spawn and feed aggressively. Smallmouth bass, on the other hand, tend to be more active in the spring and fall when water temperatures are cooler. However, both species can be caught throughout the fishing season, and angling techniques may need to be adjusted to match the prevailing conditions.
Minnesota's lakes and rivers provide anglers with diverse opportunities for bass fishing. Whether it's the thrill of landing a trophy-sized largemouth bass or the excitement of battling a feisty smallmouth, Minnesota offers a wealth of angling adventures for bass enthusiasts. With its scenic beauty and excellent fishing prospects, Minnesota is a must-visit destination for bass anglers seeking memorable experiences on the water.
Bass Fishing Lakes in Minnesota
Bigger lakes including Big Stone Lake, Cass Lake, Kabetogama Lake, Lac Qui Parle Lake, Lake Bemidji, Lake Mille Lacs, Lake Minnetonka, Lake Minnewaska, Lake of the Woods, Lake Pepin, Lake Traverse, Lake Vermilion, Lake Winnibigoshish, Leech Lake, Lower Red Lake, Otter Tail Lake, Pelican Lake, Rainy Lake and Upper Red Lake all contain bass.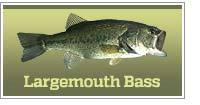 World record: 22 lbs 4 oz
State Record: 8 lbs 15 oz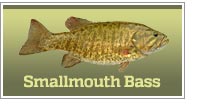 World record: 11 lbs 15 oz
State Record: 8 lbs 0 oz
Click the images and links above for species details.
Top 5 Bass Fishing Lures For Minnesota
When bass are shallow, spinnerbaits, crankbaits and stickbaits are the most productive. As they move deeper, worms and jigs are among the top producers.
Minnesota State Record Bass
The state record largemouth bass was caught from Auburn Lake.
The state record smallmouth bass came from West Battle Lake.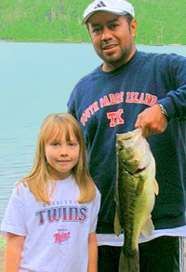 This nice bass was caught at Thunder Lake out of Remer, Minnesota by Paul Martinez.
Bass Lakes In MN
If you like to fish for bass, especially smallmouth bass, Minnesota is your kind of place. Thousands of lakes and the vast majority have healthy populations of bass.
Bass fishing basics video.
Understanding the primary seasonal movements of smallmouth bass and largemouth bass is key to locating them on local lakes in the North Star State.

Catch big bass!
Bass fishing information by state.
The lifecycle of bass
The more you know about the seasonal migration of bass, the more likely you are to be looking in the right area next time you visit Minnesota bass fishing lakes. Visit the bass fishing page for more in-depth information about bass activities.
MINNESOTA