Guide To The Best Bass Fishing Lakes In Delaware
All about fishing for smallmouth and largemouth bass in DE lakes and rivers.
Delaware is home to some great bass fishing opportunities, with both largemouth bass and smallmouth bass being popular targets for anglers throughout the state.
Largemouth bass are widely distributed in Delaware's lakes, ponds, and rivers, making them a primary focus for many bass anglers. They are known for their aggressive strikes and powerful fights, making them a thrilling species to catch. Largemouth bass can be found in various habitats, such as weed beds, fallen trees, and submerged structures. Anglers often use a variety of lures, including topwater baits, spinnerbaits, and plastic worms, to entice these elusive fish.
Smallmouth bass, although less common than largemouth bass in Delaware, can still be found in select rivers and lakes throughout the state. They prefer clear, rocky habitats with good water flow. Smallmouth bass are renowned for their strength and acrobatic leaps when hooked, providing anglers with an exciting fishing experience. Techniques such as casting crankbaits, using jigs, or drifting live bait can be effective in targeting smallmouth bass.
The best time to target bass in Delaware is typically during the spring and fall seasons when water temperatures are optimal and the fish are actively feeding. During the spring, bass move into shallower waters for spawning and are more aggressive in striking lures. In the fall, bass feed heavily in preparation for the winter months. However, bass fishing can still be productive throughout the year, with early morning and evening hours often being the most productive times to fish.
When pursuing bass in Delaware, it is important to be familiar with the fishing regulations and licensing requirements in the state. Adhering to size and bag limits helps preserve the bass population and ensures the sustainability of the fishery for future generations of anglers.
Whether you prefer the thrill of targeting largemouth bass or the challenge of pursuing smallmouth bass, Delaware offers a range of opportunities for bass fishing enthusiasts. With its diverse waterways and abundant bass populations, anglers can enjoy a rewarding fishing experience while exploring the natural beauty of the state.
Bass Fishing Lakes In Delaware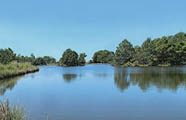 Whatever your location in DE, it's a short drive to a bass fishing lake. Visit the Bass Knowledge Center for valuable information about bass and bass fishing. Andrews Lake, Becks Pond, Chipman Pond, Concord Pond, Coursey Pond, Garrisons Lake, Griffith Lake, Haven Lake, Hearns Pond, Horsey Pond, Ingrams Pond, Lake Como, Lums Pond, Masseys Mill Pond, McGinnis Pond, Millsboro Pond, Moores Lake, Mud Mill Pond, Records Pond, Silver Lake, Wagamons Pond and Waples Pond all have populations of bass.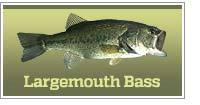 World record: 22 lbs 4 oz
State Record: 11 lbs 1.6 oz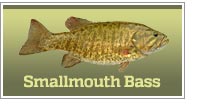 World record: 11 lbs 15 oz
State Record: 4 lbs 15 oz
Click the images and links above for species details.
Top 5 Bass Fishing Lures For Delaware
When bass are shallow, spinnerbaits, crankbaits and stickbaits are the most productive. As they move deeper, worms and jigs are among the top producers.
Delaware State Record Bass
The state record largemouth bass was caught from Wagamons Pond.
The state record smallmouth bass came from the Brandywine River.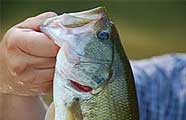 Bass are one of the most sought after of all the game fish. Its appeal spans cultures, age groups and genders to tap on the heart strings of anglers everywhere. Join us in our endeavor to offer information about bass fishing on your favorite bass lake in Delaware.
Bass fishing basics video.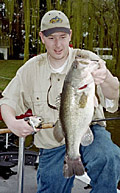 Understanding the primary seasonal movements of smallmouth bass and largemouth bass is key to locating them on local lakes in the First State. The purpose of this page is to provide specific information about fishing for bass in Delaware. Find information on basic trends and seasonal patterns of bass here, and in the articles about bass fishing in Delaware. Find tips, recommended tackle, techniques and more. We want to help you make your bass fishing trips more successful.

Catch big bass!
Bass fishing information by state.
The lifecycle of bass
The more you know about the seasonal migration of bass, the more likely you are to be looking in the right area next time you visit Delaware bass fishing lakes. Visit the bass fishing page for more in-depth information about bass activities.
DELAWARE