Best Fishing Guides In Delaware
Hire a guide to take you fishing in DE.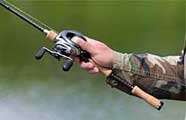 Hire a fishing guide to fish for largemouth bass, smallmouth bass, channel catfish, black crappie, walleye, rainbow trout, bluegill, redear sunfish, yellow perch, stripers, hybrid wipers, chain pickerel and tiger muskie in local lakes.

Delaware Fishing Guides
Other Local Guides
For the ultimate fishing experience, hire a professional guide. They know the DE fishery inside out and have determined the best techniques for catching fish at various times of the year.
Goin Fishin Adventures - 302-697-0557
Don Murray - don@goinfishin101.com
Focus Species: Large Mouth Bass/ Striped Bass. Goin fish Adventures is a fully equipped,licensed and insured guide service. With five of our best guides in the area to insure you a successful trip, not only will we take you fishing but we take the time to teach our customers the techniques in catching fish.Our service covers most waters in Delaware and some of the eastern shore of Maryland.
Delaware River Fly Fishing Guide Service 607-221-4282
flyfishing@delawareriverguide.net
Upper Delaware River Fly Fishing Guide Jerry Hadden. Fly Fishing for Wild Trout on the Upper Delaware River. Fly fishing float trips on the Upper Delaware River with Delaware River fly fishing guide.
Delaware Fishing Guide Services
In addition to catching fish, guides teach you techniques which you will use over a lifetime of fishing. Learn tips on rods, reels, line, knots, lures, hook types, techniques and much more...all by spending the day in a boat with a local guide.
Fishing guide information for other states.
DELAWARE