Best Fishing Guides In Nevada
Hire a guide to take you fishing in NV.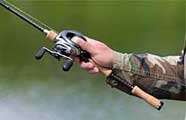 Hire a fishing guide to fish for largemouth bass, smallmouth bass, spotted bass, channel catfish, white catfish, black crappie, white crappie, walleye, rainbow trout, cutthroat trout, brook trout, brown trout, lake trout, bluegill, green sunfish, pumpkinseed sunfish, redear sunfish, white bass, yellow perch, coho salmon, kokanee salmon, stripers, northern pike and tiger muskie in local lakes.

Nevada Fishing Guides
Other Local Guides
For the ultimate fishing experience, hire a professional guide. They know the NV fishery inside out and have determined the best techniques for catching fish at various times of the year.
American Angler Guide Service - 702-630-2237
Cap' n Bob Wood - fishcapnbob@americanangler.net
Focus Species: Striped Bass. 1/2 day Chartered fishing trips on Lake Mead. Fully licensed and insured. We supply all necessary bait and tackle as well as cold bottled water. You supply valid Nevada fishing license and snacks.
Anglers Edge Guide Service - 702-285-2814
Cap' n John Wood - capnjohn@fishanglersedge.com
Focus Species: Striped Bass, Largemouth Bass. Guided fishing trips on Lake Mead in Southern Nevada. Fully licensed & insured. We provide all necessary bait & tackle for the season being fished as well as cold bottled water. You supply valid Nevada fishing license and any snacks or beverages desired.
Nevada Fishing Service - 775-969-3237 or 846-7925
Shaun Gilbert - redrockdog@aol.com
Focus Species: Steelhead hybrid, brown and brook trout and largemouth bass. From full service all equipment included, to non guided trips on my own private lakes. Trout up to 12 lbs and bass up to 4lbs. We have 4 lakes 2 just for bass and 2 for trout. We also have some big brookies up to 4lbs.
Arlo's Fly Fishing Services - 775 997-4883
Arlo Townsend - arlotownsend@sbcglobal.net
Focus Species: Brown trout, rainbow trout and Lahontan cutthroat trout. Full and half day guided Fly fishing trips on the Truckee, Little Truckee R, and Pyramid Lake (Paiute Indian Reservation north of Reno)
Nevada Fishing Guide Services
In addition to catching fish, guides teach you techniques which you will use over a lifetime of fishing. Learn tips on rods, reels, line, knots, lures, hook types, techniques and much more...all by spending the day in a boat with a local guide.
Fishing guide information for other states.
NEVADA