Fishing For Salmon In Nevada
Guide to fishing for coho and kokanee salmon in NV.
Nevada is not known for its salmon fishing as it lacks the natural conditions for sustaining salmon populations. The state is located in the arid Great Basin region, far from the coastal environments where salmon typically thrive. As a result, there are no native or established salmon populations in Nevada's rivers and lakes.
However, there are some opportunities for anglers to catch landlocked kokanee salmon in certain reservoirs. Kokanee salmon are a freshwater subspecies of sockeye salmon that were introduced to Nevada's waters for recreational fishing purposes. Popular reservoirs where kokanee salmon can be found include Lake Tahoe, Lake Mead, and Lake Mohave.
It's important to note that the kokanee salmon fisheries in Nevada are generally not as well-developed as those in other states like Alaska or Washington. As such, salmon fishing in Nevada is a niche activity and not a major draw for anglers compared to other species like bass, trout, and catfish.
For anglers specifically seeking a salmon fishing experience, Nevada might not be the first choice. However, the state offers a diverse array of other fishing opportunities, making it a worthwhile destination for those looking to explore various fishing adventures in a unique and beautiful landscape.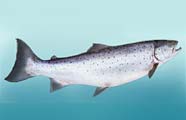 Lake Tahoe is the primary salmon waters in Nevada. Lake Mead has a recorded catch from time to time. The Nevada state record coho salmon came from Lake Mead and Lake Tahoe gave up the state record for kokanee salmon.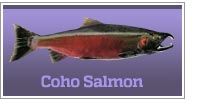 World record: 33 lbs 7 oz
State Record: 8 lbs 12 oz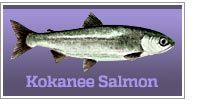 World record: 9 lbs 10 oz
State Record: 5 lbs 2 oz
Click the images and links above for species details.
Nevada State Record Salmon
The state record coho salmon (tie) both were caught in Lake Mead.
The record kokanee salmon was taken out of Lake Tahoe
Nevada Salmon Fishing
The preferred method for catching salmon is fly fishing. Depending on the activity level, salmon may be caught on wet or dry flies, as well as a variety of other lures and baits.
About The Pacific Salmon Family
Pacific Salmon are born in and remain in freshwater streams for the early years of life. The number varies by species. Afterward they migrate to the Pacific Ocean waters where they bulk up and prepare for their once in a lifetime spawning run up the freshwater stream where they were born. They will instinctively return to their birthplace, spawn and die. They are found in the streams which empty into the ocean, and adjoining ocean waters.
The preferred method for catching salmon is fly fishing. Depending on the activity level, salmon may be caught on wet or dry flies. For more details check here for articles about fly fishing.
Salmon Organizations
Salmon fishing waters and information, by state.
Learn the life cycle of salmon
The more you know about the life cycle and seasonal migration of salmon, the more likely you are to be looking in the right area next time you visit Nevada salmon fishing waters. Visit the salmon fishing page for more information about the life cycle of the different species of salmon.
Contribute NV Salmon Fishing Knowledge
If you have information, articles or photos relating to salmon fishing in Nevada, which you would like to see published here, please submit them for consideration.
NEVADA


Best salmon fishing waters in Nevada!