Fishing For Salmon In Rhode Island
Guide to fishing for Atlantic salmon in RI.
Rhode Island is not typically known for its salmon fishing opportunities as it does not have any native populations of salmon. However, the state's waters are occasionally stocked with landlocked Atlantic salmon by the Rhode Island Department of Environmental Management to provide anglers with a unique fishing experience.
The landlocked Atlantic salmon stocked in Rhode Island's lakes and ponds are usually raised in hatcheries before being released into the waters for recreational fishing. These salmon are related to their anadromous counterparts found in the ocean but have adapted to live their entire lives in freshwater environments.
The salmon fishing season in Rhode Island is relatively short, usually spanning from early spring to late fall. Anglers need to pay attention to the stocking schedules and regulations set by the state to ensure they are fishing within the allowed season and following catch limits.
While not as abundant or well-known as other fishing opportunities in Rhode Island, salmon fishing can provide a unique and rewarding experience for anglers who want to try their luck at catching this impressive and elusive species in the state's freshwater bodies.
Salmon Fishing Water in Rhode Island

Barber Pond, Shetucket and Naugatuck Rivers, and Beach Pond are the primary inland salmon waters in Rhode Island.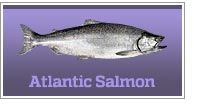 World record: 79 lbs 2 oz
State Record: 21 lbs 9 oz
Click the image or link above for species details.
Rhode Island State Record Salmon
The state record Atlantic salmon was caught from Barber Pond.
The preferred method for catching salmon is fly fishing. Depending on the activity level, salmon may be caught on wet or dry flies. For more details check here for articles about fly fishing.
Salmon Organizations
Rhode Island Salmon Fishing
Salmon fishing waters and information, by state.
Learn the life cycle of salmon
The more you know about the life cycle and seasonal migration of salmon, the more likely you are to be looking in the right area next time you visit Rhode Island salmon fishing waters. Visit the salmon fishing page for more information about the life cycle of the different species of salmon.
Contribute RI Salmon Fishing Knowledge
If you have information, articles or photos relating to salmon fishing in Rhode Island, which you would like to see published here, please submit them for consideration.
RHODE ISLAND


Best salmon fishing waters in Rhode Island!