Fishing At Indian Lake
AKA: Indian Pond
What to fish for...
Guide to fishing for largemouth bass, smallmouth bass, bluegill, pumpkinseed sunfish, white perch, yellow perch and chain pickerel at Indian Lake in Rhode Island.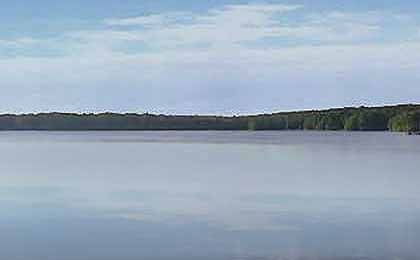 Wrapped in dense forest and private homes with boat docks, Indian Lake is a small, 200-acre lake in the southeast part of the state, at Indian Lake Shores. Bass, bluegill, perch and pike all get attention from locals.
Indian Lake is a charming freshwater lake located in the northern part of Rhode Island, near the town of South Kingstown. Covering an area of around 85 acres, it offers a peaceful and scenic setting for anglers and outdoor enthusiasts.
Fishing at Indian Lake is a favorite pastime for both locals and visitors. The lake is known for its healthy fish population, providing anglers with opportunities to catch a variety of species throughout the year. Among the popular fish species found in Indian Lake are smallmouth bass, largemouth bass, chain pickerel, yellow perch, pumpkinseed, and white perch.
Smallmouth bass and largemouth bass are the primary targets for many anglers on Indian Lake. These bass species can be found in good numbers and offer exciting fishing experiences. The lake's clear waters provide excellent visibility, allowing anglers to spot bass lurking near submerged structures and easily cast their baits.
Chain pickerel are another prevalent species in Indian Lake, known for their aggressive nature and sharp teeth. These predatory fish offer thrilling strikes and are often targeted using flashy lures or live baits.
For anglers looking for a relaxing and family-friendly fishing experience, Indian Lake's yellow perch and pumpkinseed populations provide great opportunities. These panfish species can be easily caught using simple rigs and are perfect for anglers of all ages, including kids.
The lake also supports a population of white perch, which are highly sought after by anglers for their delicate flavor and scrappy fight. White perch can be caught using a variety of baits, and they are especially active during the warmer months.
Aside from fishing, Indian Lake is a popular spot for boating and camping. Anglers can explore the lake from the water, enjoying the serene beauty of the surroundings. Nearby camping facilities offer a chance to extend the fishing trip and fully immerse in the peaceful ambiance of the lake.
Indian Lake is a delightful destination for fishing enthusiasts, providing a mix of popular fish species, picturesque landscapes, and outdoor recreation opportunities. Whether casting for bass, perch, or pickerel, anglers are sure to enjoy a rewarding and memorable fishing experience at this scenic Rhode Island lake.
Ideal for canoes and kayaks, there are about three miles of shoreline to paddle and fish. Boat motors are limited to a maximum of ten horsepower. The Indian Lake State Boat Launch is located on the south shore, at the end of Indian Trail S.

Primary fish species residing in Indian Lake
Click images for fishing tips and details about each species.
Indian Lake Amenities
Marina: NO
Boat Rental: NO
Boat Launch Ramp: YES
Campgrounds: NO
RV Hookups: NO
Lodging: YES
Convenience Store: YES
Bait & Tackle: NEARBY
Restaurant: YES
Today's Weather & Forecast
Public Boat Launch Ramps & Landings
Indian Lake State Boat Launch Ramp
Located mid lake, on the south side of the lake, off Indian Trails S, this is a one-lane, concrete ramp with a dock and gravel parking.
Click here for a Rhode Island Fishing License.
Campgrounds & RV Parks Nearby
No campgrounds or RV parks are at, or nearby the lake.
Indian Lake RI Map - Fishing & Camping Areas
Lake Video
Contact Information
Indian Lake
Rhode Island Blueways Alliance, Indian Lake
401 932-4667
Fishing lakes in each state.
Indian Lake in RI
RHODE ISLAND


Fishing for bass and bluegill in southeast RI.
Indian Lake, in Rhode Island.