Fishing At Worden Pond
AKA: Worden Pond
What to fish for...
Guide to fishing for largemouth bass, black crappie, chain pickerel and northern pike at Worden Pond in Rhode Island.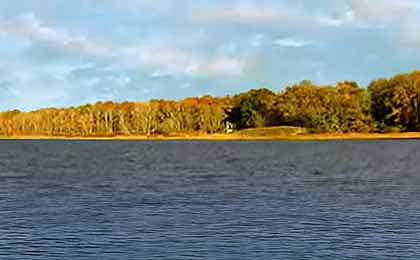 A popular lake for bass fishing, Worden Pond is a 1,040-acre lake in the southeast part of the state, with about 6 miles of shoreline. Fishing enthusiasts chase bass, crappie and pike year round, including ice fishing in winter.
Worden Pond, located in the southern part of Rhode Island near the town of South Kingstown, is the largest freshwater body in the state. Spanning over 1,040 acres, it offers a wide range of fishing opportunities for anglers of all skill levels.
Largemouth bass is undoubtedly one of the most sought-after species in Worden Pond. The lake's abundance of submerged structures, vegetation, and fallen trees provides an ideal habitat for these prized game fish. Early mornings and evenings are prime times for bass fishing, especially during the warmer months. Anglers often use a variety of techniques, including topwater lures, jigs, and plastic worms, to entice these powerful predators.
Another popular fish species in Worden Pond is the black crappie. These panfish can be found near submerged structures and around docks. Anglers can use small jigs, live bait, or soft plastics to catch these tasty fish, particularly during the spring and fall months.
Chain pickerel are also abundant in Worden Pond and offer thrilling action for anglers. Known for their aggressive strikes, pickerel can be caught using spinners, spoons, or flashy lures, especially in the shallower areas of the lake.
Northern pike, the top predator in the pond, provides an exciting challenge for anglers seeking big-game fish. Catching northern pike requires sturdy tackle and large lures like swimbaits or spinnerbaits. They are most active during the cooler months and can often be found near weedy areas.
In addition to its excellent fishing opportunities, Worden Pond is a popular spot for boating enthusiasts. Anglers and nature lovers alike can explore the vast waters of the pond by boat, providing access to various fishing spots and scenic views.
For those who wish to spend more time enjoying the tranquil surroundings, camping facilities are available nearby. Camping near Worden Pond allows anglers and outdoor enthusiasts to fully immerse themselves in the beauty of the area and have convenient access to the fishing grounds during their stay.
With its diverse fishing opportunities, including largemouth bass, black crappie, chain pickerel, and northern pike, as well as boating and camping facilities, Worden Pond is a favored destination for anglers and nature enthusiasts seeking a memorable fishing experience in the southern region of Rhode Island.
A small boat launch ramp is located on the south shore, off Worden Pond Road. There are areas with access for fishing from the bank along the southern and eastern shores, where roadways permit. Kayaks, car-top boats and and canoes are popular here.

Primary fish species residing in Worden Pond
Click images for fishing tips and details about each species.
Worden Pond Amenities
Marina: NO
Boat Rental: NO
Boat Launch Ramp: YES
Campgrounds: YES
RV Hookups: YES
Lodging: NEARBY
Convenience Store: NEARBY
Bait & Tackle: NO
Restaurant: NEARBY
Today's Weather & Forecast
Public Boat Launch Ramps & Landings
Worden Pond State Boat Launch Ramp
Located in the southeast section of the lake, off Wordens Pond Road, this is a two-lane, concrete ramp with a dock and gravel parking.
Click here for a Rhode Island Fishing License.
Campgrounds & RV Parks Nearby
Worden Pond Family Campground - 401 789-9113
Worden Pond RI Map - Fishing & Camping Areas
Lake Video
Contact Information
Worden Pond
Worden Pond Family Campground
4425, 416 Worden Pond Rd
Wakefield, RI 02879
401 789-9113
Fishing lakes in each state.
Worden Pond in Rhode Island.
RHODE ISLAND


Information about fishing lakes in Rhode Island
Fishing for bass, crappie and pike in southeast RI.
Fishing on Worden Pond.