Best Fishing Guides In Rhode Island
Hire a guide to take you fishing in RI.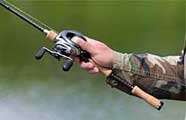 Hire a fishing guide to fish for largemouth bass, smallmouth bass, white catfish, black crappie, rainbow trout, brook trout, brown trout, bluegill, white perch, yellow perch, Atlantic salmon, stripers, chain pickerel and northern pike in local lakes.

Rhode Island Fishing Guides
Other Local Guides
For the ultimate fishing experience, hire a professional guide. They know the RI fishery inside out and have determined the best techniques for catching fish at various times of the year.
Maverick Charters - 401-640-0865
Fly fishing for trophy rainbow, brown , and brook trout in southern New England. Flats and bay fishing for stripers, blues, and school tuna. Email: info@flyfishingguidedtrips.com
White Ghost Guide Services - 401-828-9465
Focus Species: Striped Bass, bluefish, weakfish, tuna, albacore fluke. We offer high quality light tackle sportfishing with the most up-to-date gear available. We have been featured on OLN, TNN, ESPN-2, Canadian TV and BBC Radio. Our specialty is soft plastic baits.
Adventure Charters - 401-359-1785
Chris Bell - fishingadventure@hotmail.com
Focus Species: Striped Bass, Bluefish, Flounder, Tuna, Scup
Snowfly Charters - 401-439-0953
Greg Snow
Focus Species: Bass, Bluefish, Tuna. I am a patient and outgoing guide who loves to teach men, women, and children how to find, cast to, and fight fish on ultra light and fly tackle.
Rhode Island Fishing Charters List - 401-722-1911
Chris Bell - engcyb0@yahoo.com
Listing of all RI Fishing charter services. Rhode Island is a great place to fish and as you can see there are many charter services out there covering Rhode Island Sound, Block Island Sound, Narragansett Bay, Rhode Island South Shore.
Guy's Guide Service - 401 932-0472
Guy Dolloff - golfingguy44@aol.com
Focus Species: Largemouth/Smallmouth Bass. Basic fish catching skills a specialty morning and evening trips learn about your quarry and become a better angler beginners and kids welcome very reasonable rates I have fished all of southern RI's waters.
Affordable Fishing - 401 595-8531
capt. Roger Hall - rlhall73@rlh.com
Focus Species: stripers bluefish fluke. We have two boats and two captains, can accommodate up to 12 passengers. we supply rods, reels, bait and chum. You supply drinks,snacks, and sunscreen. We love kids so bring them along.
North Coast Charters - 203 378 1160
Capt. Bob Turley - Flats2020@aol.com
Focus Species: Striped bass, bluefish, bonito false albacore. North Coast Charters, specializes in light tackle fishing charters, for Striped Bass, Bluefish, Weakfish, False Albacore and Bonito. We also offer jigging and bucktailing trips, Evening Bait fishing trips.
Aces Wild Charters - 401 749-1199
Earl Bell - Earlgbell@yahoo.com
Focus Species: Striped Bass, Bluefish, Sea Bass, Totaug and Flounder. Let Aces Wild show you the best time you'll have all summer.
Patterson Guide Service - 401 396-9464
Brian Patterson - pattersonguideservice@yahoo.com
Focus Species: Striped bass, blackfish, bluefish, bonito, albacore and tuna. Fly fishing and light tackle by boat, shore or kayak. Hourly rates are available upon request. Please visit the website for more information.
Rhode Island Fishing Guide Services
In addition to catching fish, guides teach you techniques which you will use over a lifetime of fishing. Learn tips on rods, reels, line, knots, lures, hook types, techniques and much more...all by spending the day in a boat with a local guide.
Fishing guide information for other states.
RHODE ISLAND