Fishing Guides In Vermont
Hire a guide to take you fishing in VT.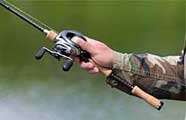 Hire a fishing guide to fish for largemouth bass, smallmouth bass, channel catfish, black crappie, white crappie, walleye, rainbow trout, brook trout, brown trout, lake trout, bluegill, pumpkinseed sunfish, rock bass, white perch, yellow perch, Atlantic salmon, coho salmon, bowfin, chain pickerel, longnose gar, muskie, northern pike and tiger muskie in local lakes.

Vermont Fishing Guides
Other Local Guides
For the ultimate fishing experience, hire a professional guide. They know the VT fishery inside out and have determined the best techniques for catching fish at various times of the year.
Uncle Jammer's Guide Service - 802 309-4118
A professional Vermont Fly Fishing Guide Service. Fly fishing instruction by a Federation of Fly Fishers Certified Casting Instructor. Fly Fish Vermont for trout bass northern pike and other species.
Fishing Champlain Guide Services - 802 734-7092
Fishing Champlain is conveniently located on the shores of Lake Champlain in Colchester which is a 15 minute ride from Burlington International airport, one hour and a half from Montreal, 3 hours from Albany NY or Boston. Lodging, camping and attractions are just minutes away. We offer guided fishing trips for Largemouth & Smallmouth Bass and Northern Pike.
Vermont Fishing Guide Services
In addition to catching fish, guides teach you techniques which you will use over a lifetime of fishing. Learn tips on rods, reels, line, knots, lures, hook types, techniques and much more...all by spending the day in a boat with a local guide.
Fishing guide information for other states.
VERMONT