Michigan Fishing Guides
Hire a guide to take you fishing in MI.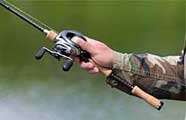 Hire a fishing guide to fish for largemouth bass, smallmouth bass, channel catfish, flathead catfish, black crappie, white crappie, walleye, rainbow trout, brook trout, brown trout, lake trout, bluegill, green sunfish, hybrid sunfish, pumpkinseed sunfish, redear sunfish, rock bass, warmouth, white bass, white perch, yellow perch, Atlantic salmon, coho salmon, bowfin, longnose gar, muskie, northern pike, sauger, sturgeon and tiger muskie in local lakes.

Michigan Fishing Guides
Michigan Bass Fishing Tours - 734 308-0312
Leonard Bourdage - TheBassGuide@gmail.com
Michigan Bass Fishing Tour guide service offers guided smallmouth bass fishing trips on Lake St. Clair, Lake Erie, and the Detroit River. In addition, Leonard offers multi-day guided bass fishing trips for smallmouth and largemouth on Michigan's northern in-land lakes.
Getting Bit Guide Service - 616 570-2946
Greg Knapp - info@gettingbitguideservice.com
Salmon, steelhead, trout and smallmouth bass. We offer year round guide trips on the Grand, Muskegon, Pere Marquette, and Big Manistee rivers.  We specialize in salmon, steelhead, trout and smallmouth bass fishing.  We offer Jet Boat, Drift Boat, and Walk in guide trips.  Check out our reports page!
Fish Hunter Charter Service - 586-419-3480
Dave James - fishhuntercharterservice@yahoo.com
The 'Fish Hunter' is a fully equipped 31' Tiara, that is DNR inspected, fully insured, and has all the latest fishing and safety equipment. Captain Dave is known for his professionalism and knowledge for catching great lakes fish.
Other Local Guides
For the ultimate fishing experience, hire a professional guide. They know the MI fishery inside out and have determined the best techniques for catching fish at various times of the year.
All Seasons Guide Service - 616-581-9534
Nancy or Jay - info@riverwonderland.com
Salmon, Steelhead, Trout. We offer guided fishing trips for Steelhead, Salmon and Trout all year long. Fish aboard our DNR inspected, 18 foot climate-controlled jet sled, complete with a removable soft top. Our licensed and certified guide, Captain Jay, has fished Michigan rivers for over 20 years.
River Rat Dog Guide Service - 517 651 2616
Doug Buehler - dougb@riverratdog.com
Focus Species: steelhead, salmon, trout and smallmouth.
Fly-fishing, Spinning or plug, Are some of the tactics we use to entice the big ones out. I fish all year and have a heater on the boat. I primarily fish west Michigan Rivers. I supply all you need for an enjoyable day on the river.
Betts Fly Fishing Outfitters - 231 652-3189
Chad Betts - chadbetts@hotmail.com
Focus Species: Salmon, Trout, Steelhead, and Smallmouth bass. Western Michigan guide service for Salmon, Trout, Steelhead, and Smallmouth Bass on the Muskegon River. We pride ourselves in offering anglers the unique opportunities and knowledge to fish Michigan's finest rivers.
Riversbend Guide Service - 231-250-9745
Capt. Jon Kolehouse - jkolehouse@sbcglobal.net
Focus Species: Salmon,Steelhead,Trout and Bass.
Our guide service is a full service business. Beginners to experts all welcome. We offer full and half day trips for Michigan's Salmon,Steelhead,Trout and Bass on Michigan's premier rivers and streams. Bring your kids....we love teaching kids the joys of fishing.
Jon's Guide Service - 231 590-3483
Jon Kestner - kestnerflyfishing@yahoo.com
Focus Species: Salmon, trout, steelhead, smallmouth bass, carp and pike. Join us and explore the great fishing and great rivers of northern Michigan. Float down some of the Midwest's finest rivers and streams on a Guided Fly Fishing trip for, Trout, Salmon, and Steelhead. Steelhead fishing in early spring, Brown Trout on streamers chasing the thousands of Salmon that enter the local rivers, to stalking silver Steelhead in the fall.
Stray Cat Charter Fishing - 734 787-0030
Capt John - straycat@straycatsportfishingcharters.com Focus Species: Walleye and yellow perch. Lake Erie walleye and perch fishing charter trips Luna Pier/Monroe, Michigan aboard the Stray Cat - serving both MI and Ohio.
Riverside Outfitters - 231 834-9155
Jim - fishriverside@aol.com
Focus Species: Steelhead, salmon, trout, bass and walleye. Fly fishing adventures for Steelhead, Salmon, Trout and bass. We are Michigan's premiere guide service. We offer lodging as well as fly fishing classes and casting clinics. We also offer light spinning tackle for those who do not wish to fly fish or can't do to a handicap.
Marcel's Guide Service - 810 923-5035
Specializing in Michigan's Smallmouth and Largemouth Bass fishing. Marcel has been fishing professional tournaments for the past 15 years. Come experience the great bass fishing Michigan has to offer and learn from a tournament pro! Chartering on Lake St. Clair, Lake Erie and various Michigan inland waters. USCG Licensed & Insured.
Riverview Guide Service
231 924 5901 - cell 231225 1164
Tom - ttaylor@riverview.net
Focus Species: Walleye Steelhead Salmon. Cabin rental private boat launch on the Muskegon river 660 feet of beautiful river frontage.
Avid Fly Fishing Guide Service - 616-885-0885
Jerry Snyder - Avidflyfishing@yahoo.com
Focus Species: Salmon, Trout, Steelhead. We offer fly fishing trips from the beginner level up to the experts using the latest in equipment. We love building a legacy with the kids. We have patient instructors for your next fly fishing adventure call Jerry with Avid fly fishing Guide service.
Cadillac Fishing Adventures - 231 884-0804
Dave Ward - wardogoesfishin@hotmail.com
Focus Species: Steelhead/Salmon. Guided float trips for two down northwest Michigan's beautiful rivers chasing Steelhead or Salmon. Steelhead: October thru April. Salmon: September through October.
West Michigan Guide Services – 616-540-5695
Nate Wellman – Captainnatewellman@gmail.com
We are West Michigan's #1 choice for river and big lake guided fishing trips! We offer many different styles of fishing, multiple boats for large groups as well as an Airbnb for lodging on multi-day fishing trips. Book a trip today and experience fishing like no other!
Michigan Fishing Guide Services
In addition to catching fish, guides teach you techniques which you will use over a lifetime of fishing. Learn tips on rods, reels, line, knots, lures, hook types, techniques and much more...all by spending the day in a boat with a local guide.
Fishing guide information for other states.
MICHIGAN