Guide To Fishing At Seymour Lake
AKA: Lake Seymour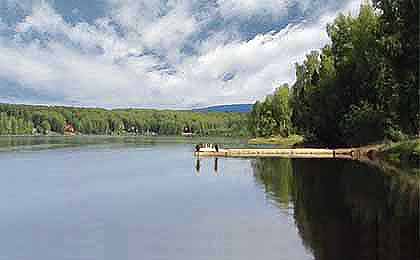 With a reputation for quality fishing, Seymour Lake is a 1,750-acre lake with nearly 10 miles of shoreline. This fertile fishery is nicely populated with bass, crappie, trout, sunfish, perch, salmon and pike.
Seymour Lake is a beautiful freshwater lake located in the Northeast Kingdom region of Vermont, USA. Situated near the town of Morgan, the lake offers a serene and picturesque setting, making it a popular destination for anglers and outdoor enthusiasts.
Fishing on Seymour Lake is a delightful experience, with an array of popular fish species residing in its waters. Smallmouth bass are abundant and provide exciting opportunities for anglers to test their skills in catching these spirited gamefish. Anglers can also target black crappie, which are known for their excellent table fare and enjoyable fishing experience.
For those seeking to catch trout, Seymour Lake offers several species to pursue. Brook trout and brown trout are present in its pristine waters, providing anglers with the chance to hook into these prized fish known for their brilliant colors and fight.
Lake trout, or togue, are also a sought-after species in Seymour Lake. These deep-water dwellers require different tactics and gear, making them a favorite challenge for experienced anglers.
One of the highlights of fishing on Seymour Lake is the opportunity to catch atlantic salmon. The lake's thriving atlantic salmon fishery attracts anglers from far and wide, as the chance to land one of these acrobatic and prized fish is a true angling thrill.
Chain pickerel and northern pike add to the diversity of the fishing experience on Seymour Lake. These predatory fish offer excellent opportunities for anglers looking to target bigger game.
Panfish enthusiasts will find bluegill and yellow perch in abundance. These species are perfect for family fishing outings and are especially popular among younger anglers due to their cooperative nature and ease of catch.
In addition to fishing, Seymour Lake is an excellent destination for boating and camping. The lake's peaceful ambiance and scenic beauty provide a perfect backdrop for a day of boating or a serene camping experience along its shores.
Seymour Lake in Vermont's Northeast Kingdom is a gem for anglers seeking a variety of fish species in a tranquil and picturesque setting. From bass to trout, atlantic salmon to panfish, and even predatory species, the lake offers something special for every angler. With its excellent fishing opportunities and ample options for boating and camping, Seymour Lake is a must-visit destination for those seeking a memorable fishing experience in Vermont.
Much of the shoreline is private property with lots of boat docks, but resourceful anglers can find many a place for fishing from the bank. Bass, salmon and trout are the big draws here, but in winter ice fishing for perch, pike and sunfish is popular. The boat launch ramp is located at Morgan Center, in the northeast corner of the lake, off Highway 111.

What to fish for...
Fishing for smallmouth bass, black crappie, brook trout, brown trout, lake trout, bluegill, pumpkinseed sunfish, rock bass, yellow perch, landlocked salmon, chain pickerel and northern pike at Seymour Lake in Vermont.
Primary fish species residing in Seymour Lake
Click images for fishing tips and details about each species.
Seymour Lake Amenities
Marina: NO
Boat Rental: NO
Boat Launch Ramp: YES
Campgrounds: NO
RV Hookups: NO
Lodging: YES
Convenience Store: YES
Bait & Tackle: NO
Restaurant: YES
Today's Weather & Forecast
Public Boat Launch Ramps & Landings
Seymour Lake Boat Launch Ramp
Located in the northeast corner of the lake, off State Route 111, this is a four-lane, concrete ramp with a dock and gravel parking.
Click here for a Vermont Fishing License.
Campgrounds & RV Parks Nearby
There are no campgrounds or RV parks in the area.
Seymour Lake VT Map - Fishing & Camping Areas
Lake Video
Contact Information
Seymour Lake
Hale Seymour Lake Lodge
28 Valley Rd
Morgan, VT 05853
802 895-2563
Fishing lakes in each state.
Seymour Lake in Vermont.
VERMONT


Information about fishing lakes in Vermont
Fishing for bass, crappie, trout, sunfish, perch, salmon and pike at Seymour Lake in northeast VT.
Fishing on Seymour Lake.