Fishing For Salmon In New Hampshire
Guide to fishing for Atlantic and coho salmon in NH.
New Hampshire offers exciting opportunities for salmon fishing, with two primary species being the focus: landlocked salmon and Atlantic salmon. Landlocked salmon, also known as landlocked Atlantic salmon, are freshwater-adapted versions of their ocean-dwelling counterparts. They can be found in various lakes and reservoirs throughout the state. New Hampshire's landlocked salmon are prized for their acrobatic leaps and strong fighting abilities, making them a thrilling catch for anglers.
One of the top destinations for landlocked salmon fishing in New Hampshire is Lake Winnipesaukee. This expansive lake provides an excellent habitat for salmon, with deep waters and ample forage. Anglers often troll with downriggers or use lead core lines to target salmon at different depths, mimicking the baitfish they feed on. Landlocked salmon in Lake Winnipesaukee can reach impressive sizes, providing the opportunity to land trophy fish.
Atlantic salmon, a highly sought-after species, are anadromous, meaning they spend part of their lives in the ocean and return to freshwater rivers to spawn. While Atlantic salmon populations have declined in recent years, there are efforts to restore their numbers in certain rivers, such as the Merrimack River and the Connecticut River. These rivers provide opportunities for anglers to target these elusive and prized fish during their migration.
It's important to note that fishing for Atlantic salmon is heavily regulated in New Hampshire, with strict catch-and-release policies and specific seasons and regulations to protect this threatened species. Anglers targeting Atlantic salmon should familiarize themselves with the regulations and follow best practices to ensure the sustainability of the fishery.
Salmon fishing in New Hampshire offers a unique and challenging experience for anglers. Whether pursuing landlocked salmon in lakes or targeting Atlantic salmon in rivers, the thrill of hooking into these powerful and prized fish is an adventure to be savored. As always, it is crucial to adhere to fishing regulations, practice catch-and-release, and support conservation efforts to ensure the preservation of these magnificent fish for future generations.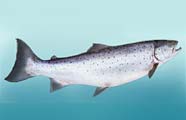 NH offers a nice variety of waters for catching salmon. Major lakes including Conway Lake, First Connecticut Lake, Lake Francis, Lake Sunapee, Lake Winnipesaukee, Merrymeeting Lake, Newfound Lake, Ossipee Lake, Paugus Bay, Second Connecticut Lake, Squam Lake, Umbagog Lake and Winnisquam Lake are excellent choices along with the tributary waters flowing into and out of lakes.

New Hampshire Salmon Fishing
The preferred method for catching salmon is fly fishing. Depending on the activity level, salmon may be caught on wet or dry flies, as well as a variety of other lures and baits.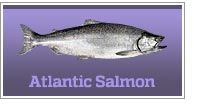 World record: 79 lbs 2 oz
State Record: 18 lbs 8 oz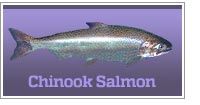 World record: 97 lbs 4 oz
State Record: 19 lbs 4 oz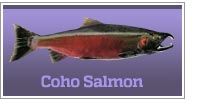 World record: 33 lbs 7 oz
State Record: 16 lbs 3 oz
Click the images and links above for species details.
New Hampshire State Record Salmon
The state record Atlantic salmon was caught from Pleasant Lake.
The state record chinook salmon came from the Exeter River.
The state record coho salmon was caught in the Piscataqua River.
About The Pacific Salmon Family
Pacific Salmon are born in and remain in freshwater streams for the early years of life. The number varies by species. Afterward they migrate to the Pacific Ocean waters where they bulk up and prepare for their once in a lifetime spawning run up the freshwater stream where they were born. They will instinctively return to their birthplace, spawn and die. They are found in the streams which empty into the ocean, and adjoining ocean waters.
The preferred method for catching salmon is fly fishing. Depending on the activity level, salmon may be caught on wet or dry flies. For more details check here for articles about fly fishing.
Salmon Organizations
Salmon fishing waters and information, by state.
Learn the life cycle of salmon
The more you know about the life cycle and seasonal migration of salmon, the more likely you are to be looking in the right area next time you visit New Hampshire salmon fishing waters. Visit the salmon fishing page for more information about the life cycle of the different species of salmon.
Contribute NH Salmon Fishing Knowledge
If you have information, articles or photos relating to salmon fishing in New Hampshire, which you would like to see published here, please submit them for consideration.
NEW HAMPSHIRE


Best salmon fishing waters in New Hampshire!