Guide To The Thrill Of Fishing For Salmon In New Jersey
All about fishing for Atlantic, landlocked salmon in New Jersey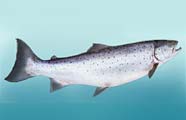 Lake Aeroflex, Tilcon Lake and Wawayanda Lake are the lakes stocked with salmon in NJ. All other salmon fishing is in costal waters and the tributary waters flowing into the Atlantic ocean.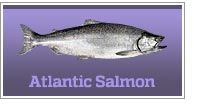 World record: 79 lbs 2 oz
State Record: 8 lbs 5 oz
Click the images and links above for species details.
New Jersey State Record Salmon
The state record Atlantic salmon was caught from Lake Aeroflex.
New Jersey Salmon Fishing
The preferred method for catching salmon is fly fishing. Depending on the activity level, salmon may be caught on wet or dry flies, as well as a variety of other lures and baits.
About The Pacific Salmon Family
Pacific Salmon are born in and remain in freshwater streams for the early years of life. The number varies by species. Afterward they migrate to the Pacific Ocean waters where they bulk up and prepare for their once in a lifetime spawning run up the freshwater stream where they were born. They will instinctively return to their birthplace, spawn and die. They are found in the streams which empty into the ocean and adjoining ocean waters.
Salmon fishing waters and information, by state.
Learn the life cycle of salmon
The more you know about the life cycle and seasonal migration of salmon, the more likely you are to be looking in the right area next time you visit New Jersey salmon fishing waters. Visit the salmon fishing page for more information about the life cycle of the different species of salmon.
Contribute NJ Salmon Fishing Knowledge
If you have information, articles or photos relating to salmon fishing in New Jersey, which you would like to see published here, please submit them for consideration.
NEW JERSEY


Best salmon fishing waters in New Jersey!