Guide To The Best Bass Fishing Lakes In Colorado
All about fishing for spotted, smallmouth and largemouth bass.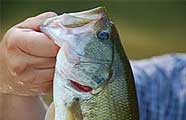 Bass are one of the most sought after of all the game fish. Its appeal spans cultures, age groups and genders to tap on the heart strings of anglers everywhere. Visit the Bass Knowledge Center for valuable information about bass and bass fishing. Join us in our endeavor to offer information about bass fishing on your favorite bass lake in Colorado.
Colorado offers excellent opportunities for bass fishing, with its picturesque lakes and reservoirs dotting the landscape. Anglers can find three main species of bass in Colorado: largemouth bass, smallmouth bass, and spotted bass. Each species has its own distinct characteristics and allure, making bass fishing in the state a thrilling experience for both novice and seasoned anglers alike.
Largemouth bass (Micropterus salmoides) are the most prevalent and sought-after species among bass anglers in Colorado. These fish are known for their impressive size, with some individuals reaching weights of over 10 pounds. Largemouth bass prefer warmer waters and can be found in lakes and reservoirs throughout the state. Anglers often target them using a variety of techniques, including topwater lures, soft plastic baits, and jigs. Largemouth bass are renowned for their aggressive strikes and powerful fights, making them a favorite among sport fishermen.
Smallmouth bass (Micropterus dolomieu) are another prized species found in Colorado's waters. These fish are known for their acrobatic leaps and strong fighting ability. Smallmouth bass prefer cooler, clearer waters, such as rivers and rocky reservoirs. They are often found near submerged rocks, drop-offs, and other underwater structures. Anglers targeting smallmouth bass often use techniques like crankbaits, jerkbaits, and finesse worms. These hardy fish offer a thrilling challenge and can provide an exciting day on the water for those who seek them out.
Spotted bass (Micropterus punctulatus) are less common in Colorado compared to largemouth and smallmouth bass. However, they can still be found in some reservoirs and rivers throughout the state. Spotted bass closely resemble largemouth bass in appearance, but they are typically smaller in size. They have a reputation for being aggressive feeders and can provide an exciting angling experience. Spotted bass can be caught using similar techniques as largemouth and smallmouth bass, such as crankbaits, spinnerbaits, and soft plastics.
Colorado's diverse bass fishery provides ample opportunities for anglers to target largemouth, smallmouth, and spotted bass. Whether you prefer the thrill of hooking a massive largemouth, the agility of a smallmouth, or the tenacity of a spotted bass, the state's lakes and reservoirs have something to offer. It's essential to familiarize yourself with the regulations and licensing requirements before heading out on your bass fishing adventure. With proper planning and a bit of skill, you can enjoy the thrill of bass fishing against the backdrop of Colorado's stunning natural beauty.

Colorado Bass Lakes
Colorado's cold water is a limiting factor on bass fishing in CO. Many of the fisheries are too cold for bass. Those that are warm enough have a shorter growth season than lakes in the southern part of the states. Still there are nice opportunities for bass fishing in Colorado. Some of the major impoundments with a population of bass include Adobe Creek Reservoir, Aurora Reservoir, Bonny Reservoir, Carter Lake, Chatfield Reservoir, Cherry Creek Reservoir, Echo Canyon Reservoir, Horsetooth Reservoir, John Martin Reservoir, Lake Pueblo, Lathrop State Park, McPhee Reservoir, Navajo Reservoir, North Delaney Lake, North Sterling Reservoir, Pueblo Reservoir, Quincy Reservoir, Ridgway Reservoir, Rifle Gap Reservoir and Standley Lake.
Smallmouth rivers
Many rivers and streams in the state have varying levels of smallmouth fishing. The Arkansas River, the Colorado River, the Yampa River and river systems surrounding the lakes on the Colorado Front Range are among the most popular.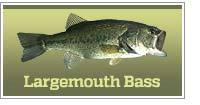 World record: 22 lbs 4 oz
State Record: 11 lbs 6 oz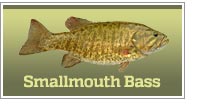 World record: 11 lbs 15 oz
State Record: 6 lbs 11 oz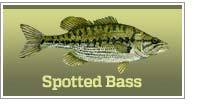 World record: 9 lbs 8 oz
State Record: 4 lbs 7 7/8 oz
Click the images and links above for species details.
Top 5 Bass Fishing Lures For Colorado
When bass are shallow, spinnerbaits, crankbaits and stickbaits are the most productive. As they move deeper, worms and jigs are among the top producers.
The state record largemouth bass was taken out of Echo Canyon Lake.
The state record smallmouth bass came from Aurora Reservoir.
Valco Ponds served up the state record spotted bass.

Catch big bass!
Bass fishing basics video.
Understanding the primary seasonal movements of smallmouth bass and largemouth bass is key to locating them on your local lakes.
Enjoy this article about spring bass fishing on the Front Range.
Bass fishing information by state.
The lifecycle of bass
The more you know about the seasonal migration of bass, the more likely you are to be looking in the right area next time you visit Colorado bass fishing lakes. Visit the bass fishing page for more in-depth information about bass activities.
COLORADO