Guide To Fishing At Lake Granby
What to fish for...
Fishing for rainbow trout, brown trout, lake trout, cutbow trout and kokanee salmon at Lake Granby in Colorado.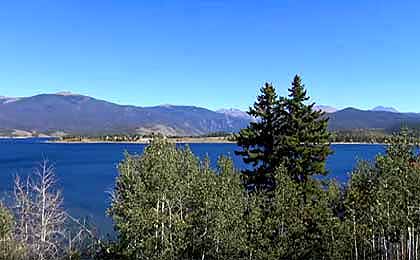 As the second largest body of water in Colorado, Lake Granby spans over 7,200 surface acre feet. With forty miles of shoreline it is easy to find a nice place to fish. In addition to great fishing it is a favorite area for hikers, snowmobilers, boating enthusiasts and campers. Ice fishing can be very productive in winter, especially for lake trout.
Nestled amidst the stunning landscapes of the Rocky Mountains, Lake Granby in Colorado is a true paradise for fishing enthusiasts. This expansive reservoir offers exceptional fishing opportunities, making it a sought-after destination for anglers. Lake Granby is home to a diverse range of fish species, including rainbow trout, brown trout, lake trout, kokanee salmon, and northern pike. Whether you prefer casting from the shore, trolling from a boat, or ice fishing during the winter months, Lake Granby provides ample opportunities to catch your favorite fish.
Boating enthusiasts will find their slice of paradise at Lake Granby. With its vast expanse of water and breathtaking mountain views, the reservoir offers an ideal setting for boating adventures. Visitors can bring their own boats or rent them from the marina, allowing them to explore the reservoir's hidden coves and fishing hotspots. Whether you enjoy water skiing, wakeboarding, or simply cruising along the water, Lake Granby provides an unforgettable boating experience for all.
Camping at Lake Granby is a popular choice for those seeking to immerse themselves in nature's beauty. The reservoir offers several campgrounds that cater to both tent and RV campers, providing a range of amenities such as picnic areas, restrooms, and fire pits. Waking up to the serene beauty of Lake Granby, surrounded by towering trees and majestic mountains, is an experience that campers cherish. The campgrounds are conveniently located near the water, allowing campers to easily access fishing spots or launch their boats for a day on the reservoir.
Lake Granby truly offers a complete outdoor experience, combining exceptional fishing, thrilling boating opportunities, and scenic camping options. Whether you're aiming to catch trophy-sized fish, seeking adventure on the water, or simply looking to unwind in the tranquility of nature, Lake Granby in Colorado promises an unforgettable retreat. Prepare to be captivated by the beauty of the surroundings and create memories that will last a lifetime.
Three marinas, several boat launch ramps, and availability of rental boats make this lake an ideal boating destination.

Fish Species in Lake Granby, CO
Lake Granby Amenities
Marina: YES (3)
Boat Rentals: YES
Boat Launch Ramp: YES
Campgrounds: YES
RV Hookups: YES
Lodging: YES
Concessions: YES
Bait & Tackle: YES
Restaurant: YES
Today's Weather & Forecast
Fishing Boat Rentals
Beacon Landing Marina
Rentals: Canoes and pontoons
970 627-3671
Highland Marina
Rentals: Pontoon boats
970 531-8759
Indian Peaks Marina
Rentals: Pontoon boats
970 887-3456
Marinas
Beacon Landing Marina
1026 Co Rd 64
Grand Lake, CO 80447
970 627-3671
Highland Marina
7878 US-34
Granby, CO 80446
970 531-8759
Indian Peaks Marina
6862 US-34
Granby, CO 80446
970 887-3456
Public Boat Launch Ramps & Landings
Arapaho Bay Campground Boat Ramp
Located in the southeast corner of the lake, this is a two-lane concrete ramp with limited gravel parking.
Stillwater Boating Site
This is a three-lane, concrete ramp with docks, and paved parking. It is located in the northwest corner of the lake in Stillwater Campground.
Sunset Point Boating Site
Located on Sunset Point, on the west side of the lake, this is a two-lane, concrete ramp with a dock, and paved parking.
Click here for a Colorado fishing license.
Closest Campgrounds & RV Parks
Cutthroat Bay Group Campground - 970 887-4100
Stillwater Campground - 970 887-4100
Sunset Point Campground - 970 887-4100
Green Ridge Campground - 970 887-4100
Lake Granby CO Map - Fishing & Camping Areas
Lake Video
Contact Information
Lake Granby
Northern CO Water Conservancy District
220 Water Avenue
Berthoud, CO 80513
800 369-7246
Fishing lakes in each state.
Lake Granby in CO.
COLORADO


Trout and salmon fishing in north-central CO.
Lake Granby fishing lake in Colorado.