Guide To Fishing At Gross Reservoir
What to fish for...
Fishing for Hofer strain rainbow trout, brown trout, lake trout, tiger trout, kokanee salmon and tiger muskie at Gross Reservoir in Colorado.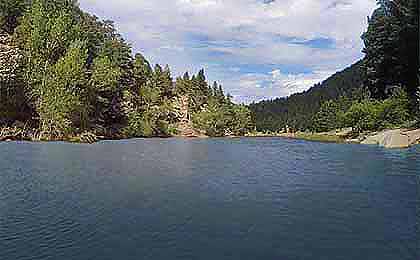 With 440 surface acres, Gross Reservoir is reserved for car-topper boats only - no motors allowed. No boat trailers allowed. Good fishing is available during spring and summer. And when the ice conditions are right, there is decent ice fishing in winter. Anglers can fish for trout, salmon and muskie, at numerous locations around the lake with access to the shore for fishing from the bank.
Situated amidst the breathtaking landscapes of Colorado, Gross Reservoir is a hidden gem for fishing enthusiasts seeking a tranquil and picturesque fishing experience. The reservoir is known for its thriving fish population, offering anglers a chance to catch various species. Commonly found fish in Gross Reservoir include rainbow trout, brown trout, cutthroat trout, and kokanee salmon. Anglers can cast their lines from the shoreline or venture out on a boat to explore the reservoir's serene waters and find the perfect fishing spot.
While motorized boating is not permitted on Gross Reservoir, non-motorized watercraft such as canoes, kayaks, and paddleboards are welcome. This restriction ensures a peaceful and pristine boating experience, allowing visitors to navigate the calm waters at their own pace. Boaters can enjoy the scenic beauty of the surrounding mountains while indulging in their favorite water activities. Whether you're leisurely paddling, fishing from a kayak, or simply taking in the tranquil ambiance, Gross Reservoir offers a serene boating experience.
Camping enthusiasts will find solace in the rustic camping opportunities available near Gross Reservoir. The nearby campgrounds provide a serene escape, allowing visitors to immerse themselves in nature and disconnect from the outside world. While the camping facilities may be basic, the stunning natural beauty of the reservoir and its surroundings more than compensate for it. Camping at Gross Reservoir offers the chance to wake up to breathtaking views, embark on scenic hikes, and enjoy the peacefulness of the outdoors.
Gross Reservoir, with its exceptional fishing, non-motorized boating options, and rustic camping experiences, offers a serene retreat for those seeking solitude and natural beauty. Located amidst the picturesque landscapes of Colorado, this hidden gem provides a peaceful haven where outdoor enthusiasts can indulge in fishing, boating, and camping, surrounded by breathtaking scenery and the tranquil ambiance of the reservoir.

Fish Species in Gross Reservoir, CO
Gross Reservoir Amenities
Marina: NO
Boat Rentals: NEARBY
Boat Launch Ramp: NO
Campgrounds: Limited access
RV Hookups: NO
Lodging: NEARBY
Concessions: NEARBY
Bait & Tackle: NEARBY
Restaurant: NEARBY
Today's Weather & Forecast
Public Boat Launch Ramps & Landings
Gross Reservoir Boat Launch
Located in the southeast corner of the lake, this is a primitive launch area with limited parking.
Click here for a Colorado fishing license.
Closest Campgrounds & RV Parks
Gross Reservoir Campground - 970 295-6600
Gross Reservoir CO Map - Fishing & Camping Areas
Lake Video
Contact Information
Gross Reservoir
Denver Water
303-634-3641
Fishing lakes in each state.
Gross Reservoir in CO.
COLORADO


Trout, muskie and salmon fishing in central CO.
Gross Reservoir fishing lake in Colorado.