The Best Bass Fishing Lakes In Alabama
By Rick Seaman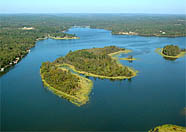 The largemouth bass is the official Alabama state fish. And they grow big in Alabama due to the moderate temperatures in the south. Visit the Bass Knowledge Center for valuable information about bass and bass fishing. All about fishing for spotted, redeye, shoal, smallmouth and largemouth bass.
Alabama is known for its excellent bass fishing opportunities, offering anglers a chance to target various bass species throughout the state's lakes, rivers, and reservoirs. The purpose of this page is to share basic information about bass fishing and bass lakes in the state.
Bass fishing basics video.
Largemouth bass, the most popular bass species, can be found in abundance and provide thrilling angling experiences. Anglers can target largemouth bass using a variety of techniques such as topwater lures, spinnerbaits, and plastic worms. Spring and early summer are typically the best seasons for targeting largemouth bass as they are more active and feeding near shoreline cover.
Smallmouth bass are another prized species in Alabama, particularly in the state's cooler and clearer rivers and streams. Anglers can find smallmouth bass in areas with rocky structures, such as rock ledges and shoals. Crankbaits, jigs, and live bait presentations are effective in enticing strikes from smallmouth bass. The best times to target smallmouth bass are in the spring and fall when water temperatures are optimal for their feeding and spawning behaviors.
Spotted bass, also known as Kentucky bass, are widespread throughout Alabama's waters and provide exciting fishing opportunities. They can often be found in lakes and rivers with a mix of rocky and woody cover. Similar to largemouth bass, spotted bass can be targeted using a variety of lures and techniques, including crankbaits, jerkbaits, and finesse worms. Spring and early summer are productive times to catch spotted bass as they actively feed before the warmer months.
Redeye bass, also called Coosa bass or redeye sunfish, are native to Alabama's Coosa River basin and offer anglers a unique fishing experience. These colorful and feisty bass can be found in flowing rivers and streams with rocky bottoms and clear water. Anglers can target redeye bass using small crankbaits, jigs, and streamer flies. Spring and early summer are the prime times to catch redeye bass as they move into shallow areas to spawn.
Shoal bass, another native bass species to Alabama, are predominantly found in the Chattahoochee River and its tributaries in the southeastern part of the state. These powerful bass prefer rocky shoals and swift current areas. Anglers can use a variety of lures, including topwater baits, jigs, and crankbaits, to entice shoal bass strikes. Spring and early summer are the best times to target shoal bass as they become more active and aggressive.
Alabama's diverse bass fishing opportunities and the presence of multiple bass species make it a haven for bass anglers. Whether targeting largemouth, smallmouth, spotted, redeye, or shoal bass, anglers can enjoy thrilling fishing experiences and the chance to catch trophy-sized fish. It's important to familiarize oneself with Alabama fishing regulations, including size and bag limits, and obtain the necessary fishing licenses before heading out to fish for bass in Alabama's waters.
Bass Fishing Lakes in Alabama
You can find bass in most every lake in Alabama including Aliceville Lake, Bankhead Lake, Bartlett's Ferry Reservoir, Bear Creek Reservoir, Big Creek Lake, Cedar Creek Reservoir, Gainesville Lake, Jones Bluff Reservoir, Jordan Lake, Lake Eufaula, Lake Guntersville, Lake Harding, Lake Martin, Lake Mitchell, Lake Oliver, Lake Tuscaloosa, Lake Wedowee, Lay Lake, Lewis Smith Lake, Logan Martin Lake, Millers Ferry Reservoir, Neely Henry Lake, Pickensville Lake, Pickwick Lake, R E Bob Woodruff Lake, R L Harris Reservoir, Smith Lake, Walter F. George Lake, Weiss Lake, West Point Lake, Wheeler Lake, William Bill Dannelly Reservoir, Wilson Lake, Yates Lake and many other lakes as well as ponds, creeks and rivers.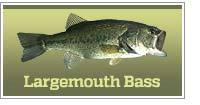 World record: 22 lbs 4 oz
State Record: 16 lbs 8 oz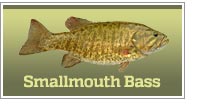 World record: 11 lbs 15 oz
State Record: 10 lbs 8 oz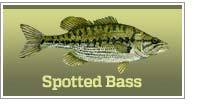 World record: 9 lbs 8 oz
State Record: 8 lbs 15 oz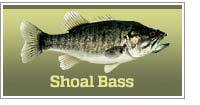 World record: 7 lbs 8 oz
State Record: 6 lbs 11 oz
World record: 8 lbs 12 oz
State Record: 3 lbs 2 oz
Click the images and links above for species details.
Top 5 Bass Fishing Lures For Alabama
When bass are shallow, spinnerbaits, crankbaits and top water lures are the most productive. As they move deeper, worms and jigs are among the top producers.
Alabama State Record Bass
The state record largemouth bass was caught from Mountain View Lake.
The state record smallmouth bass came from Wheeler Dam Tailwater.
The state record redeye bass came out of Choccolocco Creek.
The state record shoal bass was caught in Halawakee Creek.
The state record spotted bass was caught out of Smith Lake.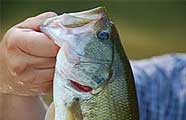 Bass are one of the most sought after of all the game fish. Its appeal spans cultures, age groups and genders to tap on the heart strings of anglers everywhere. Join us in our endeavor to offer information about bass fishing on your favorite bass lake in Alabama.
Understanding the primary seasonal movements of smallmouth bass and largemouth bass is key to locating them on local lakes in the Yellowhammer State.

Bass fishing information by state.
The lifecycle of bass
The more you know about the seasonal migration of bass, the more likely you are to be looking in the right area next time you visit Alabama bass fishing lakes. Visit the bass fishing page for more in-depth information about bass activities.
ALABAMA