Guide To The Best Bass Fishing Lakes In Illinois
Fish for spotted, smallmouth and largemouth bass.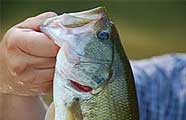 Bass are one of the most sought after of all the game fish. Its appeal spans cultures, age groups and genders to tap on the heart strings of anglers everywhere. Visit the Bass Knowledge Center for valuable information about bass and bass fishing.
Illinois is a haven for bass fishing enthusiasts, offering a variety of angling opportunities for those seeking the thrill of catching these prized game fish. Among the bass species found in Illinois, the largemouth bass (Micropterus salmoides) is the most sought-after and abundant. Largemouth bass can be found in lakes, rivers, and ponds throughout the state, with many anglers targeting them for their size, fighting ability, and challenging nature. These fish can grow to impressive sizes in Illinois waters, providing exciting battles and memorable catches.
In addition to largemouth bass, Illinois is also home to smallmouth bass (Micropterus dolomieu). Smallmouth bass are highly regarded for their strength and acrobatic fighting style, making them a favorite among anglers. These fish are often found in rivers and streams, as well as some lakes and reservoirs, particularly in the northern part of the state. Anglers who pursue smallmouth bass in Illinois can expect thrilling battles and a rewarding angling experience.
Another bass species that can be found in Illinois is the spotted bass (Micropterus punctulatus). Although not as prevalent as largemouth and smallmouth bass, spotted bass can be found in select waters, particularly in southern Illinois. These fish exhibit characteristics similar to both largemouth and smallmouth bass, offering a unique angling experience for those who pursue them. Anglers targeting spotted bass in Illinois can expect spirited fights and the opportunity to catch a lesser-known bass species.
Whether it's the largemouth, smallmouth, or spotted bass, Illinois offers ample opportunities for anglers to test their skills and enjoy the thrill of bass fishing. From large reservoirs and rivers to secluded ponds and streams, the state's diverse waterways provide a range of habitats for these prized game fish. Anglers can employ various techniques such as casting with lures, flipping and pitching, and topwater fishing to entice strikes from these elusive and exciting bass species. With its abundance of bass fisheries and scenic landscapes, Illinois truly is a bass angler's paradise.
Bass Fishing Lakes in Illinois
Bass reside in ponds, creeks, rivers, streams, small lakes and large impoundments across the state. Bass lakes in Illinois. Some of the larger lakes with healthy populations of bass include Anderson Lake, Carlyle Lake, Cedar Lake, Clinton Lake, Coffeen Lake, Crab Orchard Lake, Devils Kitchen Lake, East Fork Lake, Evergreen Lake, Fox Chain O' Lakes, Governor Bond Lake, Heidecke Lake, Kinkaid Lake, Lake Carroll, Lake Decatur, Lake Lou Yeager, Lake Mattoon, Lake Michigan, Lake Of Egypt, Lake Shelbyville, Lake Springfield, Lake Taylorville, Little Grassy Lake, Newton Lake, Otter Lake, Rend Lake and Sangchris Lake.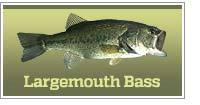 World record: 22 lbs 4 oz
State Record: 13 lbs 1 oz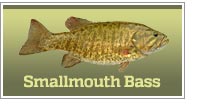 World record: 11 lbs 15 oz
State Record: 6 lbs 7 oz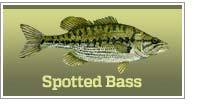 World record: 9 lbs 8 oz
State Record: 7 lbs 3.12 oz
Click the images and links above for species details.
Top 5 Bass Fishing Lures For Illinois
When bass are shallow, spinnerbaits, crankbaits and stickbaits are the most productive. As they move deeper, worms and jigs are among the top producers.
Illinois State Record Bass
The state record largemouth bass was caught in Stone Quarry Lake.
The state record smallmouth came from a strip mine lake.
The state record spotted bass came out of a strip mine lake.
---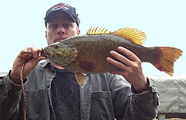 Brennan Kirby shows off a nice 7lb smallmouth.
Bass fishin
---
g basics video.
Understanding the primary seasonal movements of smallmouth bass and largemouth bass is key to locating them on local lakes in the Prairie State.

Catch big bass!
Bass fishing information by state.
The lifecycle of bass
The more you know about the seasonal migration of bass, the more likely you are to be looking in the right area next time you visit Illinois bass fishing lakes. Visit the bass fishing page for more in-depth information about bass activities.
ILLINOIS