Guide To Fishing At East Fork Lake
AKA: East Fork Reservoir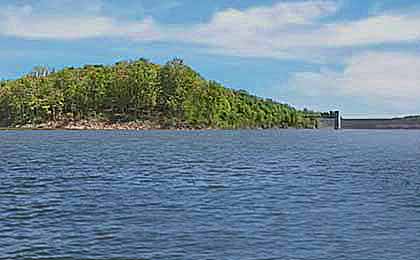 Created as a reservoir for the City of Olney, East Fork Lake has become a popular fishing destination. It is a 934-acre lake in the southeast part of the state with 25 miles of shoreline to fish.
East Fork Lake, located in Illinois, is a hidden gem for fishing enthusiasts and outdoor lovers. Situated in Richland County, this picturesque reservoir offers fantastic fishing opportunities and a serene natural environment. East Fork Lake is home to a variety of popular fish species, making it a sought-after destination for anglers of all ages and skill levels.
Largemouth bass fishing is a highlight at East Fork Lake. Anglers can enjoy the thrill of reeling in these powerful game fish while appreciating the scenic beauty of the lake. Whether you prefer casting from the shore or navigating the lake in a boat, East Fork Lake provides an ideal setting for bass fishing adventures.
Walleye, known for their delicious taste and challenging nature, are another prized species found in East Fork Lake. Anglers are drawn to the lake for the opportunity to catch these elusive fish. With their keen senses and preference for low-light conditions, walleye fishing in East Fork Lake requires skill and strategy. Successful walleye anglers are rewarded with a delectable catch.
Panfish species, such as bluegill, crappie, and sunfish, are abundant in East Fork Lake. These smaller fish offer great fishing experiences for families and beginners. Bluegill, with their striking colors and willingness to bite, are often the first fish caught by young anglers. Crappie, known for their delicate and flavorful fillets, are a popular target for anglers seeking a rewarding catch. Sunfish provide a relaxing and enjoyable angling experience, making them perfect for those looking for a leisurely day on the water.
Besides fishing, East Fork Lake offers opportunities for boating enthusiasts. The lake's calm waters and spacious surface area make it ideal for various water activities. Whether you prefer cruising on a pontoon boat, water skiing, or kayaking, East Fork Lake provides a serene and picturesque environment for boating adventures.
For those who wish to extend their stay, East Fork Lake provides camping facilities. The lake features well-maintained campgrounds that offer a peaceful and scenic setting. Camping at East Fork Lake allows visitors to wake up to stunning lake views, enjoy campfire cookouts, and immerse themselves in the tranquility of nature. The campgrounds provide amenities such as picnic areas, hiking trails, and fishing docks, ensuring a comfortable and enjoyable camping experience.
In summary, East Fork Lake in Illinois is a hidden gem for fishing and outdoor enthusiasts. With its diverse fish species, including bass, walleye, bluegill, crappie, and sunfish, the lake offers a range of angling opportunities for all skill levels. Additionally, the lake's boating options and camping facilities make it an ideal destination for those seeking a complete and immersive outdoor experience. Whether you're an avid angler, a boating enthusiast, or a nature lover, East Fork Lake promises a serene escape and a chance to connect with the beauty of the natural world.
East Fork Launch Ramp, Rotary Park and East Fork Lake Campground are located mid lake, on the north shore. The park and several other locations around the lake provide good access for fishing from the bank.

What to fish for...
Fishing for largemouth bass, channel catfish, black crappie, white crappie, walleye, bluegill, green sunfish, redear sunfish and warmouth at East Fork Lake in Illinois.
Primary fish species residing in East Fork Lake
Click images for fishing tips and details about each species.
East Fork Lake Amenities
Marina: NO
Boat Rental: NO
Boat Launch Ramp: YES
Campgrounds: YES
RV Hookups: YES
Lodging: YES
Convenience Store: NEARBY
Bait & Tackle: NEARBY
Restaurant: NEARBY
Today's Weather & Forecast
Public Boat Launch Ramps & Landings
East Fork Launch Ramp
Located mid lake, on the north side of the lake, off E Kiwanis Road, this is a two-lane, concrete ramp with docks and gravel parking.
Click here for a Illinois Fishing License.
Campgrounds & RV Parks Nearby
East Fork Lake Campground - 618 395-4787
Lakeside RV and Campground - 618 393-4351
East Fork Lake IL Map - Fishing & Camping Areas
Lake Video
Contact Information
East Fork Lake
East Fork Lake Campground
5250 E Goosepoint Lane
Olney, IL 62450
618 395-4787
Fishing lakes in each state.
East Fork Lake in IL
ILLINOIS


Fishing for bass, walleye and crappie in southeast IL.
East Fork Lake, in Illinois.