Fishing At Heidecke Lake
AKA: Lake Heidecke
What to fish for...
Guide to fishing for largemouth bass, smallmouth bass, channel catfish, black crappie, white crappie, walleye, white bass, yellow bass, hybrid striped bass and muskie at Heidecke Lake in Illinois.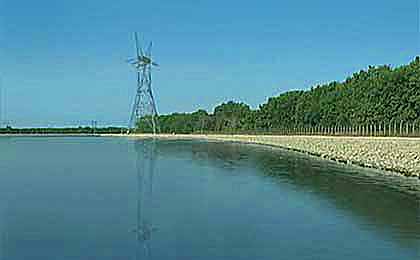 Located in the Heidecke Lake State Fish and Wildlife Area, Heidecke Lake offers 2,000 acres of fishing and boating enjoyment. The lake is located in the northeast portion of the state, and has 17 miles of shoreline to fish and explore.
Heidecke Lake, located in Illinois, is a haven for fishing enthusiasts seeking a thrilling angling experience. Situated in Grundy County, this reservoir offers excellent fishing opportunities and breathtaking scenic views. Heidecke Lake is known for its diverse fish population, attracting anglers from far and wide.
One of the prized fish species in Heidecke Lake is walleye. Anglers flock to the lake in pursuit of these elusive and highly sought-after game fish. With their keen senses and stealthy nature, catching walleye in Heidecke Lake requires skill and patience. The lake also boasts healthy populations of bass, including largemouth and smallmouth bass, which provide exciting challenges for anglers of all skill levels.
Heidecke Lake is also known for its impressive muskie population. Muskie, also known as muskellunge, are predatory fish renowned for their size and ferocious nature. Anglers targeting muskie in Heidecke Lake can expect thrilling battles and the chance to catch trophy-sized fish. In addition to walleye, bass, and muskie, the lake is also home to white bass, hybrid striped bass, crappie, and yellow bass. These species offer variety and excitement for anglers looking to test their skills and reel in a diverse range of fish.
In addition to fishing, Heidecke Lake provides ample opportunities for boating enthusiasts. The lake's calm waters and expansive surface area make it ideal for various water activities. Whether you prefer leisurely cruising on a pontoon boat or engaging in fast-paced water sports like jet skiing, Heidecke Lake offers a serene and picturesque environment for boating adventures.
For those looking to spend more time enjoying the beauty of Heidecke Lake, camping facilities are available. The lake features well-maintained campgrounds that offer a peaceful and scenic setting. Camping at Heidecke Lake allows visitors to wake up to stunning lake views, fish from the shore, and enjoy the tranquility of nature. The campgrounds provide amenities such as picnic areas, hiking trails, and fishing docks, ensuring a comfortable and enjoyable camping experience.
In summary, Heidecke Lake in Illinois is a fishing paradise that offers a diverse range of angling experiences. With its abundant fish populations, including walleye, bass, muskie, white bass, hybrid striped bass, crappie, and yellow bass, the lake provides a thrilling challenge for anglers of all levels. Additionally, the lake's boating opportunities and camping facilities make it an ideal destination for outdoor enthusiasts seeking a complete and immersive experience. Whether you're an avid angler, a boating lover, or a nature enthusiast, Heidecke Lake promises an unforgettable adventure amidst the beauty of the natural world.
With multiple species of catchable fish in the lake, there are fishing options for all anglers, regardless of age or fishing experience. There is plenty of area for fishing from shore, with much of the areas requiring some walking to access. An excellent public boat ramp makes the launch of fishing and pleasure boats a breeze. Bank fishing areas are accessed on the east side of lake off Dresden Road. Portions of the center and east dike are also open to bank fishing.

Primary fish species residing in Heidecke Lake
Click images for fishing tips and details about each species.
Heidecke Lake Amenities
Marina: NO
Boat Rental: NEARBY
Boat Launch Ramp: YES
Campgrounds: NEARBY
RV Hookups: NEARBY
Lodging: NEARBY
Convenience Store: NEARBY
Bait & Tackle: NO
Restaurant: NEARBY
Today's Weather & Forecast
Public Boat Launch Ramps & Landings
Jugtown Road Boat Launch Ramp
Located mid lake, on the south side of the lake, off N Jugtown Road, this is a three-lane, concrete ramp with docks and paved parking.
Click here for a Illinois Fishing License.
Campgrounds & RV Parks Nearby
Goose Lake Association Beach & Campground - 815 942-4879
Kayak Morris Campground - 630 567-4653
Grundy County Rod & Gun Club Campground - 815 942-9369
Heidecke Lake IL Map - Fishing & Camping Areas
Lake Video
Contact Information
Heidecke Lake
Heidecke Lake State Fish and Wildlife Area
5010 N Jugtown Rd
Morris, IL 60450
815 942-6352
Heidecke State Fish and Wildlife Area 815 942-6352
IDNR Fisheries County Biologist 630 553-6680
Fishing lakes in each state.
Heidecke Lake in Illinois.
ILLINOIS


Information about fishing lakes in Illinois
Heidecke Lake offers good bass, walleye, wiper and muskie fishing in northeast Illinois.
Fishing on Heidecke Lake, in Illinois.