Guide To Fishing At Devils Kitchen Lake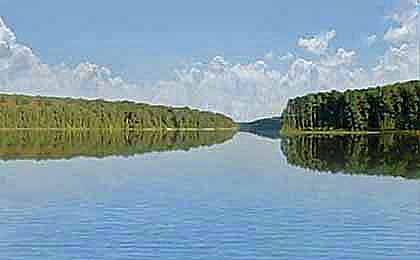 A medium size lake at the southern tip of Illinois, Devils Kitchen Lake offers several species for fishing as well as boating (with a 10 HP limit), swimming, and picnicking. Bass, trout, perch and sunfish are just waiting to be caught.
Devils Kitchen Lake, located in Illinois, is a scenic and popular destination for fishing enthusiasts and outdoor adventurers. Situated in Williamson County, this beautiful reservoir offers excellent fishing opportunities and a tranquil natural environment. Devils Kitchen Lake is known for its diverse fish population, attracting anglers of all ages and skill levels.
Bass fishing is a major attraction at Devils Kitchen Lake. Anglers can test their skills and enjoy the thrill of reeling in these prized game fish. The lake's rocky shorelines and submerged structures provide ideal habitats for bass, offering exciting angling experiences and the chance to catch trophy-sized fish.
Devils Kitchen Lake is also renowned for its trout fishing. The lake is regularly stocked with rainbow trout, providing a unique opportunity for anglers to catch these prized fish. Trout fishing at Devils Kitchen Lake offers a serene and scenic experience, as anglers cast their lines amidst the picturesque beauty of the surrounding landscape.
Yellow perch are another popular species found in Devils Kitchen Lake. These schooling fish offer anglers the chance to enjoy fast-paced action and excellent table fare. The lake's healthy yellow perch population ensures plenty of opportunities for anglers to catch these delicious fish.
Sunfish, including bluegill and other panfish species, are abundant in Devils Kitchen Lake. These smaller fish provide enjoyable angling experiences, particularly for families and beginners. Bluegill, with their vibrant colors and willingness to bite, are often the first fish caught by young anglers. Sunfish offer a relaxing and leisurely angling experience, perfect for those looking to unwind and enjoy the peacefulness of the lake.
Apart from fishing, Devils Kitchen Lake is a popular destination for boating enthusiasts. The lake's calm waters and expansive surface area make it ideal for various water activities. Whether you prefer cruising on a pontoon boat, water skiing, or kayaking, Devils Kitchen Lake provides a serene and picturesque environment for boating adventures.
For those looking to spend more time amidst nature, Devils Kitchen Lake offers camping facilities. The lake features well-maintained campgrounds that offer a peaceful and scenic setting. Camping at Devils Kitchen Lake allows visitors to wake up to stunning lake views, enjoy campfire cookouts, and immerse themselves in the tranquility of the surroundings. The campgrounds provide amenities such as picnic areas, hiking trails, and fishing docks, ensuring a comfortable and enjoyable camping experience.
In summary, Devils Kitchen Lake in Illinois is a haven for fishing and outdoor enthusiasts. With its diverse fish species including bass, trout, yellow perch, and sunfish, the lake offers a range of angling opportunities for all skill levels. Additionally, the lake's boating options and camping facilities make it an ideal destination for those seeking a complete and immersive outdoor experience. Whether you're an avid angler, a boating enthusiast, or a nature lover, Devils Kitchen Lake promises a serene escape and a chance to connect with the beauty of the natural world.
Located within Crab Orchard National Wildlife Refuge, there is limited access to lodging, dining or shopping. However, the lake is scenic and tranquil with 24 miles of shoreline and lots of places to fish, including areas of standing timber and brush. The better fishing options are from a boat, but there is ample shoreline fishing available as well, including a handicap fishing pier near the dam.

What to fish for...
Fishing for largemouth bass, rainbow trout, bluegill, redear sunfish and yellow perch at Devils Kitchen Lake in Illinois.
Primary fish species residing in Devils Kitchen Lake
Click images for fishing tips and details about each species.
Devils Kitchen Lake Amenities
Marina: NO
Boat Rental: NO
Boat Launch Ramp: YES
Campgrounds: NEARBY
RV Hookups: NEARBY
Lodging: NEARBY
Convenience Store: NO
Bait & Tackle: NO
Restaurant: NO
Today's Weather & Forecast
Public Boat Launch Ramps & Landings
Devils Kitchen Boat Dock
Located in the northwest corner of the lake, off Grassy Road, this is a two-lane, concrete ramp with a dock and gravel parking.
Click here for a Illinois Fishing License.
Campgrounds & RV Parks Nearby
Crab Orchard National Wildlife Refuge Campground - 618 997-3344
Hilltop Campground - 618 995-9130
Devils Kitchen Lake IL Map - Fishing & Camping Areas
Lake Video
Contact Information
Devils Kitchen Lake
Crab Orchard National Wildlife Refuge
8588 IL-148
Marion, IL 62959
618 997-3344
IDNR District Biologist 618 993-7094
Fishing lakes in each state.
Devils Kitchen Lake in Illinois.
ILLINOIS


Information about fishing lakes in Illinois
Devils Kitchen Lake offers largemouth bass, rainbow trout, yellow perch and sunfish fishing at the southern tip of Illinois.
Fishing on Devils Kitchen Lake, in IL.