Guide To Fishing At Lake Minnewaska
AKA: Minnewaska Lake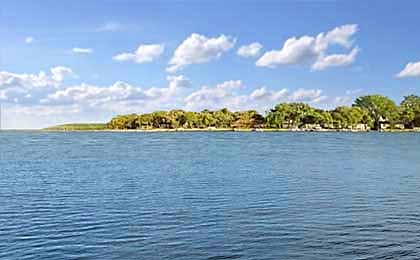 A popular destination for boating and boat parties in summer, Lake Minnewaska is also an excellent fishing lake, year round. This is a 7,100-acre lake in the central part of the state, at Glenwood, with more than eighteen miles of shoreline.
Nestled in the heart of Pope County, Lake Minnewaska is a picturesque destination for anglers in Minnesota. This 8,000-acre lake offers a wealth of fishing opportunities and is home to a variety of popular fish species, making it a favorite among both local and visiting anglers.
Both largemouth and smallmouth bass can be found in Lake Minnewaska, providing thrilling angling experiences. Anglers can explore the lake's weedy areas, rocky points, and drop-offs to target these prized bass species. Whether you prefer topwater action or finesse techniques, Lake Minnewaska offers ample opportunities to catch quality-sized largemouth and smallmouth bass.
Walleye fishing is another highlight of Lake Minnewaska. Anglers can target walleye near the lake's submerged structures, points, and deeper areas. Trolling with live bait or casting with jigs are effective methods for enticing these elusive fish. Lake Minnewaska's walleye population provides a challenge for anglers and rewards them with the potential for a tasty catch.
Yellow perch are abundant in Lake Minnewaska and offer a fun and rewarding angling experience. These schooling fish can be found near weed beds, drop-offs, and other areas with structure. Anglers can target perch using small jigs or live bait presentations. Catching a mess of yellow perch is not only enjoyable but also provides a delicious meal for the table.
Bluegill and black crappie are popular panfish species in Lake Minnewaska. Anglers can find them near weed edges, submerged vegetation, or around brush piles. Using small jigs, flies, or live bait can entice these panfish to bite. Whether you're fishing from a boat or casting from shore, bluegill and crappie fishing in Lake Minnewaska offers plenty of opportunities for family-friendly angling fun.
Boating is a popular activity on Lake Minnewaska, with public access points available for anglers to launch their boats. The lake's expansive waters allow for leisurely cruises and exploration of its scenic shoreline. Additionally, camping facilities near the lake provide opportunities for anglers to extend their stay and enjoy the serene beauty of the area.
With its diverse fish species and recreational amenities, Lake Minnewaska offers anglers a fantastic fishing experience in the heart of Minnesota. Whether you're targeting bass, walleye, perch, panfish, or simply enjoying a day of boating, Lake Minnewaska is a destination that caters to all fishing preferences. Its natural beauty and abundant fishing opportunities make it an ideal spot for anglers of all ages and skill levels to enjoy a memorable fishing adventure.
Anglers regularly catch nice stringers of walleye, bass, crappie, sunfish and perch. Both largemouth and smallmouth bass are the warm weather favorites, while walleye and perch are the main targets when ice fishing in winter. Boating access is via a boat launch ramp at Eagles Point in the northern tip of the lake, a boat landing in the eastern corner of the lake off East 1st Street, and at Glenwood Boat Ramp on the east side of the lake.

What to fish for...
Fishing for largemouth bass, smallmouth bass, black crappie, walleye, bluegill, hybrid sunfish, pumpkinseed sunfish and yellow perch at Lake Minnewaska in Minnesota.
Primary fish species residing in Lake Minnewaska
Click images for fishing tips and details about each species.
Lake Minnewaska Amenities
Marina: NO
Boat Rental: YES
Boat Launch Ramp: YES
Campgrounds: YES
RV Hookups: YES
Lodging: YES
Convenience Store: YES
Bait & Tackle: YES
Restaurant: YES
Today's Weather & Forecast
Fishing Boat Rentals
Hunt's Resort & RV Park
Rentals: Pontoon boats
320 634-3323
Public Boat Launch Ramps & Landings
Glenwood Boat Launch Ramp
Located in the northeast section of the lake, east side, off N Lake Shore Drive, this is a two-lane, concrete ramp with docks and gravel parking.
Minnewaska Boat Launch Ramp West
Located in the southeast section of the lake, west side, off S Main Street, this is a one-lane, concrete ramp with a dock and paved parking.
Minnewaska Boat Ramp North
Located in the northwest corner of the lake, north side, off N Lake Shore Drive, this is a two-lane, concrete ramp with docks and paved parking.
Marinas
Starbuck Marina
307 E 5th St
Starbuck, MN 56381
320 239-2525
Click here for a Minnesota Fishing License.
Campgrounds & RV Parks Nearby
Woodlawn Resort & Campground - 320 634-3619
The Lazy Pines RV Park - 320 760-8327
South Pointe RV Park - 320 634-4818
Hobo Park Campground - 320 239-2336
Lakeview Campground - 320 239-4136
Beachside RV Park Campground - 320 424-2754
Lake Minnewaska MN Map - Fishing & Camping Areas
Lake Video
Contact Information
Lake Minnewaska
Woodlawn Resort & Campground
24050 N Lake Shore Dr Glenwood, MN 56334
320 634-3619
Fishing lakes in each state.
Lake Minnewaska in MN
MINNESOTA


Fishing for smallmouth and largemouth bass in central MN.
Lake Minnewaska, in Minnesota.