Guide To Fishing At Fern Ridge Reservoir
AKA: Fern Ridge Lake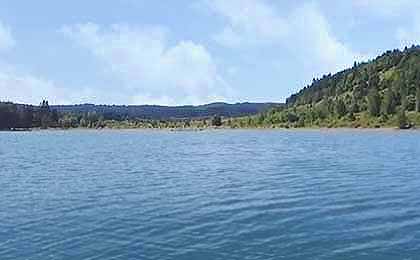 A popular fishing destination in west-central Oregon, Fern Ridge Reservoir is a 9,000-acre lake, at Elmira. Bass, crappie and bluegill thrive in this large, warm-water fishery.
Fern Ridge Reservoir, located just west of Eugene in Oregon's Willamette Valley, is a popular fishing destination known for its diverse fish populations and scenic surroundings. The reservoir offers anglers a variety of fishing opportunities and a chance to reel in some impressive catches.
One of the primary attractions of Fern Ridge Reservoir is its excellent bass fishing. Largemouth bass, in particular, thrive in the reservoir's weed beds, submerged structures, and shallow areas. Anglers can enjoy casting with a variety of artificial lures such as plastic worms, crankbaits, and topwater baits to entice strikes from these feisty fish. Smallmouth bass can also be found in Fern Ridge Reservoir, providing an additional angling option.
Fern Ridge Reservoir is also home to other popular fish species, including crappie, bluegill, and catfish. Crappie can be found near submerged structures and offer exciting fishing opportunities, especially during their spawning season in the spring. Bluegill, with their willingness to bite and scrappy fights, provide enjoyable angling experiences for anglers of all ages. Catfish, including channel catfish and bullhead catfish, can be targeted using a variety of baits and techniques.
Boating is a popular activity on Fern Ridge Reservoir, providing anglers with convenient access to different fishing areas. Motorboats, kayaks, and canoes are all permitted on the reservoir, allowing anglers to explore its various coves, channels, and weed beds. It is important to be aware of any boating regulations, such as speed limits or wake restrictions, and to prioritize safety while on the water.
Camping facilities are available near Fern Ridge Reservoir, allowing anglers to extend their fishing trips and fully immerse themselves in the natural beauty of the area. Campgrounds provide convenient access to the reservoir, allowing anglers to enjoy peaceful evenings by the water after a day of fruitful fishing.
Before heading out to fish in Fern Ridge Reservoir, it's important to check the local fishing regulations, including any size and bag limits, as well as any specific rules for the area. Respecting these regulations helps maintain the sustainability of the fish populations and ensures a positive fishing experience for all.
Fern Ridge Reservoir in Oregon offers anglers a combination of excellent bass fishing, diverse fish species, and scenic surroundings. Whether you're targeting bass, crappie, bluegill, or catfish, the reservoir provides a memorable fishing experience in the heart of the Willamette Valley's natural splendor.
The lake has about thirty miles of shoreline, some developed with homes and boat docks, some undeveloped. Adventurous anglers can find many places around the lake for fishing from the bank. There are numerous boat access areas for boat launching including area camp grounds and the Orchard Point Marina Boat Ramp. Rental boats and typical camping, boating and fishing amenities are all available at the lake.

What to fish for...
Fishing for largemouth bass, black crappie and bluegill at Fern Ridge Reservoir in Oregon.
Primary fish species residing in Fern Ridge Reservoir
Click images for fishing tips and details about each species.
Fern Ridge Reservoir Amenities
Marina: YES
Boat Rental: YES
Boat Launch Ramp: YES
Campgrounds: YES
RV Hookups: YES
Lodging: YES
Convenience Store: YES
Bait & Tackle: YES
Restaurant: YES
Today's Weather & Forecast
Public Boat Launch Ramps & Landings
Orchard Point Boat Launch Ramp
Located in the northeast corner of the lake, off Clear Lake Road, this is a two-lane, concrete ramp with a dock and paved parking.
Marinas
Orchard Point Marina and Boat Ramp
Eugene, OR 97402
541 682-2000
Click here for a Oregon Fishing License.
Campgrounds & RV Parks Nearby
Richardson Park Campground - 541 935-2005
Fern Ridge Shores RV Park - 541 935-2335
Fern Ridge Reservoir OR Map - Fishing & Camping Areas
Lake Video
Contact Information
Fern Ridge Reservoir
Orchard Point Marina and Boat Ramp
Eugene, OR 97402
541 463-0555
Fishing lakes in each state.
Fern Ridge Reservoir in OR
OREGON


Fishing for bass, crappie and bluegill in west-central OR.
Fern Ridge Reservoir, in Oregon.