Ice Fishing Lakes In New York
Guide to favorite fish species at top ice fishing lakes in the state.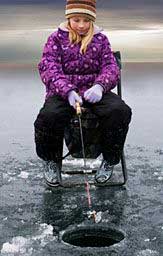 The best ice fishing lakes in NY include Lake Ontario, Oneida Lake and Lake Champlain. The most popular species are crappie, walleye, trout and perch. The purpose of this page is to share basic information about the best ice fishing lakes in the state, plus the species found in each lake. See a list of lakes and species below.
Ice fishing is as basic as fishing gets. During winter, it is popular here in the state. Aside from the tools one uses to create a hole in the ice, all other gear is very basic. A simple rod, reel, line and hook or lure is all you need. Lures, live bait and prepared bait are options, depending on the fish species in the lake or pond.
Ice fishing in New York is a beloved winter pastime, offering anglers a unique and exhilarating fishing experience. Despite the frozen conditions, the state's lakes and reservoirs become bustling hubs for ice fishing enthusiasts. A variety of fish species can be targeted during the winter season, including yellow perch, black crappie, bluegill, walleye, northern pike, and even trout in some high-altitude lakes. These species provide exciting opportunities to test angling skills and catch some delicious fish for the dinner table.
Ice Fishing Tips & Techniques Video
Ice fishing methods in New York vary depending on the targeted species and personal preferences. Traditional methods include using tip-ups or tip-downs, which are devices that hold a baited line beneath the ice, allowing anglers to detect and set the hook when a fish takes the bait. Jigging is another popular technique, involving the use of vertical or horizontal jigging lures to entice fish. Anglers can experiment with different bait types, such as live minnows, wax worms, or artificial lures, to attract fish beneath the ice. Electronics, such as fish finders or underwater cameras, are often employed to locate fish and determine their activity levels.
Safety is of utmost importance when engaging in ice fishing. Anglers should always check the thickness and quality of the ice before venturing out. A minimum ice thickness of 4 inches is generally recommended for foot traffic, while a minimum of 6 to 8 inches is required for snowmobiles or ATVs. It's essential to wear appropriate clothing and gear to stay warm and dry, including insulated waterproof boots, thermal layers, and waterproof gloves. Ice fishing shelters or shanties provide protection from the elements and serve as a cozy base camp. It's also crucial to have ice picks or ice claws on hand to aid in self-rescue in case of an accidental ice break.
Additionally, it is advisable to fish with a buddy and inform someone about the intended fishing location and return time. Ice conditions can change rapidly, so it's essential to stay vigilant and aware of any signs of weakening ice or open water areas. Ice fishing in designated areas or popular fishing spots where others are present can provide an added level of safety.
With proper precautions and a sense of adventure, ice fishing in New York offers a thrilling and rewarding angling experience during the winter months. Whether enjoying the solitude of a frozen lake or joining fellow ice anglers in a bustling ice fishing community, this winter sport allows anglers to connect with nature and reel in some impressive fish while surrounded by the beauty of a winter wonderland.

Top Ice Fishing Lakes & Species
There are numerous places to go ice fishing in the state. Here are a list of some of the proven, best destinations.
Allegheny Reservoir
Black Lake
Canandaigua Lake
Carters Pond
Cayuga Lake
Chautauqua Lake
Cossayuna Lake
Cranberry Lake
Honeoye Lake
Lake Champlain
Lake Colby
Lake Erie
Lake George
Lake Ontario
Oneida Lake
Owasco Lake
Saratoga Lake
Skaneateles Lake
St. Lawrence River
Tupper Lake
Upper Saranac Lake
Click the images for species details.
This is a great way to get the kids to go outdoors in winter, connect with nature and learn to fish. The first consideration when attempting to go ice fishing, is safety. Make sure the ice is safe, and that you are prepared should an accident occur. Dress to stay warm - it's better to remove extra jackets than be cold and miserable. Be aware that the ice can be slippery, and falls can be dangerous.
Click here for ice fishing basics, including details on finding the best place to fish, tips for cutting a hole, basic tackle, bait, lures, depths to fish, safety, shanty's, tents and huts.
Best ice fishing method for crappie, bluegill, perch and sunfish
Horizontal jigs and spoon-type baits are the go-to baits for crappie, either tipped with a minnow, wax worm or prepared baits often triggers more bites. Jigs work better close to the bottom, spoons tend to work better higher in the water column. If options allow, 15 to 30 feet is the most common depth. Adjust as necessary. See additional info on ice fishing for crappie, perch and sunfish.
Best ice fishing method for walleye
Four basic lures are all you need. Ice jigs are minnow shaped with a tail that causes them to fall in a circular patter. Drop them to the desired depth (often to the bottom), then lift the bait a few feet to let it fall on slack line. Spoons: Metal slabs in chrome or a wide array of colors are used to jig up-and-down mimicking a dying baitfish. Lipless crankbaits: Fish like a spoon. Jigs: Use slightly larger jigs than for crappie, preferably with a flashing blade attached. Tip with live bait and let it sit, up a ways from the bottom typically 1 to 3 feet. A general tip is to always keep your bait off the bottom, one to 5 feet is an ideal place to start. Additional information about ice fishing for walleye.
Best ice fishing method for trout
Trout focus on small forage fish in winter, so baits that flash silver - jigs or spoons, do well in attracting trout. Dual rods, where legal, are very effective. One rod with a jig/live bait set up on a tip-up, the second with a spoon fished up and down pretty aggressively. See more detail about ice fishing for trout.
Best ice fishing method for bass
Bass are often found closer to the shoreline than schooling fish. Fish the same as other species, using a bit larger baits and slightly heavier line. Be prepared to battle using your drag if you hook a big one. Additional information about ice fishing for largemouth and smallmouth bass.
Best ice fishing method for pike and musky
Live bait, shiners and sunfish, are a great way to attract these big fellahs, assuming local law allows their use. Heavier line, steel leaders, bigger hooks and stronger tip-ups are in order. See more information on ice fishing for pike and musky.
Click here for a New York Fishing License.
New York Map
States with notable ice fishing.
NEW YORK