Fishing At Upper Saranac Lake
AKA: The Upper Lake
What to fish for...
Guide to fishing for largemouth bass, smallmouth bass, rainbow trout, brown trout, lake trout, pumpkinseed sunfish, yellow perch and northern pike at Upper Saranac Lake in New York.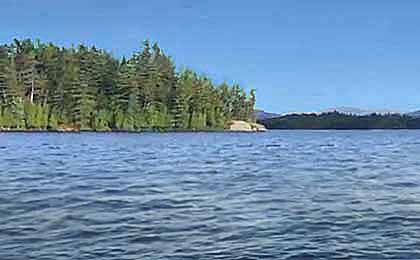 Set amongst some of natures best handiwork, Upper Saranac Lake distracts anglers as they stop fishing to enjoy the views. And, the fishing is excellent in this 4,700-acre lake, located in the northeast part of the state.
Upper Saranac Lake, located in the Adirondack Mountains of New York, is a breathtaking destination for fishing enthusiasts seeking both serene beauty and a diverse fishery. With its pristine waters and surrounding wilderness, Upper Saranac Lake offers an idyllic fishing experience.
One of the primary fish species found in Upper Saranac Lake is the lake trout. These deep-dwelling fish are known for their impressive size and their preference for colder waters. Anglers can target lake trout by trolling with downriggers, using spoons, or jigging with minnow imitations. The deep sections of Upper Saranac Lake provide ideal habitat for these powerful and elusive fish, offering a rewarding challenge for anglers.
Smallmouth bass are another popular target species in Upper Saranac Lake. These hard-fighting fish can be found near rocky shorelines, drop-offs, and submerged structures. Anglers can use techniques such as casting with jigs, soft plastics, or crankbaits to entice these aggressive bass. Smallmouth bass in Upper Saranac Lake are known for their strong fights and acrobatic leaps, providing an exciting angling experience.
Other fish species found in Upper Saranac Lake include largemouth bass, northern pike, yellow perch, and panfish such as bluegill and pumpkinseed. Largemouth bass can be found in the lake's weedy areas and around submerged structures, providing additional opportunities for bass anglers. Northern pike are predatory fish that can reach impressive sizes and provide thrilling battles. Yellow perch and panfish offer enjoyable fishing experiences for anglers of all ages, and techniques such as bobber fishing with worms, small jigs, or live bait are effective for targeting these species.
Boating is a popular activity on Upper Saranac Lake, with boat launches and rentals available for easy access to the water. Anglers can explore the lake's various sections, find productive fishing spots, and enjoy the peacefulness of the surrounding wilderness. The calm waters of Upper Saranac Lake also make it a perfect location for kayaking, canoeing, and paddleboarding, allowing visitors to immerse themselves in the natural beauty of the lake.
Camping facilities are available near Upper Saranac Lake, allowing anglers and outdoor enthusiasts to extend their stay and fully embrace the wilderness experience. Campers can enjoy peaceful evenings under starry skies, cook freshly caught fish over a campfire, and wake up to the sounds of nature. The camping options range from primitive campsites to more developed campgrounds, providing different levels of comfort to suit various preferences.
Upper Saranac Lake in New York offers a serene fishing experience with its diverse fish species and captivating wilderness. Whether targeting lake trout, bass, pike, or panfish, anglers can enjoy the thrill of the chase and the rewards of a successful catch. Boating and camping amenities further enhance the outdoor experience, making Upper Saranac Lake an enticing destination for anglers and nature enthusiasts seeking a memorable fishing adventure in a tranquil and picturesque setting.
Row boats, canoes and kayaks can enjoy the 37 miles of shoreline in search of bass, sunfish, trout and northern pike. Lake trout tend to stay in deeper water. This is a wilderness area with limited resources, however most amenities are available at the lake to make this a great fishing, camping or boating destination. Ice fishing in winter for perch and pike can often be very productive.

Primary fish species residing in Upper Saranac Lake
Click images for fishing tips and details about each species.
Upper Saranac Lake Amenities
Marina: NO
Boat Rental: YES
Boat Launch Ramp: YES
Campgrounds: YES
RV Hookups: NO
Lodging: YES
Convenience Store: YES
Bait & Tackle: YES
Restaurant: YES
Today's Weather & Forecast
Fishing Boat Rentals
Upper Saranac Marina
Rentals: Fishing boats, jon boats and pontoons
518 891-0480
Public Boat Launch Ramps & Landings
Eagle Island Camp Boat Launch Ramp
Located mid lake, west side, off Gilpin Bay Road, this is a one-lane, earthen ramp with gravel parking.
Upper Saranac Lake Boat Launch Ramp
Located in the northwest corner of the lake, off Back Bay Road, this is a two-lane, concrete ramp with docks and paved parking.
Click here for a New York Fishing License.
Campgrounds & RV Parks Nearby
Fish Creek Pond Campground - 518 891-4560
George A Donaldson & Sons Campground - 518 891-4070
Upper Saranac Lake NY Map - Fishing & Camping Areas
Lake Video
Contact Information
Upper Saranac Lake
Fish Creek Pond Campground
4523 State Route 30
Saranac Lake, NY 12983
518 891-4560
Fishing lakes in each state.
Upper Saranac Lake in NY
NEW YORK


Fishing for bass, trout, perch and pike in northeast NY.
Upper Saranac Lake, in New York.