Guide To The Best Fishing Spots For Catfish In Maine
All about fishing for white catfish in ME.
Maine is home to a lesser-known but still enjoyable catfish fishery, with the primary species being the white catfish. White catfish are more prevalent in the southern part of the state, where they can be found in various lakes, rivers, and ponds.
Anglers interested in catfish fishing in Maine often target white catfish, as they are the most abundant catfish species in the region. White catfish are known for their strong fighting ability and can provide an exciting challenge for anglers of all skill levels.
One popular location for white catfish fishing is the Saco River, which flows through southwestern Maine. The river's slow-moving and relatively warmer waters provide an ideal habitat for white catfish to thrive.
Fishing for white catfish in Maine can be productive throughout the year, but the best time to target them is during the warmer months of spring, summer, and early fall. Catfish are more active and tend to feed more aggressively during these seasons.
Anglers typically use a variety of baits to attract white catfish, including nightcrawlers, cut bait, chicken liver, and stinkbaits. Bottom fishing with these baits near underwater structures or along riverbanks is a common and effective method for catching white catfish.
Maine's catfish fishery may not be as well-known as other states, but it provides a unique and rewarding fishing experience for those looking to explore different angling opportunities in this beautiful northeastern region. As always, it is crucial to follow local fishing regulations and practice responsible fishing practices to maintain the health and sustainability of the catfish population and the overall aquatic ecosystem.
Catfish Fishing Lakes in Maine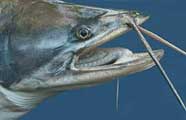 With all the cold water in Maine, it doesn't make a good home for most catfish. You can find catfish in some private ponds and in the river systems, like the Kennebec River but the only serious populations of catfish are in a few major lakes like Damariscotta Lake, Flagstaff Lake, Graham Lake and Sebago Lake.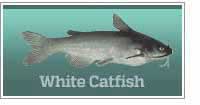 World record: 22 lbs 0 oz
State Record: 6.69 lbs
Click the images and links above for species details.
What's the best bait for catfish in Maine?
Choose from the top 5 all-time catfish baits and try them on local waters. Appealing to the keen sense of smell and taste could turn a so-so day into a memorable event.
Maine State Record Catfish
The state record channel catfish was caught somewhere in Albion, ME.
There are many species of catfish and even more ways to catch them. Adults range in size from less than a pound to hundreds of pounds. Catfish are found in all types of water including ponds, streams, lakes and rivers throughout Maine. There are even species which spend a limited amount of time on dry land. Big giant catfish put up a very noble fight once hooked.
Most catfish are considered bottom feeders to one extent or another. They will generally eat anything that can get in their mouth. Their strongest sense is smell which they use to locate potential food sources. Capitalizing on this sense is the primary weapon in your search for these creatures. Aggressive catfish have been caught on most types of fast moving bass lures so don't under estimate their ability to catch live bait.
Catfish Fishing Video
Additional catfishing information resources.
U.S. Catfish Anglers Tournaments
Information for states with catfish.
Learn the lifestyle of catfish
The more you know about the seasonal migration of catfish, the easier it will be to catch catfish in Maine lakes and rivers. Catfish feed on a wide variety of food sources. They can be caught on prepared baits as well as live and dead baitfish.
MAINE