Guide To Fishing At Baskahegan Lake
AKA: Baskahegan Lake Road Boat Landing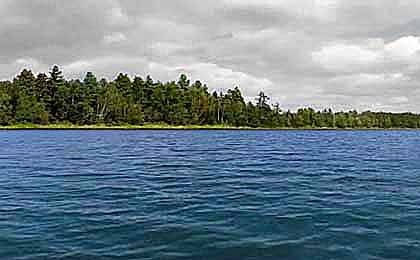 Smallmouth bass are popular and abundant at Baskahegan Lake, a 6,900-acre lake, at Brookton. Bass, trout, sunfish, perch and pickerel swim these waters and entice anglers year round.
Baskahegan Lake is a beautiful and remote lake located in the eastern part of Maine, near the Canadian border. Known for its peaceful and serene setting, the lake offers a fantastic fishing experience for anglers seeking a more secluded and untouched fishing spot.
One of the popular fish species in Baskahegan Lake is the smallmouth bass (Micropterus dolomieu). Anglers are drawn to the lake for the opportunity to catch these feisty and spirited fish, providing an exciting challenge for both experienced and novice anglers alike.
The lake is also well-known for its brook trout (Salvelinus fontinalis) population. Brook trout, often referred to as "brookies," are a native species to Maine and are highly sought after for their beautiful colors and excellent fighting ability. Baskahegan Lake offers excellent conditions for brook trout fishing, providing anglers with a chance to catch these prized fish in their natural habitat.
In addition to smallmouth bass and brook trout, Baskahegan Lake is home to white perch (Morone americana) and yellow perch (Perca flavescens). Both species are popular among anglers and can be caught using various fishing techniques.
Chain pickerel (Esox niger) is another species that inhabits the lake. Known for their sharp teeth and aggressive behavior, chain pickerel provide an exciting challenge for anglers seeking a thrilling fishing experience.
Baskahegan Lake's remote location and diverse fish population make it an excellent destination for fishing enthusiasts looking to escape the crowds and immerse themselves in nature. The lake's natural beauty and abundant fish species ensure a memorable and rewarding fishing adventure for all who visit.
The lake has about 40 miles of shoreline. There is a primitive boat launch ramp on the northeast corner of the lake off Baskahegan Lake Road.

What to fish for...
Fishing for smallmouth bass, brook trout, pumpkinseed sunfish, white perch, yellow perch and chain pickerel at Baskahegan Lake in Maine.
Primary fish species residing in Baskahegan Lake
Click images for fishing tips and details about each species.
Baskahegan Lake Amenities
Marina: NO
Boat Rental: NO
Boat Launch Ramp: Primitive
Campgrounds: NO
RV Hookups: NO
Lodging: NEARBY
Convenience Store: YES
Bait & Tackle: YES
Restaurant: YES
Today's Weather & Forecast
Public Boat Launch Ramps & Landings
Baskahegan Lake Boat Launch Ramp
Located in the northeast section of the lake, off Baskahegan Lake Road, this is a one-lane, gravel ramp with gravel parking.
Click here for a Maine Fishing License.
Campgrounds & RV Parks Nearby
No campgrounds or RV parks are at, or nearby the lake.
Baskahegan Lake ME Map - Fishing & Camping Areas
Lake Video
Contact Information
Baskahegan Lake
Maine Department of Inland Fisheries & Wildlife
207 287-8000
Fishing lakes in each state.
Baskahegan Lake in ME
MAINE


Fishing for smallmouth bass in east-central ME.
Baskahegan Lake, in Maine.