Guide To Fishing At Thompson Lake
AKA: Thompson Lake Public Boat Launch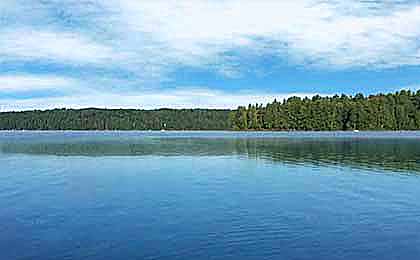 Sandwiched between Pleasant Lake and Tripp Pond, scenic Thompson Lake draws avid anglers in search of a variety of fish species. This 4,400-acre lake is located at Oxford, ME.
Thompson Lake is a scenic and popular destination located in the western part of Maine. It is renowned for its crystal-clear waters and abundant fish populations, making it a favorite spot for anglers seeking a diverse range of species.
One of the popular fish species found in Thompson Lake is the largemouth bass. Anglers flock to the lake to target these feisty and hard-fighting bass, which thrive in the lake's weedy and rocky areas. The thrill of hooking into a sizable largemouth bass is a memorable experience that keeps visitors returning to Thompson Lake year after year.
Another prized catch in Thompson Lake is the Atlantic salmon. These migratory fish make their way into the lake during their spawning season, providing an exciting challenge for anglers seeking to test their skills against these powerful and elusive species. Hooking into an Atlantic salmon is a remarkable achievement that leaves anglers with a sense of accomplishment.
Thompson Lake also offers excellent opportunities for brown trout and lake trout fishing. Both species can be found in the deeper and cooler sections of the lake, providing anglers with a chance to catch some sizeable trout. These cold-water fisheries are particularly rewarding for those who enjoy the thrill of catching these elusive and prized fish.
For those looking for panfish action, Thompson Lake offers a variety of species, including yellow perch and redbreast sunfish. These panfish provide an excellent opportunity for families and novice anglers to enjoy a day of fishing. The lake's calm waters and picturesque surroundings make it a great place to spend quality time on the water.
For anglers seeking a predatory challenge, Thompson Lake is home to the aggressive and fiesty chain pickerel. These ambush predators can be found in the lake's shallow weedy areas, providing a thrilling experience for anglers who enjoy the pursuit of these toothy critters.
Thompson Lake's beauty and recreational opportunities extend beyond fishing, as it is a popular spot for boating and camping. Boaters can explore the lake's expansive waters, while campers can take advantage of the various camping facilities available, allowing visitors to fully immerse themselves in the natural beauty and tranquility of the area.
Thompson Lake in western Maine is a fishing paradise that offers a diverse range of fish species to target, including largemouth bass, Atlantic salmon, brown trout, lake trout, yellow perch, redbreast sunfish, and chain pickerel. With ample opportunities for boating and camping, Thompson Lake promises a memorable and enjoyable experience for anyone seeking a serene escape in the heart of Maine's scenic beauty.
While much of the 50 miles of shoreline is private land, there are plenty of areas around the lake for fishing from the bank. A public boat launch ramp is located at the north end of the lake off Pleasant Street. On the south end, Thompson Lake Marina has a landing, rental boats and supplies. Canoes and kayaks are popular in summer, as is ice fishing in winter.

What to fish for...
Fishing for largemouth bass, brown trout, lake trout, redbreast sunfish, yellow perch, landlocked salmon and chain pickerel at Thompson Lake in Maine.
Primary fish species residing in Thompson Lake
Click images for fishing tips and details about each species.
Thompson Lake Amenities
Marina: YES
Boat Rental: YES
Boat Launch Ramp: YES
Campgrounds: NEARBY
RV Hookups: NEARBY
Lodging: NEARBY
Convenience Store: YES
Bait & Tackle: YES
Restaurant: YES
Today's Weather & Forecast
Fishing Boat Rentals
Thompson Lake Marina
Rentals: Fishing boats, kayaks, canoes and pontoon boats
207-627-4107
Public Boat Launch Ramps & Landings
Thompson Lake Marina Boat Launch Ramp
Located in the southwest section of the lake, off Heath Road, this is a one-lane, concrete ramp with street parking.
Thompson Lake Public Boat Launch Ramp
Located in the northwest section of the lake, off Pleasant Street, this is a one-lane, concrete ramp with a dock and gravel parking.
Marinas
Thompson Lake Marina
340 Heath Road
Casco, ME 04015
207 627-4107
Click here for a Maine Fishing License.
Campgrounds & RV Parks Nearby
Mirror Pond Campground - 207 539-9619
Mac's Camping Area - 207 998-4238
Hemlocks Campground - 888 998-2384
Thompson Lake ME Map - Fishing & Camping Areas
Lake Video
Contact Information
Thompson Lake
Thompson Lake Marina
340 Heath Rd
Casco, ME 04015
207 627-4107
Fishing lakes in each state.
Thompson Lake in ME
MAINE


Fishing for bass, trout, salmon, perch and pickerel in southwest ME.
Thompson Lake, in Maine.