Guide To Fishing At East Grand Lake
AKA: Grand Lake East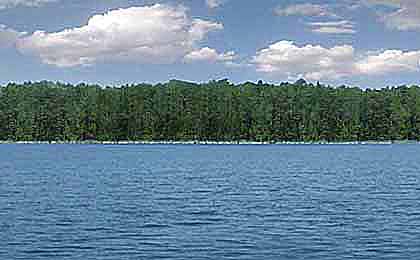 A major ice-fishing destination in winter, East Grand Lake offers good fishing for bass, trout, sunfish, perch, salmon and pickerel, year round. This 16,000-acre lake straddles the eastern Maine-Canada border, at Danforth, ME.
East Grand Lake, situated in the northeastern part of Maine, is a picturesque destination for fishing enthusiasts seeking a diverse range of fish species and natural beauty. This glacial lake is known for its clear waters and excellent fishing opportunities.
One of the sought after species in East Grand Lake is the smallmouth bass. Anglers come from far and wide to try their luck at catching these feisty and hard-fighting fish. The lake's rocky shorelines and submerged structures provide ideal habitats for smallmouth bass, making it a favorite spot for bass fishing.
Lake trout, another popular species, can also be found in East Grand Lake. These large and elusive fish are known for their deep-water habitat, providing a challenging and rewarding experience for anglers who are up for the task.
Atlantic salmon, once abundant in Maine's waters, have been successfully reintroduced in East Grand Lake. Catching an Atlantic salmon is a thrilling experience and a testament to the conservation efforts aimed at restoring this iconic species.
Anglers looking for panfish can find yellow perch, white perch, and redbreast sunfish in East Grand Lake. These fish provide a fun and accessible fishing experience for families and anglers of all ages.
The lake is also home to northern pike and chain pickerel, adding to the excitement of fishing in these waters. These predatory fish are known for their aggressive strikes and are often targeted by seasoned anglers seeking a challenge.
Besides fishing, East Grand Lake offers opportunities for boating and camping. Its scenic vistas and peaceful atmosphere make it a popular destination for outdoor enthusiasts looking to relax and connect with nature. Whether you're a seasoned angler or a nature lover, East Grand Lake has something to offer for everyone seeking an unforgettable fishing experience in Maine.
78 miles of fishable shoreline awaits anglers searching for their favorite species. Much of the Maine shore is accessible for fishing from the bank, or portage of canoes, car-toppers and kayaks. A boat launch ramp is located at Forest City, on the southern part of the lake. There is plenty of lodging, stores and restaurants nearby plus a great place to camp at Greenwood Cove Campground & RV Park.

What to fish for...
Fishing for smallmouth bass, brook trout, lake trout, redbreast sunfish, white perch, yellow perch, landlocked Atlantic salmon and chain pickerel at East Grand Lake in Maine.
Primary fish species residing in East Grand Lake
Click images for fishing tips and details about each species.
East Grand Lake Amenities
Marina: YES
Boat Rental: YES
Boat Launch Ramp: YES
Campgrounds: YES
RV Hookups: YES
Lodging: YES
Convenience Store: YES
Bait & Tackle: YES
Restaurant: YES
Today's Weather & Forecast
Fishing Boat Rentals
Rideout's Lodge & Cottages
Rentals: Fishing boats
207 448-2440
Public Boat Launch Ramps & Landings
Greenland Point Boat Launch Ramp
Located mid lake, west side, off Greenland Cove Road, this is a one-lane, concrete ramp with gravel parking.
Click here for a Maine Fishing License.
Campgrounds & RV Parks Nearby
Greenland Cove Campground - 207 448-2863
East Grand Lake ME Map - Fishing & Camping Areas
Lake Video
Contact Information
East Grand Lake
Greenland Cove Campground
Brown Rd
Danforth, ME 04424
207 448-2863
Fishing lakes in each state.
East Grand Lake in Maine.
MAINE


Information about fishing lakes in ME
Fishing for bass, trout, sunfish, perch, salmon and pickerel in eastern Maine.
Fishing on East Grand Lake.