Fishing At Moosehead Lake
AKA: Lake Moosehead
What to fish for...
Guide to fishing for smallmouth bass, brook trout, lake trout, pumpkinseed sunfish, white perch, yellow perch and landlocked Atlantic salmon at Moosehead Lake in Maine.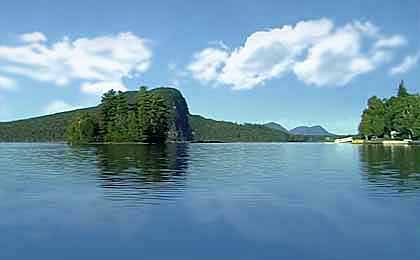 The largest lake in Maine, Moosehead Lake is great place for vacationing, fishing and boating. This 75,000-acre provides excellent fishing opportunities for a wide variet of fish species.
Moosehead Lake, located in the northern part of Maine, is the state's largest lake and a haven for anglers seeking diverse fishing opportunities. Its vast expanse and stunning wilderness surroundings make it a favorite destination for fishing enthusiasts and nature lovers alike.
Anglers visiting Moosehead Lake can look forward to catching a variety of popular fish species. Smallmouth bass is one of the sought-after species here, known for their feisty fights and acrobatic leaps when hooked.
Another prized catch in Moosehead Lake is the lake trout, also known as togue. These large and powerful fish offer a thrilling challenge for anglers and can be found in the deeper, colder waters of the lake.
Atlantic salmon is another highly prized species that attracts anglers from far and wide. While not as abundant as some other species, the chance to catch one of these elusive fish is a highlight for any angler.
For those who prefer panfish fishing, Moosehead Lake provides opportunities to catch yellow perch and white perch. These smaller but tasty fish can be found in shallower areas of the lake, making them accessible for anglers of all skill levels.
Aside from fishing, Moosehead Lake is also a popular spot for boating, with plenty of space to explore its vast waters. Many visitors take advantage of the lake's scenic beauty by camping along its shores, allowing them to fully immerse themselves in the tranquility of nature. Whether it's fishing, boating, or camping, Moosehead Lake offers a memorable outdoor experience in the heart of Maine's stunning wilderness.
Enjoy the stunning views with over 400 miles of shoreline wrapping around the lake. Camping, lodging, cabins, marinas and stores welcome visitors during the season. During winter, Moosehead Lake provides quality ice fishing. Local fishing guides offer various fishing expeditions for novice and experienced anglers. Rental boats are available during spring, summer and fall, and there are plenty of places available for fishing from the bank. There are two boat launch ramps - Public Boat Access on the west side and Greenville Junction at the southern tip of the lake. Canoes, kayaks and car top boats can be portaged from numerous locations.

Primary fish species residing in Moosehead Lake
Click images for fishing tips and details about each species.
Moosehead Lake Amenities
Marina: YES
Boat Rental: YES
Boat Launch Ramp: YES
Campgrounds: YES
RV Hookups: YES
Lodging: YES
Convenience Store: YES
Bait & Tackle: YES
Restaurant: YES
Today's Weather & Forecast
Fishing Boat Rentals
Moosehead Area Rentals
Rentals: Kayaks and canoes
207 418-7299
Northwoods Outfitters Moosehead Lake
Rentals: Kayaks and canoes
207 695-3288
The Birches Resort
Rentals: Fishing boats, kayaks, canoes and pontoon boats
800 825-9453
Public Boat Launch Ramps & Landings
Greenville Junction Boat Launch Ramp
Located in the southwest section of the lake, off State Route 6/15, this is a two-lane, concrete ramp with paved parking.
Lily Bay State Park Boat Launch Ramp
Located in the southeast section of the lake, off State Park, this is a two-lane, concrete ramp with gravel parking.
Rockwood Town Landing Boat Launch Ramp
Located mid lake, west side, off Lake Street, this is a two-lane, concrete ramp with a dock and paved parking.
Marinas
Beaver Cove Marina
16 Coveside Road
Beaver Cove, ME 04441
207 695-3526
Moosehead Marina
21 Northern Road
Rockwood, ME 04478
207 534-4400
Click here for a Maine Fishing License.
Campgrounds & RV Parks Nearby
Moosehead Family Campground - 207 695-2210
Seboomook Wilderness Campground - 207 280-0555
Leisure Life Resort & Trailside Restaurant Campground - 800 726-2302
Moosehead Lake ME Map - Fishing & Camping Areas
Lake Video
Contact Information
Moosehead Lake
Moosehead Marina
21 Northern Rd
Rockwood, ME 04478
207 534-4400
Fishing lakes in each state.
Moosehead Lake in Maine.
MAINE


Information about fishing lakes in ME
Fishing for bass, trout, sunfish, perch and salmon in western Maine.
Fishing on Moosehead Lake.