Crappie Fishing In Georgia
Guide to fishing for black and white crappie.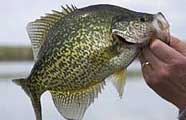 Crappie are actually a member of the sunfish family and can be found in many Georgia lakes. Crappie are known by many different local names. Paper mouth, goggleye, bridge perch, slabs and speckled perch, are just a few.

Georgia is renowned for its excellent crappie fishing, attracting anglers with its abundance of lakes, reservoirs, and rivers teeming with these popular sportfish. Two species of crappie can be found in Georgia's waters: black crappie and white crappie.
Black crappie are known for their distinctive dark speckled appearance and are found in various freshwater habitats across the state. They prefer clearer water with ample cover such as submerged vegetation, fallen trees, and brush piles. Black crappie can be targeted year-round, but they are particularly active during the spring and fall seasons. Anglers often employ a variety of techniques, including casting jigs, using live bait, or trolling to entice these fish into biting.
White crappie are another sought-after species in Georgia's crappie fishing scene. They are characterized by their lighter coloration and vertical striping pattern. White crappie can be found in lakes, ponds, and rivers throughout the state, often favoring areas with structure such as docks, submerged logs, and vegetation. Spring and fall are typically the best seasons to target white crappie, as they are more active and tend to congregate in shallower waters.
Both black crappie and white crappie provide thrilling angling opportunities for fishermen of all ages and skill levels. These fish are prized for their delicious, flaky flesh and their propensity to put up a spirited fight. Whether you prefer fishing from a boat, a dock, or the shore, Georgia's lakes and rivers offer plenty of prime crappie fishing spots to explore.
Crappie Fishing Waters In GA
It might prove difficult to locate a lake of any size in GA that doesn't sport a population of crappie. Some of the biggest stringers of crappie come from the major Georgia lakes like Banks Lake, Carters Lake, Chatuge Lake, Clarks Hill Lake, Goat Rock Lake, High Falls Lake, Lake Allatoona, Lake Burton, Lake Blackshear, Lake Chehaw, Lake Eufaula, Lake Harding, Lake Hartwell, Lake Jackson, Lake Juliette, Lake Lanier, Lake Nottely, Lake Oconee, Lake Oliver, Lake Seminole, Lake Sinclair, Lake Tobesofkee, Richard B Russell Lake and West Point Lake .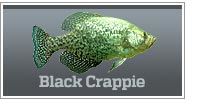 World record: 6 lbs 0 oz
State Record: 4 lbs 4 oz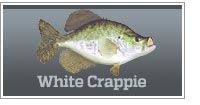 World record: 5 lbs 3 oz
State Record: 5 lbs 0 oz
Click the images and links above for species details.
Top 5 Crappie Fishing Lures For Georgia
Crappie jigs work well in water from 2' to 40' deep, and are the most popular artificial lure for crappie ever. When crappie are shallow, spinners, small crankbaits and underspins are the often very productive. As they move deeper, spoons are among the top producers if the crappie are active. Review details for the best crappie rig options. Understanding the seasonal movements of crappie can enhance your chances of using these lures in the ideal locations.
Georgia State Record Crappie
Two state record black crappie (tie) were caught from Acree's Lake and Lake Spivey.
The state record white crappie came out of a private pond.
Crappie Fishing Basics Video
Check out crappie information, by state.
The life cycle of crappie.
The more you know about crappie, the easier it will be to locate and catch them in Georgia lakes and rivers. Visit the crappie fishing page for details about their seasonal migrations.
GEORGIA