Fishing At Blue Ridge Lake
AKA: Blue Ridge Reservoir
What to fish for...
Guide to fishing for largemouth bass, smallmouth bass, spotted bass, walleye, rainbow trout, brown trout, bluegill, green sunfish, redbreast sunfish, redear sunfish, rock bass, spotted sunfish, warmouth, white bass and yellow perch at Blue Ridge Lake in Georgia.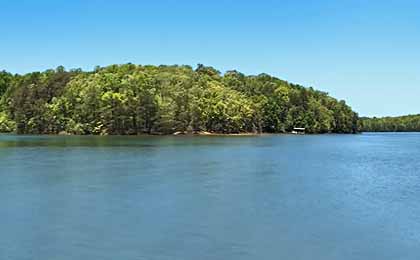 The great outdoors is exemplified at Blue Ridge Lake, a 3,300-acre lake located in the Chattahoochee National Forest, in north-central Georgia. Camping, boating and fishing are all very popular here. Anglers are treated to a wide variety of fish species, and 65 miles of shoreline to explore in search of their favorite.
Blue Ridge Lake, nestled in the scenic Blue Ridge Mountains of Georgia, offers anglers a diverse and rewarding fishing experience. This picturesque reservoir is known for its clear waters and abundance of fish species.
Bass fishing is a major highlight at Blue Ridge Lake, with both largemouth and smallmouth bass thriving in its depths. Anglers can enjoy targeting these prized sportfish using a variety of techniques, including topwater lures, soft plastics, and crankbaits. Spring and fall are considered the prime seasons for bass fishing, when the fish are more active and feeding heavily.
Walleye, a highly sought-after game fish, can also be found in Blue Ridge Lake. These elusive predators provide an exciting challenge for anglers. Early morning and evening hours are typically the best times to target walleye, using techniques such as jigging or trolling with live bait or artificial lures.
Trout fishing is particularly popular in the colder months at Blue Ridge Lake. The lake is stocked with rainbow trout, and anglers can enjoy pursuing them from both the shoreline and boats. Fly fishing, spin casting, and bait fishing are all effective methods for catching trout in the lake's pristine waters.
Sunfish, including bluegill and redear sunfish, are abundant in Blue Ridge Lake and provide excellent opportunities for family fishing. These feisty panfish are eager biters and can be caught using simple tackle and live bait. They make for a fun and rewarding fishing experience, especially for young anglers.
Yellow perch and white bass are additional species that can be found in Blue Ridge Lake. These fish add variety to the angling opportunities and are known for their delicious flesh and spirited fights. Anglers targeting yellow perch can find them near submerged structure and drop-offs, while white bass can be caught in deeper water using jigs, spoons, or live bait.
Boating is a popular activity on Blue Ridge Lake, with several boat ramps and marinas available for easy access. Anglers can explore the expansive lake and find their favorite fishing spots. Camping facilities are also available in the surrounding area, allowing anglers to extend their fishing trips and immerse themselves in the natural beauty of the region.
Overall, Blue Ridge Lake in Georgia offers a delightful fishing experience with its variety of fish species and stunning mountain scenery. Whether you're targeting bass, walleye, trout, sunfish, yellow perch, or white bass, the lake provides ample opportunities to enjoy the sport of fishing and create memorable moments in the great outdoors.
Fishing enthusiasts are most commonly attracted to the great smallmouth bass, walleye, bream and white bass fishing. Others chase largemouth, spotted and white bass, trout, perch or sunfish. Several boat ramps are available to the public for launch of bass boats, pontoons, power boats, canoes, kayaks and all types of boats with no horsepower limit. Lake Blue Ridge Marina and a couple other concessions offer a variety of boats for rent.

Primary fish species residing in Blue Ridge Lake
Click images for fishing tips and details about each species.
Blue Ridge Lake Amenities
Marina: YES
Boat Rental: YES
Boat Launch Ramp: YES
Campgrounds: YES
RV Hookups: YES
Lodging: YES
Convenience Store: YES
Bait & Tackle: YES
Restaurant: YES
Today's Weather & Forecast
Fishing Boat Rentals
Lake Blue Ridge Marina
Rentals: Pontoon boats
706 632-2618
Public Boat Launch Ramps & Landings
Blue Ridge - Option 2 Boat Launch Ramp
Located in the northeast section of the lake, off Lake Drive, this is a two-lane, concrete ramp with limited parking.
Lakewood Landing Boat Ramp
Located in the northwest section of the lake, off Boat Ramp Road, this is a two-lane, concrete ramp with a dock and paved parking.
Marinas
Lake Blue Ridge Marina
335 Marina Dr
Blue Ridge, GA 30513
706 632-2618
Click here for a Georgia Fishing License.
Campgrounds & RV Parks Nearby
Morganton Point Campground - 706 374-1645
Waterside at Blue Ridge RV Park - 706 851-8855
Blue Ridge Lodge & RV Park - 706 258-8908
Cooper Creek USFS Campground - 706 745-6928
Blue Ridge-Toccoa River KOA - 706 946-0355
Blue Ridge Lake GA Map - Fishing & Camping Areas
Lake Video
Contact Information
Blue Ridge Lake
Blue Ridge Lake Recreation Area
Blue Ridge, GA 30513
706 745-6928
Fishing lakes in each state.
Blue Ridge Lake in GA
GEORGIA


Fishing for smallmouth bass, walleye, bream and white bass in north-central GA.
Blue Ridge Lake, in Georgia.