Fishing At Lake Blackshear
AKA: Blackshear Reservoir
What to fish for...
Guide to fishing for largemouth bass, channel catfish, flathead catfish, black crappie, white crappie, bluegill, redear sunfish, white bass, striped bass and hybrid striped bass at Lake Blackshear in Georgia.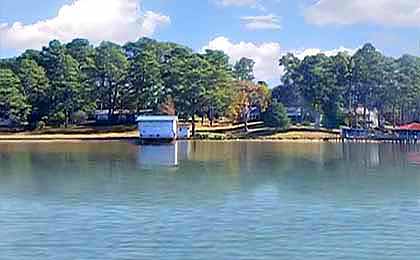 Located west of Georgia Veterans Memorial State Park, Lake Blackshear is a 8,500-acre reservoir which is accessible from many locations around its 95 miles of shoreline. Lake Blackshear sets in the south-central part of the state, just 8 miles west of Cordele, GA. There are multiple boat launch ramps around the lake for launching pleasure boats, pontoons and an array of fishing boats. Bass boats are a favorite here, as are canoes and kayaks.
The purpose of this page is to deliver an overview of this lake, the fishing options, and area amenities. Our goal is to provide info to first time visitors, as well as beginner and novice anglers. We gathered details from personal experience, numerous trusted websites that each offer select bits of information, and videos of fishing activity on the lake. These websites include the Georgia Wildlife Resources Division, marinas at the lake, campgrounds, boat rental agencies and others. By consolidating this information to one page it allows visitors to see the entire picture, all in one place.
Lake Video
Lake Blackshear, located in southwestern Georgia, is a popular fishing destination known for its abundant fish populations and scenic beauty. Anglers flock to this reservoir to target a variety of popular fish species.
Bass fishing is a major draw at Lake Blackshear, with both largemouth and spotted bass making their home in its waters. The lake's structure, including submerged trees, stumps, and grassy areas, provides excellent habitat for bass. Anglers can enjoy fishing for bass year-round, but the spring and fall months tend to be the most productive, with the fish being more active and feeding aggressively.
Catfish are another prized species at Lake Blackshear. Channel catfish and flathead catfish can be found throughout the lake's depths. Anglers can target these whiskered creatures using a variety of baits and techniques, with nighttime fishing often yielding great results.
Crappie fishing is popular on Lake Blackshear, particularly during the spring spawning season. Anglers can find both black crappie and white crappie in the lake's submerged structure and around brush piles. The cooler months of early spring and fall can be particularly productive for crappie fishing.
Sunfish, including bluegill and redear sunfish, are abundant in Lake Blackshear and provide great fishing opportunities, especially for young anglers. These feisty panfish can be caught year-round and are often found in shallower areas near vegetation or around structure.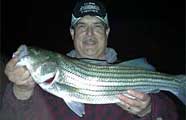 Lake Blackshear is also known for its population of white bass, striped bass, and hybrid stripers. These hard-fighting fish are highly sought after by anglers due to their size and strength. Spring and fall are excellent times to target these species when they are actively feeding in the shallows.
The lake has healthy populations of bass, crappie, bluegill, catfish, sunfish, white bass, striped bass and hybrid stripers. Cover for fish, and baitfish, are the many boat docks, creek channels, ledges and brush. Marinas, convenience stores, bait shops, lodging, camping and other amenities are all close by to enhance your stay. Come for a weekend of fishing or a family vacation.
Overall, Lake Blackshear offers a diverse fishery and stunning natural scenery, making it a favorite destination for anglers in Georgia. Whether you're targeting bass, catfish, crappie, sunfish, white bass, striped bass, or hybrid stripers, this picturesque lake provides ample opportunities for anglers to enjoy their favorite sport and create lasting fishing memories.

Primary fish species residing in Lake Blackshear
Click images for fishing tips and details about each species.
Lake Blackshear Amenities
Marina: YES
Boat Rental: YES
Boat Launch Ramp: YES
Campgrounds: YES
RV Hookups: YES
Lodging: YES
Convenience Store: YES
Bait & Tackle: YES
Restaurant: YES
Today's Weather & Forecast
Boating is a popular activity on Lake Blackshear, with ample space for watercraft and various boat ramps available for easy access. Anglers can explore the lake's expansive waters and find their favorite fishing spots. Camping facilities are also available near the lake, providing anglers with the opportunity to extend their fishing trips and enjoy the beauty of the surrounding nature.
Fishing Boat Rentals
The Marina at Lake Blackshear Resort
Rentals: Pontoon boats, canoes and kayaks
229 273-7747
Public Boat Launch Ramps & Landings
Campers Haven Boat Ramp
Located in the northeast corner of the lake, off Campers Haven Road, this is a two-lane, concrete ramp with gravel parking.
GA Veterans State Park Boat Launch Ramp
Located mid lake, east side, off GA Veterans Road, this is a four-lane, concrete ramp with docks and paved parking.
Marinas
The Marina at Lake Blackshear Resort
2459 US-280
Cordele, GA 31015
229 273-7747
Click here for a Georgia Fishing License.
Campgrounds & RV Parks Nearby
Dixie RV Park - 229 268-5712
Georgia Veterans State Park Campground - 229 276-2371
Lakeshore Marine RV Park Campground - 229 853-2275
Cordele KOA Campground - 229 273-5454
Cordele RV Camping Campground - 229 273-4444
Southern Gates RV Park & Campground - 229 273-6464
Lake Blackshear GA Map - Fishing & Camping Areas
Contact Information
Lake Blackshear
Georgia Veterans State Park
2459 U.S. 280
Cordele, GA 31015
229 276-2371
Fishing lakes in each state.
Lake Blackshear in Georgia.
GEORGIA


Information about fishing lakes in Georgia
Lake Blackshear offers exciting fishing for bass, crappie, bluegill, catfish, sunfish, white bass, striped bass and hybrid stripers in south-central Georgia.
Fishing on Lake Blackshear.