Guide To Fishing At Lake Jackson
AKA: Jackson Reservoir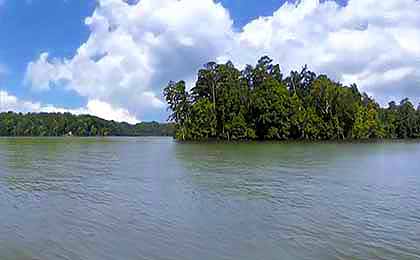 Over a century old, Lake Jackson has been producing nice stringers of fish and some great fish fry's for a long time. This 4,700-acre lake is still producing today, and is a great destination for a family vacation or weekend fishing trip. Jackson Lake is located in the upper-central part of the state, 3 miles northeast of Jackson, GA.
Lake Jackson, located in central Georgia, is a renowned fishing destination known for its abundance of fish species and picturesque setting. Anglers flock to the lake for a chance to catch a variety of popular fish species that thrive in its waters.
Bass fishing is a major draw on Lake Jackson. Both largemouth bass and spotted bass can be found here, providing exciting angling opportunities for enthusiasts. The lake's structure, including submerged vegetation, fallen trees, and rocky points, offers excellent habitat for bass. Anglers often use a variety of techniques, such as casting topwater lures, flipping plastic worms, or working crankbaits, to entice the bass into biting.
Catfish are another sought-after species on Lake Jackson. Anglers can target both channel catfish and white catfish, which are known for their size and fighting ability. Using live or cut bait, anglers can fish along the lake's bottom, near structure, or in deeper areas to target these powerful catfish.
Crappie fishing is popular on Lake Jackson, particularly during the spring spawning season. Both black crappie and white crappie can be found here, attracting anglers looking for a tasty catch. Anglers often target crappie near submerged structure, brush piles, or around docks. Techniques such as jigging with small jigs or using live minnows can be effective in enticing these panfish.
Sunfish, including bluegill and redear sunfish, provide enjoyable fishing experiences for anglers of all ages. Lake Jackson offers abundant populations of these panfish, which can be caught using small hooks, worms, or crickets. Fishing near the shoreline, around vegetation, or near docks can yield success when targeting sunfish.
Hybrid stripers and striped bass are also present in Lake Jackson, providing exciting fishing opportunities. These fish are known for their strength and aggressive feeding behavior. Anglers often target them by trolling or casting artificial lures that imitate baitfish. Boating and fishing in deeper areas of the lake can increase the chances of hooking into these prized sportfish.
Lake Jackson offers excellent boating and camping opportunities for anglers and outdoor enthusiasts. With several boat ramps available, anglers can easily access various fishing spots throughout the lake. Boaters can enjoy cruising the scenic waters and exploring different areas for fishing. Additionally, camping facilities near the lake provide a convenient option for overnight stays, allowing anglers to extend their fishing trips and enjoy the natural beauty of the surrounding area.
Lake Jackson in Georgia is a prime fishing destination known for its abundant fish species, including bass, catfish, crappie, sunfish, hybrid stripers, and striped bass. With its diverse fish population, picturesque surroundings, and recreational amenities for boating and camping, Lake Jackson offers a memorable fishing experience for anglers of all skill levels.
There are 135 miles of enticing shoreline for anglers to explore. These waters are home to catfish, bass, crappie, sunfish, striped bass and hybrid stripers. The shorelines have boat docks galore and are a favorite hangout for bass, sunfish and crappie. Much of the land surrounding the lake is private, but there are areas for public access to fish from the bank, or launch a canoe or kayak. There are numerous boat launches around the lake, including launch ramps at the marinas.

What to fish for...
Fishing for largemouth bass, spotted bass, channel catfish, white catfish, white crappie, bluegill, redbreast sunfish, redear sunfish, striped bass and hybrid striped bass at Lake Jackson in Georgia.
Primary fish species residing in Lake Jackson
Click images for fishing tips and details about each species.
Lake Jackson Amenities
Marina: YES
Boat Rental: YES
Boat Launch Ramp: YES
Campgrounds: NEARBY
RV Hookups: NEARBY
Lodging: NEARBY
Convenience Store: YES
Bait & Tackle: NO
Restaurant: YES
Today's Weather & Forecast
Fishing Boat Rentals
Jackson Lake Rentals
Rentals: Pontoon boats
770 713-7069
Public Boat Launch Ramps & Landings
Martin's Marina Boat Launch Ramp
Located in the corner section of the lake, off St Co Road 364, this is a one-lane, concrete ramp with a dock and gravel parking.
Reasor's Landing Boat Launch Ramp
Located in the western section of the lake, south side, off Marina Circle, this is a three-lane, concrete ramp with docks and paved parking.
Marinas
Martin's Marina
8726 Jackson Lake Rd
Monticello, GA 31064
770 775-3892
Click here for a Georgia Fishing License.
Campgrounds & RV Parks Nearby
Indian Springs Campground - 770 504-2277
Lake Jackson GA Map - Fishing & Camping Areas
Lake Video
Contact Information
Lake Jackson
Factory Shoals Recreation Park
450 Newton Factory Bridge Rd
Covington, GA 30014
770 787-6670
Fishing lakes in each state.
Lake Jackson in Georgia.
GEORGIA


Information about fishing lakes in Georgia
Lake Jackson has populations of catfish, bass, crappie, sunfish, striped bass and hybrid stripers in north-central GA.
Fishing on Lake Jackson.