Walleye & Sauger Fishing In Georgia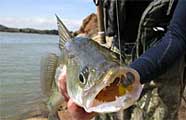 Walleye prefer moderately deep lakes with gravel, rock or sandy bottoms. It is found primarily in cold water lakes but has proven to survive in warmer impoundments. It is prized for its great tasting filets. The purpose of this page is to share basic information about walleye, saugeye and sauger fishing and identify popular walleye waters in the state. Click here to learn all about walleye fishing.
Georgia offers exciting walleye fishing, with both native and stocked populations found in various lakes and rivers across the state. Walleye are highly prized by anglers for their elusive nature, challenging behavior, and delicious meat.
Watch this video for walleye tips and tactics.
The primary species targeted by walleye anglers in Georgia are walleye and sauger. While walleye are more prevalent and widely distributed, sauger can also be found in certain waters, particularly in the larger river systems.
When it comes to walleye fishing in Georgia, some notable lakes and rivers are known for their walleye populations. Lake Lanier, Lake Hartwell, Lake Oconee, and the Savannah River are popular destinations for targeting walleye. These bodies of water provide suitable habitat and forage for walleye to thrive.
Georgia's state records for walleye and sauger reflect the potential for trophy-sized catches. Anglers have the opportunity to reel in impressive walleye and sauger specimens and potentially set new state records.
When targeting walleye and sauger in Georgia, anglers employ various techniques such as trolling, casting, and jigging. Successful baits and lures include crankbaits, jigs, and live bait presentations like nightcrawlers or minnows.
It's important for anglers to be familiar with the fishing regulations and seasons for walleye and sauger in Georgia, as these may vary depending on the specific body of water. Additionally, understanding the preferred habitats and feeding patterns of walleye and sauger can increase the chances of a successful fishing trip.
Whether fishing in lakes or rivers, Georgia provides opportunities for anglers to target walleye and sauger. With proper techniques, equipment, and knowledge of their behavior, anglers can enjoy the thrill of catching these prized game fish in Georgia's waters.
Walleye & Sauger Waters
Blue Ridge Lake, Carters Lake, Lake Burton, Lake Hartwell, Lake Lanier, Lake Rabun and Lake Tugalo are the primary lakes in GA with populations of walleye.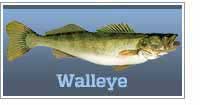 World record: 25 lbs 0 oz
State Record: 14 lbs 2 oz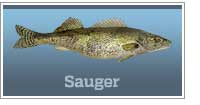 World record: 17 lbs 7 oz
State Record: 4 lbs 3 oz
Click the images and links above for species details.
Top lures for walleye in Georgia
Jigs work well in virtually any depth water. When walleyes are shallow, spinnerbaits, small crankbaits and rip baits are the often very productive. As they move deeper, spoons are ideal for active walleye. Understanding the seasonal movements of walleyes can enhance your chances of selecting the right lures for conditions on local waters.
Georgia State Walleye & Sauger Records
The state record walleye was caught out of Lake Rabun.
The state record sauger came from Clarks Hill Reservoir.
Fishing For Walleye
This toothy fish will eat virtually anything it can catch and get in its mouth. They prefer small fish and will eat crustaceans, worms and insects. They tend to be somewhat wary and prefer the safety of deeper darker water. Trolling for walleye with deep diving crankbaits, jerkbaits, spinners and live bait provides a way to cover vast areas and locate concentrations of fish. Use of planer boards allows anglers to cover water out both sides of the boat while trolling. Try fishing for walleye from sundown to midnight, particularly during the heat of summer.
Walleye spawn in spring and when they have the option will choose to migrate from the lake up into feeder streams to spawn. If this option is not available they seek out shallow bars or shoals with clean bottom surfaces near deep water.
Fishing For Sauger
Closely related to the walleye and similar in appearance, sauger are generally smaller than walleye, reaching 4 to 5 pounds (or more) and up to about 20 inches. Often found in muddier rivers, it thrives in larger, silty lakes. They spawn in the shallows at night, without creating or guarding specific nests.
Georgia walleye spawn in spring and when they have the option will choose to migrate from the lake up into feeder streams to spawn. If this option is not available they seek out shallow bars or shoals with clean bottom surfaces near deep water.
Walleye Resources
In-Fisherman - Walleye
U.S. Fish & Wildlife - Walleye
The National Wildlife Federation - Walleye
Also find information about walleye, sauger or saugeye fishing in these states.
Learn the migration patterns of walleye
Walleye become active in spring and begin the spawning process in medium-depth water. As summer arrives they move to deeper, cooler water. In fall walleye migrate into shallower water again and feed aggressively preparing for their move to deeper water where they will spend winter.
GEORGIA