Fishing for Walleye by Season
Important Key Factors For Finding Walleye
Walleye feed year round.
Generally walleye feed morning, evening and during the night.
Walleye are primarily a deep, cool-water species.
Walleye move shallow to eat and spawn.
Water temps in the high 50s to low 70s in Spring, trigger the spawn.
Walleye cruise to find prey, rather than hold and ambush.
Walleye prefer low-light conditions.
Walleye feed on minnows, small fish, insects and crustaceans
Walleye prefer small, slow-moving baits, or live bait
See seasonal tactics below
---
Walleye
Stizostedion vitreum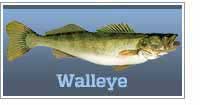 Prefers slightly stained to murky water with little or no current. Ideal water temperature: 38° to 60°
World record: 25 pounds, 0 ounces
---
Seasonal Migration
Time frames and locations vary, especially north to south. However, if you adjust these principles to your local seasons, here is where you should find walleye hanging out in local waters.
March, April & May - Early Spring
Activity: Pre-spawn, spawn and post-spawn, depending on north-to south geolocation. Moving slightly shallower, when water temperature is in the mid-40s. As water temperatures get to mid 40s and above they move in real shallow to spawn.
Location: Prespawn 10' to 15', 3' to 6' to spawn in most bodies of water, on a rocky or gravel bottom.
Tactics: Work a variety of lures in the spawning areas, and keep changing baits - even if one bait seems to be the magic.
Best Lures: Shallow running crankbaits, jigs, rip baits and swimbaits
May & June - Spring
Activity: Post spawn
Location: 4' to 15' of water on gravel or rock points, flats and ledges.
Tactics: Find bait nearby the spawning areas and you'll have found the aggressively feeding walleye.
Best Lures: Most every walleye lure will work during this time, but minnow-like reaction baits tend to top the list.
June, July & August - Summer
Activity: Moving around, looking for bait, and actively feeding in low-light conditions.
Location: 5' to 30' of water near drop offs. Weeds and vegetation enhance the summer holding and feeding areas.
Tactics: Nights, dusk and dawn are the most active periods. Wind and cloud cover can enhance daytime bites.
Best Lures: Reaction baits for shallower fish. Jigs, minnows, jigging spoons and trolled lures/baits for deeper fish.
September & October - Autumn
Activity: Migrating from summer holding/feeding areas toward winter haunts.
Location: 20' to 50' or deeper, depending on options available.
Tactics: Jigging and live bait are top producers.
Best Lures: Jigs, minnows and spoons.
November, December, January & February - Winter
Activity: Primarily staying deep and moving very slowly.
Location: 20' to 50' or deeper, depending on options available. Much of the northern walleye waters are iced over in winter, which does not drastically alter their location choices.
Tactics: Finding the perfect depth is key, so experiment. Find the baitfish and you'll likely find walleye. Generally shallower in the morning and evening, deeper during mid-day hours. See ice fishing for walleye in lakes that freeze over.
Best Lures: Minnows, small jigs and ice jigs
Walleye, sauger or saugeye fishing waters by state.
Fishing Information