Pennsylvania Crappie Fishing
Guide to fishing for black and white crappie.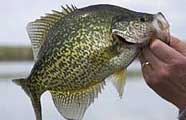 Crappie are actually a member of the sunfish family and can be found in many Pennsylvania lakes. Crappie are known by many different local names. Paper mouth, goggleye, bridge perch, slabs and speckled perch, are just a few.
Pennsylvania is a fantastic destination for crappie fishing, with its lakes, reservoirs, and rivers offering abundant opportunities to target both black crappie and white crappie. Anglers of all skill levels are drawn to Pennsylvania's waters in pursuit of these popular panfish species.
Black crappie, known for their distinctive dark coloration and vertical striping, are a prized catch among crappie anglers in Pennsylvania. They can be found in various bodies of water throughout the state, including Lake Erie, Raystown Lake, Lake Wallenpaupack, and many smaller lakes and ponds. Anglers targeting black crappie often focus on submerged structure such as brush piles, fallen trees, and submerged vegetation. Techniques such as vertical jigging, using small jigs or live minnows as bait, are commonly employed to entice these elusive fish.
White crappie, characterized by their lighter coloration and vertical bars, are another sought-after species in Pennsylvania. They can be found in similar habitats as black crappie, with many lakes and reservoirs providing excellent opportunities for anglers to target them. White crappie tend to be more tolerant of turbid water conditions and can often be found near structure such as docks, submerged timber, or weed beds. Anglers employ similar techniques as with black crappie, utilizing jigs, live bait, or small crankbaits to entice these fish.
Pennsylvania has a history of producing impressive crappie catches, with several state records showcasing the potential for anglers to land trophy-sized fish. The state record for black crappie is over 4 pounds. The state record for white crappie is also over 4 pounds. These records highlight the quality of crappie fishing opportunities in Pennsylvania and the excitement of potentially catching a record-breaking fish.
Crappie fishing in Pennsylvania provides anglers with not only the thrill of the catch but also the chance to enjoy the state's beautiful waterways and scenic landscapes. Whether casting from a boat or fishing from the shore, crappie anglers in Pennsylvania can immerse themselves in the tranquility of nature while targeting these popular panfish. With their delicious fillets and exciting fishing experiences, crappie fishing in Pennsylvania is a favorite pastime for many anglers.
Crappie Waters In PA
Crappie tend to appear in most waters that stay warm enough for them. PA has it share of ponds, rivers and small lakes containing crappie. The major lakes with healthy schools of crappie include Blue Marsh Lake, Cross Creek Lake, East Branch Lake, Foster Joseph Sayers Lake, Glendale Lake, Green Lick Reservoir, Hammond Lake, High Point Lake, Kahle Lake, Keystone Lake, Lake Arthur, Lake Ontelaunee, Marsh Creek Lake, Octoraro Lake, Pymatuning Lake, Raystown Lake, Shawnee Lake, Shenango River Lake, Stevens Lake, Tamarack Lake and Yellow Creek Lake.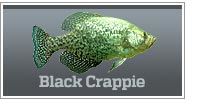 World record: 6 lbs 0 oz
State Record: 4 lbs 2 oz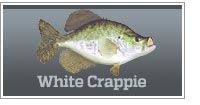 World record: 5 lbs 3 oz
State Record: 4 lbs 3 oz
Click the images and links above for species details.
Top 5 Crappie Fishing Lures For Pennsylvania
Crappie jigs work well in water from 2' to 40' deep, and are the most popular artificial lure for crappie ever. When crappie are shallow, spinners, small crankbaits and underspins are the often very productive. As they move deeper, spoons are among the top producers if the crappie are active. Review details for the best crappie rig options. Understanding the seasonal movements of crappie can enhance your chances of using these lures in the ideal locations.
The state record white crappie was caught out of Hammond Lake.
Crappie Fishing Basics Video
Check out crappie information, by state.
The life cycle of crappie.
The more you know about crappie, the easier it will be to locate and catch them in Pennsylvania lakes and rivers. Visit the crappie fishing page for details about their seasonal migrations.
PENNSYLVANIA