Fishing At Yellow Creek Lake
AKA: Yellow Creek State Park Lake
What to fish for...
Guide to fishing for largemouth bass, smallmouth bass, channel catfish, black crappie, walleye, bluegill, yellow perch, muskie, northern pike and tiger muskie at Yellow Creek Lake in Pennsylvania.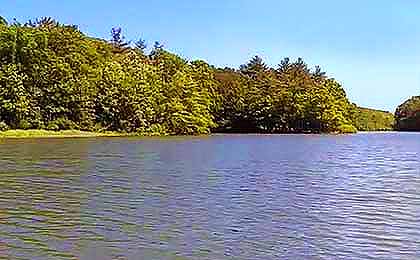 Yellow Creek State Park features excellent boating and fishing on Yellow Creek Lake. The park and lake are located in the west-central part of the state. The lake covers 720 acres and has over 7 miles of shoreline. Trails around sections of the lake provide access for fishing from shore. Boats with up to 20 hp motors are permitted on the lake, with four boat launch ramps to serve the public.
Yellow Creek Lake, located in Indiana County, Pennsylvania, is a hidden gem for fishing enthusiasts seeking a tranquil angling experience. Covering approximately 720 acres, this serene lake offers excellent fishing opportunities for a variety of species. Anglers are drawn to Yellow Creek Lake to target popular fish such as largemouth bass, smallmouth bass, walleye, northern pike, crappie, catfish, bluegill and sunfish. The lake's diverse underwater structure, including submerged timber, weed beds, and rocky areas, provides a thriving habitat for these species, ensuring an exciting and productive fishing adventure.
During the winter months, Yellow Creek Lake turns into a winter wonderland for ice fishing enthusiasts. As the lake freezes over, anglers can venture out onto the ice and set up their ice fishing shelters to try their luck at catching a variety of fish species. Ice fishing on Yellow Creek Lake offers a peaceful and serene experience, surrounded by the beauty of nature in its winter splendor.
Boating is permitted on Yellow Creek Lake, providing visitors with the opportunity to explore its scenic waters and access prime fishing spots. Anglers can bring their own non-motorized boats such as canoes, kayaks, or rowboats to navigate the lake's calm waters and reach secluded fishing areas. Additionally, there are boat rentals available nearby for those who prefer to fish from motorized boats. Whether paddling along the shoreline or fishing from a boat, the tranquility of Yellow Creek Lake creates a serene atmosphere for anglers.
Camping options are available within the surrounding area, offering visitors the chance to extend their stay and fully immerse themselves in the natural beauty of the region. The lake features a campground with campsites equipped with picnic tables, fire rings, and access to restroom facilities. Camping at Yellow Creek Lake allows visitors to wake up to the sounds of nature, enjoy lakeside activities, and appreciate the peacefulness of the surrounding forest.
As visitors explore Yellow Creek Lake and its surrounding area, they can revel in the scenic beauty and serenity that define the region. The lake is nestled amidst rolling hills, woodlands, and picturesque landscapes, creating a tranquil backdrop for outdoor adventures. Nature enthusiasts can explore nearby hiking trails, observe wildlife, or simply relax by the lakeshore and absorb the peaceful ambiance.
Yellow Creek Lake, with its diverse fish species, opportunities for ice fishing, boating amenities, and camping facilities, offers a delightful destination for outdoor enthusiasts in Pennsylvania. Whether one seeks a rewarding fishing experience, an invigorating ice fishing adventure, a serene boating excursion, or a peaceful camping getaway, Yellow Creek Lake provides an ideal setting to connect with nature and enjoy the beauty of this serene destination.
In winter ice boating and ice fishing for bass, crappie, walleye, bluegill, sunfish, perch and northern pike are quite popular. Sunfish, perch, and pike are commonly caught while ice fishing. During warmer months, anglers focus on fishing for bass, catfish, crappie, walleye and muskie.

Primary fish species residing in Yellow Creek Lake
Click images for fishing tips and details about each species.
Yellow Creek Lake Amenities
Marina: NO
Boat Rental: YES
Boat Launch Ramp: YES
Campgrounds: YES
RV Hookups: YES
Lodging: YES
Convenience Store: YES
Bait & Tackle: YES
Restaurant: NEARBY
Today's Weather & Forecast
Public Boat Launch Ramps & Landings
Clear Grampaps Cove Boat Launch
This is a primitive launch area with limited parking, It is located on the south side of the lake, mid lake, off Campground Road
McFeaters Cove Boat Launch
Located in on the north side of the lake, just west of McFeaters Cove, this is a two-lane, concrete boat ramp with a dock and gravel/grass parking for a dozen or so vehicles with boat trailers.
Yellowcreek State Park South Boat Launch
This is a two-lane, concrete boat ramp with docks and gravel/grass parking for up to twenty vehicles with boat trailers. It is located in the park, at southeast corner of the lake.
Click here for a Pennsylvania Fishing License.
Campgrounds & RV Parks Nearby
Yellow Creek State Park - 724 357-7913
L & M Campground - 724 479-3264
Yellow Creek Lake PA Map - Fishing & Camping Areas
Lake Video
Contact Information
Yellow Creek Lake
Yellow Creek State Park
170 PA-259
Penn Run, PA 15765
724 357-7913
Fishing lakes in each state.
Yellow Creek Lake in PA
PENNSYLVANIA


Fishing for bass, catfish, crappie, walleye and muskie in west-central PA
Yellow Creek Lake, in Pennsylvania.