Guide To Improve Your Crappie (Sac-a-lait) Fishing In Louisiana
Crappie Waters In LA
All about fishing for white and black crappie.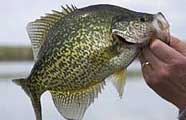 If you like fishing for crappie, you'll love Louisiana fishing waters. Most of which have a population of crappie, or sac-a-lait. And, they grow big here. The Atchafalaya Basin produces some of the best crappie fishing in the state. Most major lakes in Louisiana have healthy populations of crappie.
Louisiana offers excellent crappie fishing opportunities, with both black crappie and white crappie being popular targets for anglers. These two species of crappie can be found in various freshwater bodies, such as lakes, reservoirs, rivers, and ponds, throughout the state.
Black crappie, often referred to as "specks" or "calico bass," are known for their distinctive dark mottled pattern and can be found in clearer water bodies with submerged vegetation or woody cover. They tend to prefer cooler water temperatures and are more abundant in the northern parts of Louisiana. Anglers who enjoy a challenge often seek out black crappie due to their elusive nature and willingness to bite on a variety of lures, making them an exciting species to catch.
On the other hand, white crappie, also known as "silver perch" or "papermouths," are more widespread throughout Louisiana. They have a lighter coloration and a more scattered speckled pattern compared to black crappie. White crappie are generally more tolerant of turbid or murky waters, and they often inhabit areas with submerged structures like brush piles or fallen trees. Their adaptability and abundance in various fishing locations make white crappie a popular and accessible species for anglers of all skill levels.
The best time to target crappie in Louisiana can vary depending on the season and local conditions. Spring and fall are typically the prime seasons for crappie fishing, as these fish become more active during those periods. In spring, crappie move into shallow waters to spawn, making them more accessible for anglers. Fall brings cooler temperatures, and crappie start feeding more actively to prepare for the upcoming winter. However, anglers can also have success fishing for crappie in winter and summer if they adapt their techniques and find the right fishing spots.
Crappie fishing in Louisiana offers not only a chance to catch these tasty panfish but also an opportunity to explore the state's diverse waterways and enjoy its beautiful natural scenery. Whether you prefer the challenge of catching elusive black crappie or the abundance of white crappie, Louisiana's waters have something to offer to every crappie angler.
Popular Crappie Fishing Lakes
Try your luck for big stringers of crappie at Anacoco Lake, Atchafalaya Basin, Black Bayou Lake, Caddo Lake, Caney Creek Reservoir, Cheniere Brake Lake, Cocodrie Lake, Cross Lake, Cypress Bayou Reservoir, Grand Lake, Lac des Allemands, Lake Bistineau, Lake Bruin, Lake Cataouatche, Lake Claiborne, Lake D'Arbonne, Lake Iatt, Lake Maurepas, Lake Palourde, Lake Rodemacher, Lake Verret, Saline Lake, Sibley Lake, Toledo Bend Reservoir, Turkey Creek Lake, Vernon Lake, Wallace Lake and many other lakes, ponds and rivers.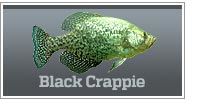 World record: 6 lbs 0 oz
State Record: 3.84 lbs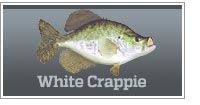 World record: 5 lbs 3 oz
State Record: 3.80 lbs
Click the images and links above for species details.
Top 5 Crappie Fishing Lures For Louisiana
Crappie jigs work well in water from 2' to 40' deep, and are the most popular artificial lure for crappie ever. When crappie are shallow, spinners, small crankbaits and underspins are the often very productive. As they move deeper, spoons are among the top producers if the crappie are active. Review details for the best crappie rig options. Understanding the seasonal movements of crappie can enhance your chances of using these lures in the ideal locations.
Louisiana State Record Crappie
The state record black crappie was caught from Poverty Point Reservoir.
The state record white crappie came out of Lake Verret.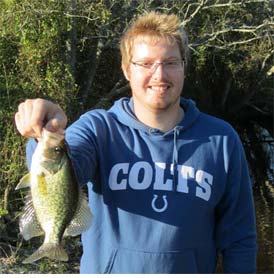 Crappie are actually a member of the sunfish family and can be found in many Louisiana lakes. Crappie are known by many different local names. Paper mouth, goggleye, bridge perch, slabs and speckled perch, are just a few.
Small jigs, live minnows, small spinners and other small lures will catch crappie. Use light line (six pound or less) and work the baits slowly - especially in cold water.
Crappie Fishing Basics Video
Check out crappie information, by state.
The life cycle of crappie.
The more you know about crappie, the easier it will be to locate and catch them in Louisiana lakes and rivers. Visit the crappie fishing page for details about their seasonal migrations.
LOUISIANA